Ever since I was a young boy - let's say 7 or 8 years old - I have been a fan of comic books.  I enjoyed collecting them, reading them, and even attempting to emulate the art style of some of my favourite comic artists.  Flash forward nearly 30 years later and I still enjoy reading (or even just looking at) the odd comic.  I wouldn't consider myself an avid comic reader or collector by any means, but I do still read them if I have a moment to myself (those moments are fleeting now that I have two children of my own whom I hope enjoy comics themselves one day).
This brings me to the topic of this blog post: reading comics on a Microsoft Surface tablet PC. Specifically, reading archived, digital comics in the form of "CBZ" or "CBR" (zip or RAR compressed comic archives).  Many, many people have moved to reading comics in digital form now and it's only natural to want your device of choice to also be able to do this.
The latest iteration of the Surface line of devices: the Microsoft Surface 3.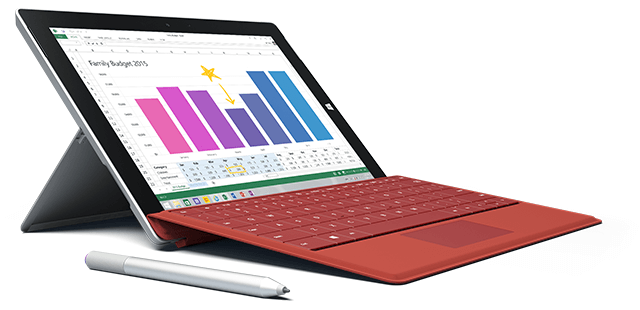 I recently made the jump to using a Microsoft Surface Pro 3 as my main travel device. I could not be happier.  It is an all-around great device for work, play, and general PC usage. It turns out that, while certainly a bit heavier than a regular tablet, it's also great for reading comics!  So without further ado, I'd like to present my top picks for comic reading apps that work best on the Surface line of devices.
NOTE: Prices listed here are not guaranteed and are likely to change over time.
#1. Cover
Link: Windows App Store
Price: Free for the first 25 comics. $3.49 for access to your entire library.
Why I Picked It: Cover has proven to be the most streamlined and easy to use app of the bunch. I tried out a dozen or so "modern" Windows apps from the store and this one happens to be my favourite.  I like its intuitive ability to simply point the app at any folder your PC has access to (including support for OneDrive and DropBox) to act as its library location.  It creates beautiful previews of your comics (based on the first image found in the archive file) and keeps track of which page you left off for each read comic.
Caveats: Nowhere is it mentioned on the app store that this app comes with a 25-comic limit up front before hitting a pay wall.  It's worth the $3.49 price to unlock the full access to your library of comics, but it would still be nice if the upgrade cost were mentioned before downloading the app.  In my case, I don't really need more than 25 comics stored on my device at any given time anyway.  I keep them all safely stored on a home computer and just copy them over whenever I need to.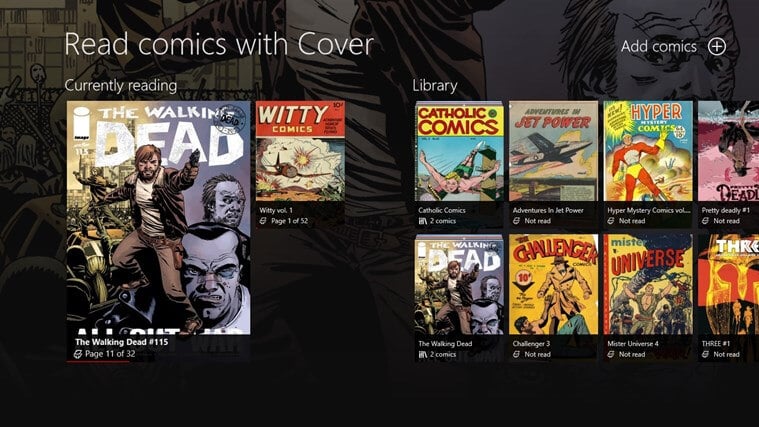 #2. Comics Jolt!
Link: Windows App Store
Price: Free Trial available, as well as a "Lite" version. $2.29 for the full version.
Why I Picked It: Like the previous selection, Cover, comics Jolt! has a similar interface for adding your personal library of comics for reading and makes it very easy to find what you're looking for. It also keeps tabs on where you last left off in your favourite reads.
Caveats: As much as comics Jolt!'s interface attempts to be smart, it ends up putting the "jolt" in this jolting experience.  There are some odd behaviours in how scrolling through a comic doesn't feel as natural as it does in Cover and that was enough for me to choose Cover over this one.  Albeit, it was still a close race.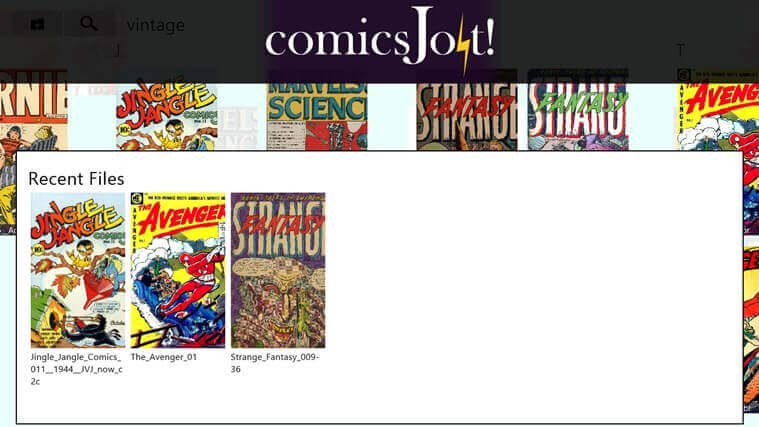 #3. POW! Comic Book Reader
Link: Windows App Store
Price: Free.
Why I Picked It: It's free! It also defaults to auto-fitting a single page of the comic you are reading into its own, white-background frame.  This frames the page nicely in comparison to how the other two apps place the image edge to edge in portrait mode and still require a slight bit of vertical scrolling to view the entire image.  Given the high resolution display on the Surface devices, scaling the image down slightly in POW! doesn't present any noticeable degradation in the image quality.
Caveats: You can only add one comic to your library at a time.  This ends up requiring you to maintain your library at a granular level which is very silly for a modern day application to expect of its users.  I believe I also found the swiping motion to be unintuitive in this app, as though it was a custom gesture written by the POW! developers rather than it using the built-in gestures provided by Windows touch screen devices.  I could be mistaken, however, as I promptly deleted this app after only a couple of minutes of tinkering with it.  It's good, but it's not great.  I need a great comic reader that takes all of the thinking out of the job and lets me just enjoy reading my comics.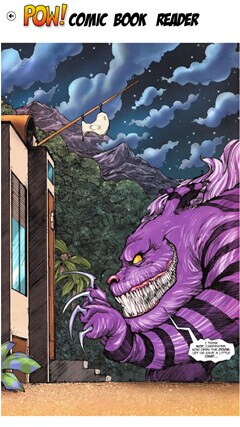 That's it for now!  For the sake of completeness, I should mention that I still employ the use of an old desktop application named CDisplayEx for viewing my comics on my regular desktop computers.  Since it does not have smart touch screen interface or even a library function it could not make the cut here for the review.  However, it is a great application.
Until next time, enjoy reading comics in a comfortable fashion from your Microsoft Surface device!