Learning Better Pinball Skills:
We have a pinball machine at the office and it has become somewhat of a competitive monthly game to be in the top spot. We have a score board and we record the top three scores every month. You never know when you are going to get knocked out of the top three and it changes almost daily. The top player gets their name up on Pinball Wizard board for bragging rights for the month.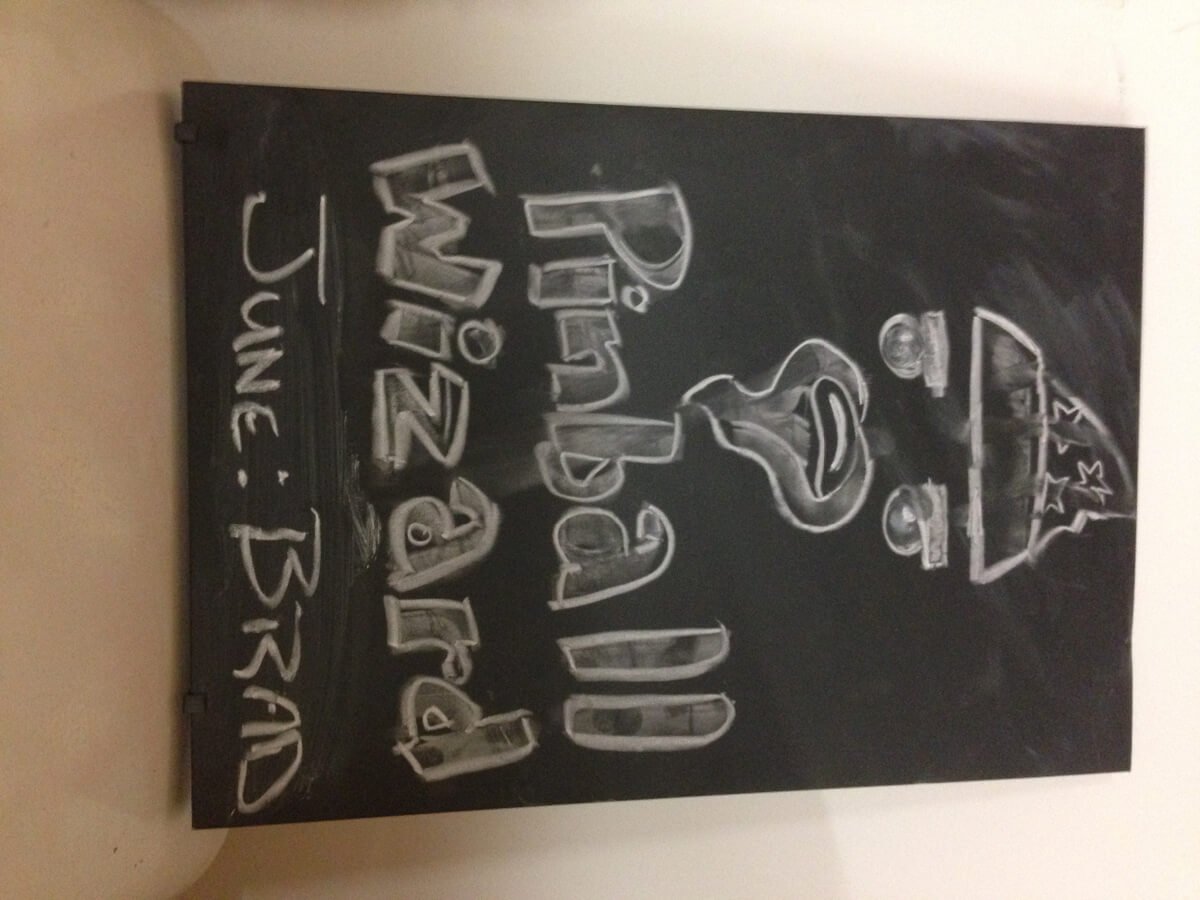 Brad is the Pinball Wizard for June
It is appropriate that we have a Pinball Wizard, because we make a content management system called WebWiz@rd, that makes adding content to your custom designed website extremely easy. If you want to be a web wizard as much as I want to be a pinball wizard, please send us an email at sales@remwebsolutions.com or check out our site at remwebsolutions.com and the great things we do here.
Back to pinball! It has become so much of a competition that I find myself wanting to learn more about the skills necessary to give myself the advantage over the other players in the office. So much so, that I decided to write a blog about it to let others know of a great site https://papa.org/, that you can learn all of the tricks you need to become the best pinball player you can be. The Professional and Amateur Pinball Association website has some great tips in their Learning Center under Player's Guild. I especially like the videos on flipper skills, really makes the game more fun once you master a couple of new flipper skills. You really do have much more control of a game that most people think is random and very little control. Give them a watch and see just how much you game improves.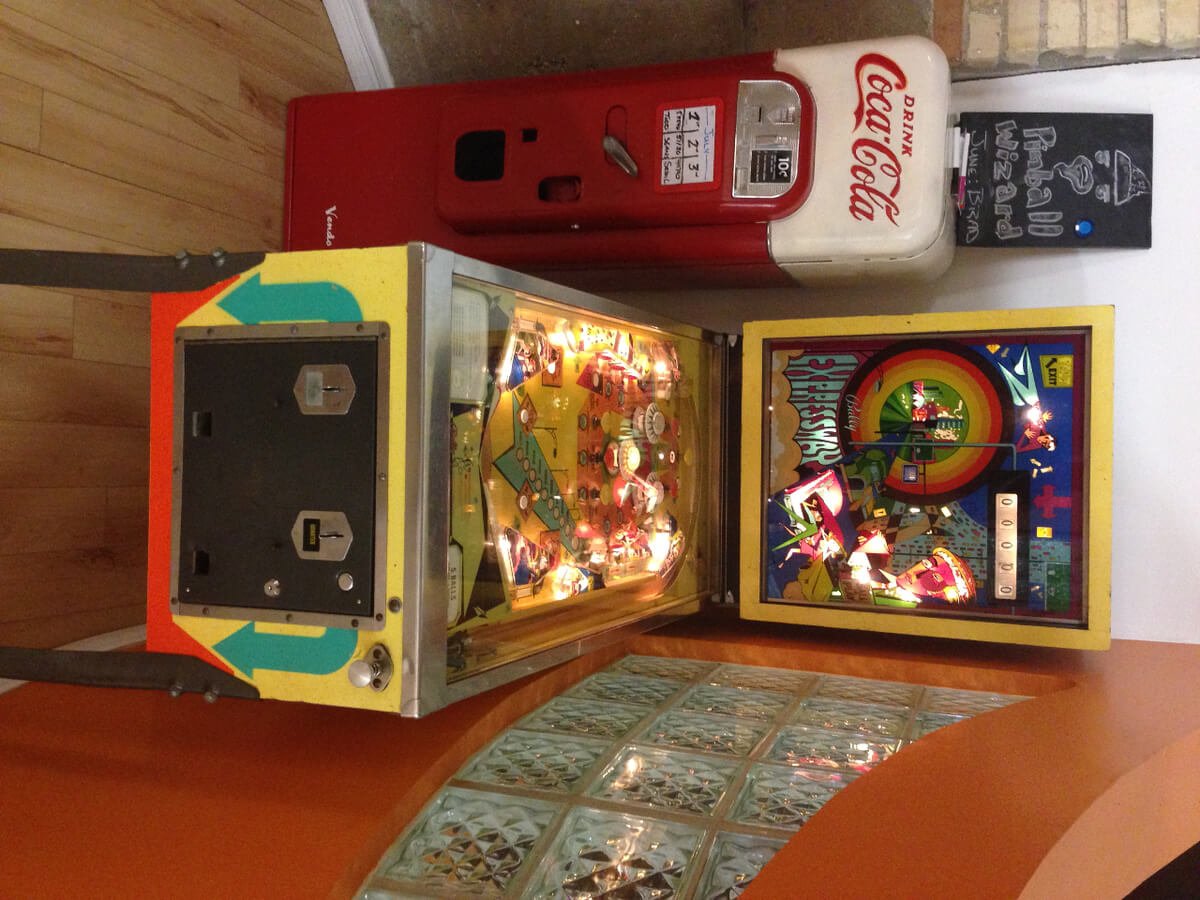 This is the machine in our office
Our office likes pinball so much that we are planning a night out to go to the Pin Up Arcade Bar in Waterloo (https://www.facebook.com/PinUpArcadeBar/). It is a great place to go and pay one low price of $5.00 and you can play as much as you want for the night. 
Featured Client
- Crieff Hills -
Retreat and Conference Centre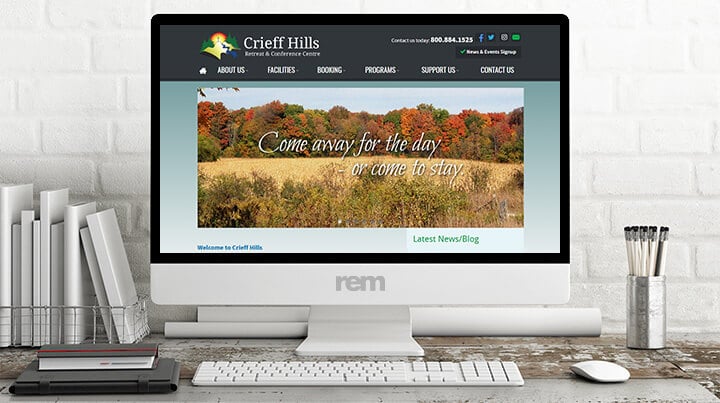 About
Crieff Hills Retreat and Conference Centre is a registered charitable organization committed to providing our guests – "a place apart . . . to come together".  The 250 acre site caters primarily to adult, youth, family and small business groups.  Crieff Hills is  located below Highway 401, directly south of Guelph.  Our 160 bed facility includes Lodges featuring semi private rooms with a 3 piece bath.  When staying in the Lodges,  guests take their meals in our 1874 School House Dining Room.   Our Retreat Houses are mostly century homes sleeping up to 24 people in bunk bed style accommodation with shared washrooms.  Each Retreat House has a fully equipped kitchen as well as a meeting area serving those staying there.   The Lodge and Retreat House facilities are ideal for most groups and are well used for special events such as reunions.
Our newest addition is The Pines which contains 570 square foot suites each with a full kitchen.  These suites are situated in a quiet area of the property and serve the needs of those who wish to come apart from their world for a quiet restorative time.  "a place apart . . . to restore your spirit"
Meeting space for overnight guests and day meetings is in our Conference Hall as well as in other small meeting areas.  Dining in Maclean Hall is available for up to 100 people.
The variety of our programs reflects our passion to present Crieff Hills Retreat and Conference Centre as an eco-friendly place apart for spiritual renewal and leadership development.  We welcome individuals, families, congregations, businesses, schools and agencies to enjoy God's creation.
Crieff Hills Main Contact Person: Lawrence Pentelow, Managing Director
Contact Lawrence at:    director@crieffhills.com   or   800-884-1525
| | | |
| --- | --- | --- |
| No. of Employees: 15 | Established: 1975 | Location: Puslinch, ON |
Visit Crieff Hills Retreat and Conference Centre website
Q:

Why did you choose REM?

 

A:

In August of 2008 we launched a capital campaign to build The Pines suites.  It was clear that we needed a professional presentation web presence for our organization.  We were looking for a solid and friendly company that would work with us not just for us.   The WebWiz@rd was critical for us to collaborate in development and provide the tools to maintain the site.  Every bit as important of course was the ability for our staff to work with and receive the support of REM staff.
Q:

What was it like working with REM?

 

A:

The REM resources that assisted us in 2008 and who work with us today are without exception, friendly, easy to access, professional and eager to train and transfer knowledge to us and allow us a high level of independence for every day work.
REM has proved to be the right choice for us.
- Lawrence Pentelow, Managing Director
---
Learn first-hand how we can help you with your website needs.
Contact us today!
"In this age, which believes that there is a short cut to everything, the greatest lesson to be learned is that the most difficult way is, in the long run, the easiest." Henry Miller
There are lots of website templates available for businesses to use, and programmers craft many of them with style rather than functionality in mind.
Website templates offer an affordable, simple solution for organizations with limited funding and time to invest. Modern businesses must have online representation. To meet these needs, most start-ups will turn to website templates.
However, Template Limitations Spoil the Final Product
How does this happen?
Templates aren't flexible. Site owners aren't able to get creative without programming experience.
Templates often hide clunky programming issues below the surface that cause slow loading and other problems.
In order to meet basic business needs (like removing ads, having more freedom to customize, using SEO analytics and other marketing tools and securing a domain name and hosting), you have to pay more or get by without these things.
Even the most beautiful template can look cheap after you've edited it. This is especially true if you choose to change several graphics or fonts. Most non-designers lack the talent to combine and create tastefully on web platforms. Colours look different. Sites display differently on various devices.
Sometimes people recognize your template from other websites. It's hard to create a unique brand identity, (especially crucial for modern businesses) if users recognize your template from another site.
Mobile devices are the most popular tool for browsing online today. Some companies advertise templates as responsive. However, many finished websites still don't look right on every device because they are not mobile friendly.
Lastly, SEO is an important business marketing strategy. There are levels of tailoring that an SEO expert can do below the surface to enhance your online positioning. However, just like templates offer limited customization in visual areas, many won't offer your SEO expert the freedom he or she needs to customize your site for marketing.
Make the right choice now, so you're not forced to later.
Contact us today at REM Web Solutions. A custom website is worth the investment. Trust is essential for success in online sales and marketing, and at REM you can trust us to create a stunning, professional, custom designed website that will enhance your online presence. 
The Internet changes rapidly. There are many forces driving this such as the never-ending updates of the major search engines, the rising expectations that consumers have of online businesses, and major changes in how people access the Internet.
Styles evolve as well. It's very easy to discern websites that are decades out of date. Even the code used for building websites changes. Much of the old HTML code (HTML tags) commonplace in the 1990s is either deprecated or superseded by more useful forms. Keeping up with this change is important if you want your website to remain relevant and profitable.
Exactly how often you should redesign your website will depend on the market you serve. However, few competitive businesses allow more than a few years to go by without some kind of redesign. Here are three indicators that your website needs a redesign:
It Isn't Mobile Friendly
Most consumers today use their mobile devices for online purchasing and for locating nearby brick and mortar businesses. If they need to buy something, conduct business, or do research, they're not going to wait until they get home to their desktop computers (if they even have one). They also won't put in the effort and time of scrolling through a website meant solely for desktop computers when so many mobile friendly websites are just a few clicks away.
The Design Looks Out-Of-Date
An antiquated design sends the wrong impression to visitors. It projects obsolescence or amateurism. Visitors may assume the business lacks resources if it can't maintain a current looking website. People also get used to and even expect websites to reflect current design styles. For example, why would someone spend money at a site that's filled with the HTML tables of a 1990s website or the gradients and big glossy purchase buttons of the 2000s?
The Design Doesn't Reflect Your Current Success
If you still have the same website you first used as a Startup, you are leaving money on the table. Increase your leads and sales by reinvesting some of your profits into a more optimized and professional looking website. There is always room for improvement.
Get more out of your website by giving it a much-needed redesign. For more information or assistance, contact us today.
Wishing you a Happy Victoria Day weekend!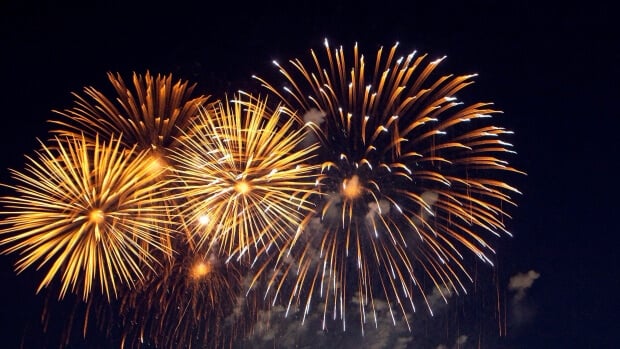 REM will be closed on Monday May 22/17 to enjoy Victoria Day.
We will reopen on Tuesday May 23/17.
Have a safe and happy Victoria Day weekend!
Tempted to save money by doing your web design yourself? Although skipping the services of a professional web designer may seem like an easy way to cut costs, the truth is that it will probably hurt you in the long run by producing a website that isn't optimized for the highest possible conversion rate. Here are some common mistakes of DIY websites.
Bad Menu Structure
Menus are one of the most important parts of your website because they are what allow visitors to navigate your site and land on your important pages. However, a menu has to be optimized in order to work. It needs to be in just the right place, the menu option titles have to be unique, the pages need to be in the right order, the secondary menu needs to be visible but not in-your-face, etc. Your menu also needs to be optimized for mobile devices, where drop-down menus don't work very well.
UX Mistakes
You want your visitors to have a pleasant user experience (UX). Common UX mistakes include lists that are split into many pages, a FAQs section where each question opens up on a new page, pop-ups and pop-unders that get in the way of the reader, too many ads, self-playing videos, too many sliders, etc. These are all things that get in the way of being able to navigate your site seamlessly.
Slow Load Times
There are many things that will slow down your website, including images and videos that aren't optimized, ads that are served over a third-party server, and heavy page elements and scripts. Slow load times lead to higher bounce rates and fewer conversions. A professional web designer will be able to optimize your website so that it loads quickly.
If you would like to update your existing website, or are looking to create a new site, contact us. Our professional staff can help you create a site that is optimised, engaging and most of all give you the highest possible return on your investment.
Creating your own website may seem like a way to save money, but it is harder than you think. If you don't know how to code, this is a long, tedious process to create a professional-looking website. If you know a little about coding a website, you can still miss a few things.
Here are the biggest mistakes of DIY websites.
Using free web templates
Free website templates can make it easy for you to create a generic website quickly. However, these make your website look like every other website out there. It can affect your potential client's perception of whether you are credible and experts in your field.
Not user-friendly
If your website isn't easy for people to manage or navigate through they won't use it. When people without web design experience create websites, they are often unaware of what an average internet user deems as an easy to use website. 
Missing the call-to-action
The call-to-action is what drives your website visitor to purchase your product or service. Without it, you'll lose sales.
Missing SEO
If your website isn't visible to google, it might as well not exist. SEO makes your website viewable to people searching for companies that provide your service or products, but without it, no one will see your website.
Didn't think about mobile
If your website isn't compatible for mobile viewing, you'll be missing a huge opportunity for reaching potential clients that are browsing on the go. People want a fast-responding website when they use their smart phone, so your website needs to be compatible.
Do you know the real value of a professional looking website? You may want to save some money on web design and do it yourself, but it can hurt your potential sales. Your company website is the first impression you give to a potential customer. It should stand out, look professional, and be user-friendly. Contact us today to help you create an outstanding, professional website.
The world around us is rapidly changing due to the constant shifts in how we consume information. With this in mind, websites have become particularly important as a way of connecting businesses to consumers. As a business owner, you should be in tune to this reality and consider whether or not your website is up to the task of keeping up with this media-driven world. Here are 5 signs your website needs work. 
Outdated Design
We know you're a business person, not a designer. So, you aren't usually thinking about how your website looks. But design is very important and whether people realize it or not, a poor design affects the way they perceive your business. A good design can go a long way in the world of marketing.
Outdated Information
When was the last time you made sure the information on your website was up-to-date? If it's been awhile you might want to do something about that. You don't want to mislead your customers with outdated or inaccurate information.
Your Website Isn't Mobile Friendly
We can't stress this one enough. People spend much more time on their phone than their computers these days and as such it is vitally important that your website is mobile friendly. Don't be left behind in this area!
Your Website is Too Slow
If your website takes forever to load, then it might be time for a re-design. A slow website can make a big difference in whether a sale is going to you or your competition. 
Not User Friendly
If your website is hard to use or difficult to navigate then you should consider a re-design. If a potential customer finds your website hard to use, chances are they aren't going to spend a lot of time trying to figure it out. 
If any of these signs sound familiar to you, consider getting in touch with us. We'd love to get your website back on track! 
Taking the time to craft an interesting landing page that is compelling enough to encourage someone to take action goes a long way towards creating new relationships thereby gaining customers for your business. A sharp, laser focused page will get you more results than a lengthy page full of details that many potential customers will simply ignore.  Below are a few tips to help take your landing pages to the next level.
One Message
Design your landing page so that it contains one message and one message only. This single focus eliminates confusion to the visitor. It makes your point very clear. And it allows for quick decision-making by the potential customer thereby increasing the chances that they will perform the desired action. Whether it be to sign up for email list, view some interesting content, or buying something, honing in on one message leads them down the most direct path towards your desired action.
One Action
Giving your visitor one action to take weeds out noise and distraction. With only one action available to them they're less likely to perform the wrong action, less likely to leave the page, and much more likely to take the action you desire.
Get to The Point
Your website visitors won't stick around for long drawn out content. In fact, most of them are scanners. They rarely spend more than a few seconds glancing over the page to determine if a website is worth their time. They will become impatient with unnecessary or irrelevant information. By getting to the point you establish trust and credibility by showing them that you value their time.
Overall a great landing page is about establishing the trust necessary to create a long-term relationship with a future customer. Taking the time to get it right goes a long way towards gaining more customers than you can handle. For more information on how our inhouse design team can help you with your landing page, call us at 519 884-4111.
Visitors who come to your site and leave immediately is disheartening. You've gotten them there but for some reason they're just not interested in sticking around. That is why it is important to closely monitor and manage your bounce rate. Below are a few tips to help get things going in the right direction and keep those customers coming back for more.
Where Is the Exit?
One of the important things to consider in managing your bounce rate is which door are they exiting through. Did they leave after visiting one of your landing pages? Did they leave after viewing one of your blog posts? Or did they leave as soon as they hit your homepage? Knowing their exit point will help you to figure out what is sending them away.  That way you'll be in a better position to correct what it is that is turning them off.
Where Are They Coming From
Understanding where these visitors are coming from is another important thing to consider. Are you getting visitors from sources that isn't truly your target market? Or do you have outdated links somewhere that is bringing in the wrong type of traffic? Maybe you are running an ad campaign that needs updating. At any rate, you want to know where they're coming from to help troubleshoot why they're leaving.
Why are they Leaving?
Finding out exactly why they're leaving isn't always easy. One of the easiest ways to figure this out is to simply ask. You might try running a survey for any new visitor to your website. Before they leave, present them with a short questionnaire asking them why they are leaving. You might not get very many responses, but the few you do receive will help you to narrow down the exact cause of problem.
You don't have to suffer with a high bounce rate. The problems are often easily identifiable, and the problem easily corrected.  Getting control of this key metric will help to ensure that you'll not only get them to your site, but that you'll keep them there and keep them coming back for more. For more information on how you can prevent this from happening to your site, please contact us today.
Contributors
Latest Posts
Archive
Tags
Everything
Content Management
Technology
Design
Holidays
Off Topic
Support
New Features
Personal
Gaming
New Clients
SEO
REM News
Project Management
Account Management
Training
Marketing