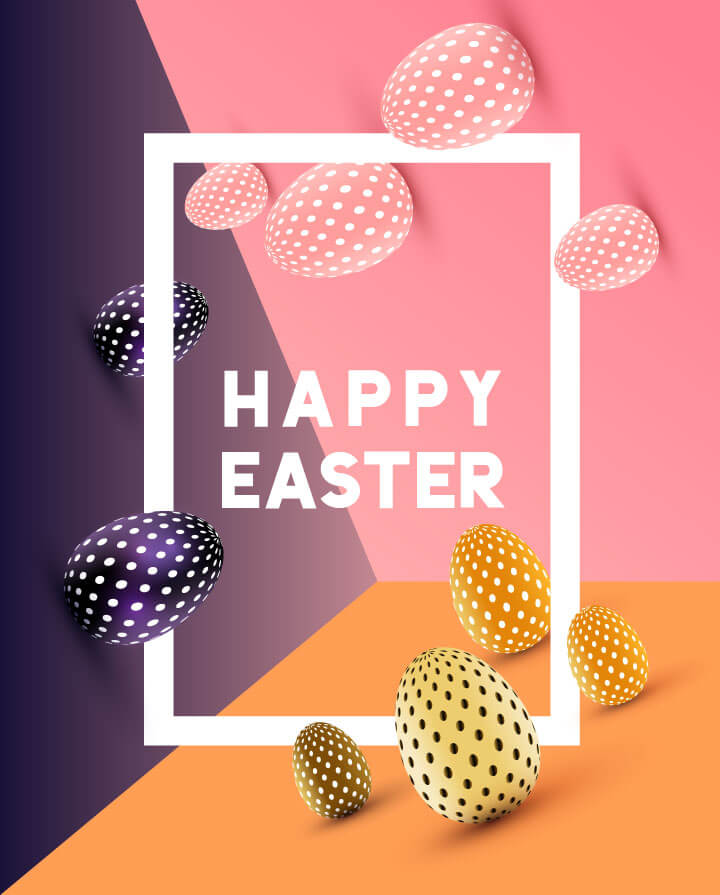 We wish everyone a Happy Easter with their families and friends.  REM will be closed on Friday April 18 and Monday April 22 to give our team some extra time to refresh.
BULLETPROOF SSL
HTML + SSL = HTTPS
As you may be aware, Google has made a large push to have every website add an extra layer of security to every website on the internet regardless of what you do with it.  The notifications that your website is not secure are becoming more an more noticeable through certain web browsers such as Google Chrome and Firefox.  As of July 2018, websites that do not have an SSL certificate now show "NOT SECURE" in the url next to your website.
You should understand that your website is no less secure than it was before these notices.
This is an additional layer that Google wants the world to have on every website.
There are benefits to having your site more secure.  Google has said it will reward you as a factor in your search rankings by using an SSL certificate for your website.  It will also remove the current browser warnings that are popping up removing concern from your users.
---

What is SSL?
SSL (Secure Sockets Layer) is the standard security technology for establishing an encrypted link between a web server and a browser. This link ensures that all data passed between the web server and browsers remain private and integral. SSL is an industry standard and is used by millions of websites in the protection of their online transactions with their customers.  To be able to create an SSL connection a web server requires an SSL Certificate. When you choose to activate SSL on your website you will be prompted to complete several questions about the identity of your website and your company (REM will handle this).  This is what ultimately puts an https:// in front of your website address.
If you would like to move forward, REM can handle purchasing and installing the certificate for your website.  Please let us know if you would like to proceed and we can take care of setting it up for you.
Click here to Contact Us Today or you can reply to this email asking us to proceed.
Thank you for supporting REM in the past year!
We want you to have some fun.  Play our surprise game and we will donate to Sick Kids.
Click here to play our custom built game.  Thank you to all the REM staff for their hard work building the game in time for the holiday season.  For each person that plays, REM will donate $1 to Sick Kids Foundation.
Most importantly, we wish you a Fantastic Holiday Season and a Bright & Energetic New Year!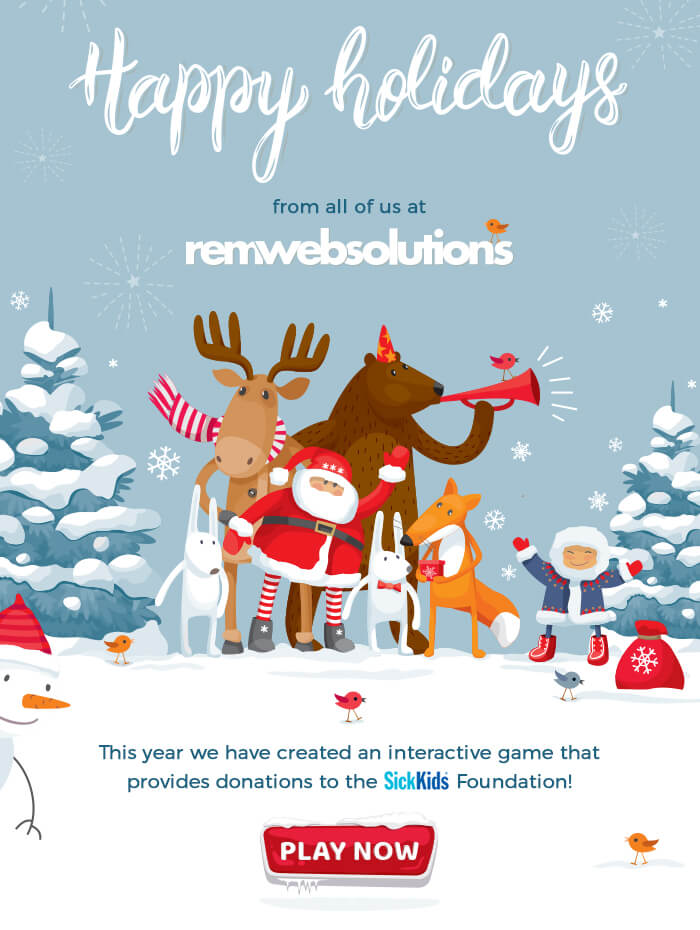 As a friendly note: We will be closed on December 24, 25, 26 and January 1 to allow our team a chance to spend time with their team.  We look forward to working with you in 2019.
Sincerely,
REM Web Solutions
We often don't take the time to tell people how proud we are of them so I wanted to take the chance to tell everyone what an amazing team we have at REM.  We have been working really hard this year to deliver exceptional design work, great new tools to manage your website and superior customer support for our customers.  I am so proud of our team in all of their accomplishments but I wanted to highlight a few.
Everyone at REM works hard each day for our clients to come up with custom designed websites that not only look great but are designed to engage their target audience.  Our team has been chosen for the 2019 Consumer Choice Award in Web Design for Waterloo Region.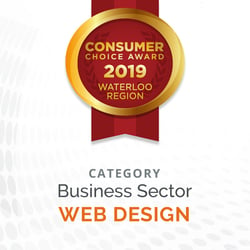 Award winners are the result of a in-depth, consumer evaluation process.
It involves the gathering of unbiased consumer opinions, calculated and vetted by some of North America's leading market research firms.
I am also extremely proud that we have exceeded 50, Five Star Reviews on Google this year.  This is also a proud accomplishment for everyone at REM.  We all work hard for our customers to live up to our #1 Guiding Principle which is Customer Success Comes First..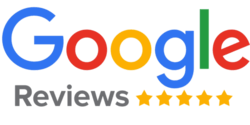 Have a look at the most recent reviews from our customers.
"It was a pleasure working with REM Solutions to redevelop my business website! They were patient, comprehensive and genuine about understanding my business needs and how to best represent that on my new site. I continue to appreciate the great customer service they have to answer all my questions as new web design ideas pop into my head! I would definitely recommend them for any non-techies out there looking for a new or refreshed website."
---
"Excellent group to work with, friendly, very responsive, and full of helpful advice. The design of our new site came out looking great and we are very pleased with the added features and the ability to manage our content through their WebWiz@rd CMS. Would recommend."
---
"REM helped us to design a website that worked for us! They were great to deal with throughout the whole process. The team we worked with was extremely professional, supportive and always quick to respond. We had a fantastic experience!"
---
What I love the most about these comments is the common theme about how great our team is at what they do and how supportive they are of our customers.  When I meet with people, I tell them all the time that we are not the only ones who can offer them a great website.  What I do know is we offer the best support for our customers not just during a project but throughout the relationship.
We are exited to be hiring!.  We are looking for someone great to join our team.  If you are interested in becoming a Business Development Representative at REM, please click here to find out more!
At REM, we take disaster recovery and backup very seriously.  We take great pride in the reputation we have built for reliable and safe hosting of our customers' information.
Disasters come in many forms and require different strategies to combat.  REM has implemented various safeguards and procedures to keep all of our assets and all of our customer assets safe.

We keep our production computer equipment in an access controlled data centre that is climate controlled, has redundant power supplies and multiple network feeds to virtually eliminate infrastructure downtime.
We continue the infrastructure safe guards by maintaining duplicate servers for all of our critical components that can be switched on in the event of an individual server failures.
We run nightly backups of databases and files that are stored onsite for up to 14 days and stored offsite in 2 different locations for up to 30 days.
We also take various snapshots throughout the year that become last resort "back to good" checkpoints that we keep offline to protect against threats that are undetectable and rare but can potentially take down entire organizations such as zero day malicious exploits.
We understand the importance of backups, but we understand that recovery trumps the importance of backups.  To that end, we perform multiple fire-drill style recovery exercises that put all hands-on deck to prove that REM's various backups– do in fact – work in a recovery scenario.  We understand that "anything can happen" but we do our absolute best to make sure those options are limited and mitigated.
We have a winner!
I hope everyone had a great holiday season.  We had a lot of great feedback on our Holiday Sweater Contest this year and appreciate the time everyone tool to vote.  We had over 150 votes and the clear winner was Todd.  Todd had approximately 50% of the votes.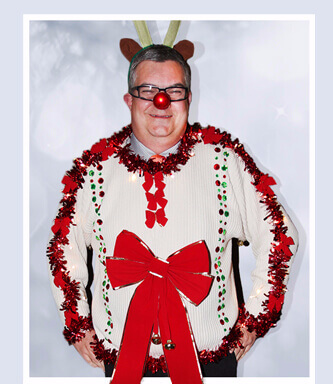 We would like to congratulate Nicole from MTE as the winner of a $50 Vincenzo's gift card.
We are already starting to think what we can do for next year!
Please feel free to share any ideas you have to allow up to showcase our creativity.  Feel free to reach out to me at rob.matlow@remwebsolutions.com
Thank you for supporting REM in the past year. 
THIS YEAR IT GOT UGLY AND WE NEED YOUR HELP!
Help REM decide who had the worst, most hideous, Ugliest Holiday Sweater. 
CLICK HERE (http://www.remwebsolutions.com/Happy-Holidays-2016.htm) TO SEE AND CAST YOUR VOTE FOR A CHANCE TO WIN A $50 VINCENZO'S GIFT CARD!
Most importantly, we wish you a Fantastic Holiday Season and a Bright & Energetic New Year!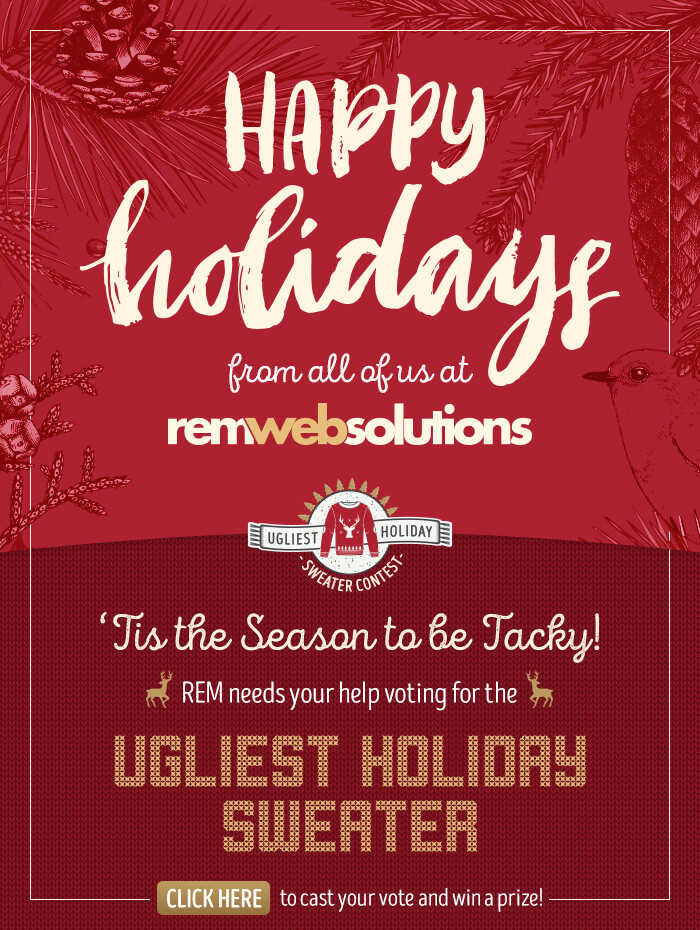 As a friendly note: We will be closed on December 23, 26, 27 and January 2 to allow our team a chance to spend time with their team.  We look forward to working with you in 2017.
Sincerely,
REM Web Solutions
This is a continuation from part one that talked about the creative brief process in our designs.  
After our design team, has reviewed the creative brief with our design team the begin the design process.  In a matter of days, the graphic designer provides an exciting look at the website concept and solicits early feedback from our clients.  This early feedback is unique to our process and is instrumental in designing the perfect website.  This feedback loop is repeated up to 4 more times.  To state it concisely, we allow up to 5 rounds of revisions per project. That's more than any competitor we're aware of.  We really want to make sure you love it before we build it!
Once a concept is approved by the client, the design files get send to our development team where all of the powerful WebWiz@rd components are attached by a dedicated developer. 
Every part of the project is tested during implementation by the developer and then double checked by your account manager.  A final check is performed between the completed product and the original agreement.  Once complete, the beautiful new website is held on our staging server and presented to our customer.  We call it a tour.
In conjunction with the tour, our technical support team will invite the entire client team in for training.  Training is designed to quickly demonstrate how the new tools work and to make it easy for our clients to make their own content changes in the future.
The new website remains on the staging server until the customer is ready show it to the world.  While on the staging server, the customer is free to modify their content, add new pages, transfer existing content from other sites, all while keeping their existing site up and running.
If you have just started a small business you have probably went through the traditional checklist of keys for your success such as, having a great product, a great staff, procuring the necessary licenses, and of course having the financial means to operate the next year. If you are really serious about your business taking off, you might have dug deeper and even took the time out to develop a strategic plan for growth, a marketing plan, and launched your social media accounts.
Out of all those crucial markers, however, one of the most important to have in 2016 is a great website for your business. Local businesses often overlook at a web site because they feel their customers already know them, but this is an extremely short-sighted view. The internet has expanded customer bases from those in cities like Kitchener, Waterloo, Cambridge and Guelph, to those in cities across the world. The way people look for products is heavily reliant on searching the internet so if you do not have a web presence, you are invisible to thousands of potential customers.
Another outdated belief that people still think of when considering developing a web site is that web design is a timely complicated process. This just simply is not the case anymore thanks to user-friendly web content management system's such as WebWiz@rd, a proprietary CMS designed by us here at REM Web Solutions. Many customers without any web experience in web design have found that managing a website is a simple process that will not occupy as much of their time they thought it would.
REM Web Solutions has made web design simple and actually quite fun once you allow yourself to get creative. If you ever are in Kitchener, you should stop by and meet the team yourself to learn more. 
Contributors
Latest Posts
Archive
Tags
Everything
Content Management
Technology
Design
Holidays
Off Topic
Support
New Features
Personal
Gaming
New Clients
SEO
REM News
Project Management
Account Management
Training
Marketing