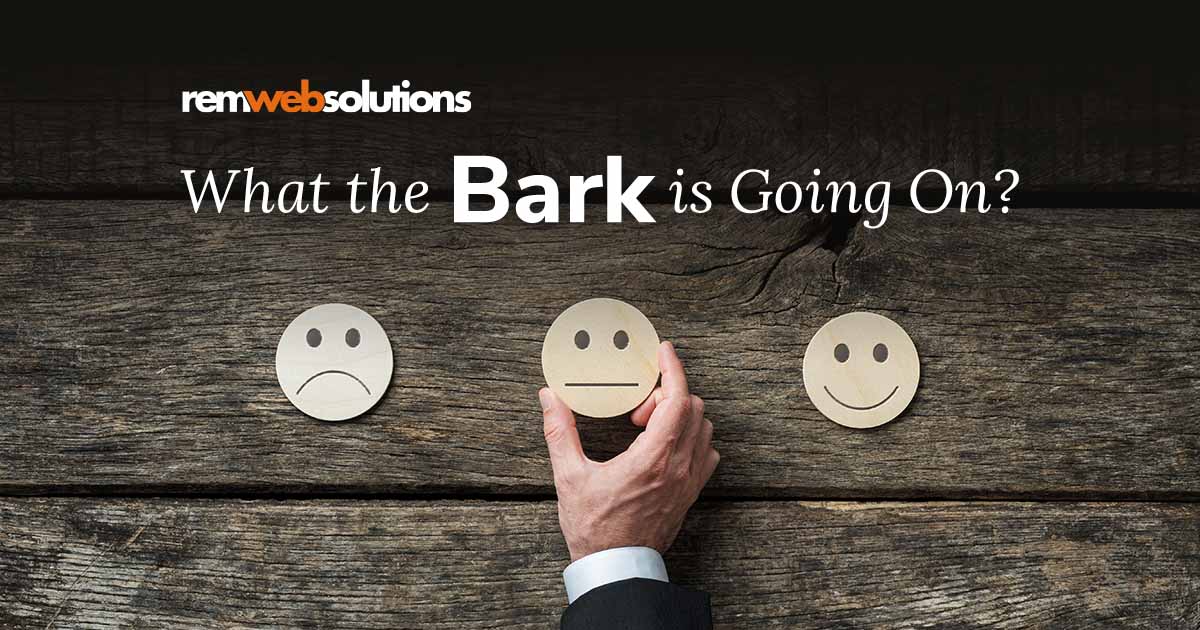 As businesses start, scale, and grow during the pandemic a need for an online presence is becoming increasingly important – we've discussed the benefits of this in previous blog posts. Finding the right company for your needs whether they are website design, photography, content creation, social media strategies etc. can be a tiresome task considering there are thousands of options to choose from when completing a simple Google search.
As you sift your way through the endless options available to you, you may find companies that offer services to assist you by cultivating a "team" of companies to provide you with the multiple services that you seek. Here's the thing, by having a middleman you're handing releasing control and placing into the hands of individuals who don't necessarily view your needs as a priority.
We have noticed more recently that businesses in the Waterloo Region are being targeted by companies such as bark.com who offer up services like those mentioned above. If you're looking to build a new website for your company and start a marketing campaign, we highly suggest that you veer away from companies like this. Why? After looking up reviews on this specific company, customers who have invested in them have made some pretty alarming reviews about how terrible the experience has been for them, here are a few:
"I purchased a number of credits to hopefully get more pet sitting clients. I have not received any clients and feel that the product I was sold was not actually what was advertised. Bark.com guaranteed return on investment, and I have yet to see any clients. When I asked for a refund, I was told that the company does not offer any refunds, despite their "satisfaction guarantee." I also tried to end a free trial subscription, but was forced to fill out a form. I have not heard anything back from the company about the cancellation. I want a refund of my money as well as a confirmation that my subscription is cancelled." (source)
"I purchased credits from Bark.com for video productions "gigs." These credits cost me around $200 a year ago. The leads that were sent to me never responded back to me. It was as if they were fake leads. I can't confirm that, but I just know I used up all of my credits and never had a single lead respond back. So, I stopped using Bark and had not had any contact with them for a year. Today while doing my bills and looking at my bank account I noticed that Bark had taken out $30.25 last month and $30.25 this month for a pro subscription that I had never signed up for. I called them and they refunded me this month's payment, but they told me it was my fault for last month's payment. I had no idea about this "Pro" account. I asked them to delete my account and remove my credit card information. They refuse to reimburse me for last month's payment. This company is running a scam and they need to be held accountable. A class action lawsuit is needed hault this companies' theft." (source)
These are only two issues of pages of complaints that have been posted by the Better Business Bureau. As you start planning your website, we definitely suggest doing your research and reach out to companies that you may feel are a good fit for you. After 20 years of website services to businesses of all sizes, in the Greater Waterloo Region we know a thing or two to help you along the way. Each one of our sites are custom designed and built to meet your requirements, our marketing team is here to work WITH you to help you generate leads through a thoughtful and meaning full branding strategy.
In addition to our expertise, unlike companies such as bark.com, we have a support staff to guide you along the way, you call, we answer. If something isn't working for you, we're here to help you re-evaluate and advise you on industry best practices. When it comes to your website, you definitely don't want to cut corners, I like to say – it's your business's resume, it should be the best that it can be and work for you. Our team at REM Web Solutions takes pride in what we do, our customers and their success always come first.
If you're in the Region of Waterloo (Kitchener, Cambridge, or Guelph) and you're looking to create a new website, start a marketing campaign, boost your digital presence and branding strategy feel free to reach out to us!