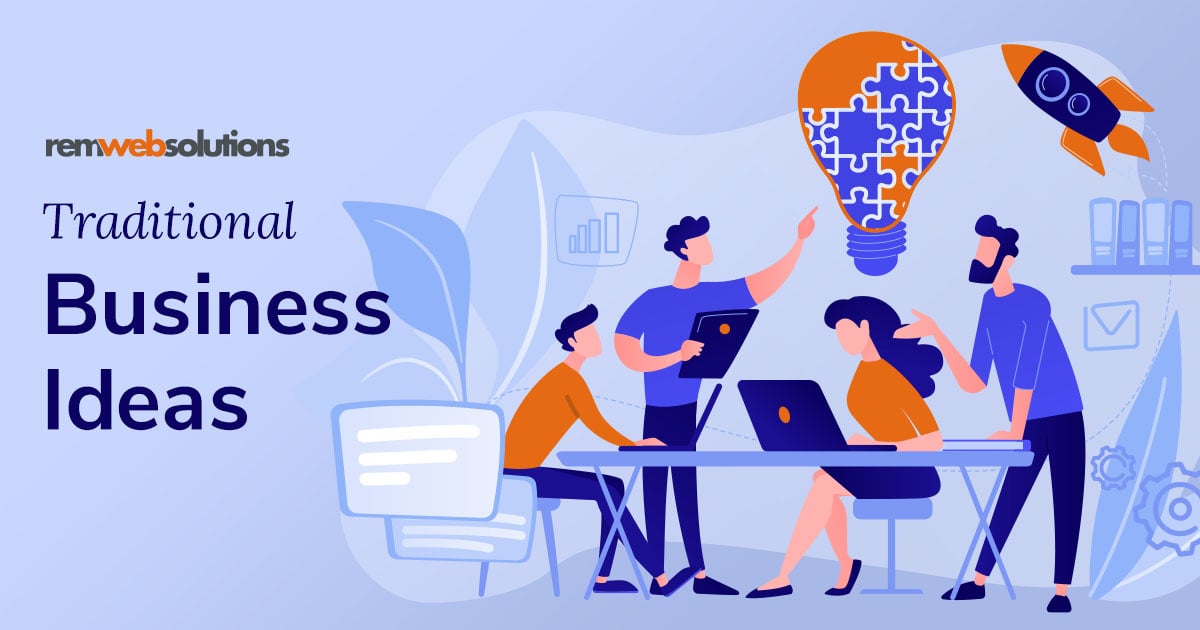 Innovation is a beautiful thing, operating in the Technological Age allows businesses to have a further reach, improve processes, and fluidly change operations.  However, it is important to understand traditional business ideas, as they have proven to be successful. Quicksprout has created a list to a few traditional business ideas that are worth taking a look at:
---
The Basics of Traditional Business Ideas
Business Models
There are several types of traditional business models, including manufacturer, retailer, distributor, and franchise.
The manufacturer model is where a business uses raw materials to create new products sold to the market. A retailer is where a company purchases products from a wholesaler and then sells this inventory to the public—essentially brick-and-mortar stores.
The distributor model sees a company buy products directly from a manufacturer and then sell them to retailers or consumers themselves. Finally, the franchise model is where a company buys the franchise of a successful brand and promotes the services.
These models are important as they each provide a unique part of the process, so knowing which to go for is an immediate decision for new businesses to make. Traditional business models get improved by using modern technology to bolster them, as we'll see later.
Distribution
Traditional business models, such as retailers and wholesalers, are involved in the physical distribution of goods from one point to another.
This fact is in stark contrast to more modern business ideas, for example, Netflix, Dropbox, and Spotify; these all fall under the term known as software as a service (SaaS). Nothing needs to be "moved" around in these modern business ideas, and all of them rely on transactions made through the internet alone.
The method of distribution is fundamental to how the business operates and sells its goods. However, that doesn't automatically mean there's no room for traditional business ideas. Instead, today's conventional business ideas get improved in a hybrid approach that combines reliable ideas with technological progress.
Cost
Modern businesses tend to have fewer overhead costs as more traditional companies do. People involved with traditional business plans will typically decide on a good location to set up and then rent out the place to sell goods.
Digital businesses avoid much of this because they usually don't need a physical site to sell their products—although this isn't always the case.
Cost is a hugely important factor for businesses, and some great ideas never get realized due to the high kick-off expenses involved. Again, this is where contemporary solutions can improve traditional business ideas, as we'll see in the next section.
---
Four Tricks for Making Traditional Business Ideas Work
Understand the Problem Your Business Solves
You may be right at the start of your traditional business idea, but as all successful businesses know, your company needs to be about solving a problem. If you don't solve a problem for customers, then you don't have a business. So you need to have a solid understanding of the area you want to focus on and how your business can help.
Join Search Engine Land's Email List
You might be a bit further down the line and already have a great business setup. The issue traditional businesses often face is learning how to market their business online. Regardless of what industry you're in, you need a digital presence but may not have the skills or knowledge to get online.
Join a Social Media Marketing Email List
Social media can grow your customers, provide you with reviews, and increase the all-important awareness around your company. You might be busy most of the day working in your restaurant or shop, but by signing up for an email list, the latest trends and tips come straight to you, ready for when you finish. Even better, you can share what you've learned with your team, and the effect multiplies.
The most successful traditional businesses realize that embracing the sometimes-scary online world isn't optional, so get started while you can.
Invest in Digital Advertising
Digital advertising comes in many forms, including pay-per-click (PPC) campaigns with Google Ads and media advertising on social media platforms such as LinkedIn, Twitter, and Facebook. For example, on Facebook, you can market and boost your company page and blog posts, driving more customers to your traditional business.
With the immense growth in mobile traffic, mobile ads are vital in getting your fledgling business noticed and customers engaged with the brand.
In this blog, we've pulled some of the key points made by Quicksprout, please take a look at the full article for a deeper understanding and options of tools to help implement some of these traditional ideas in your business.