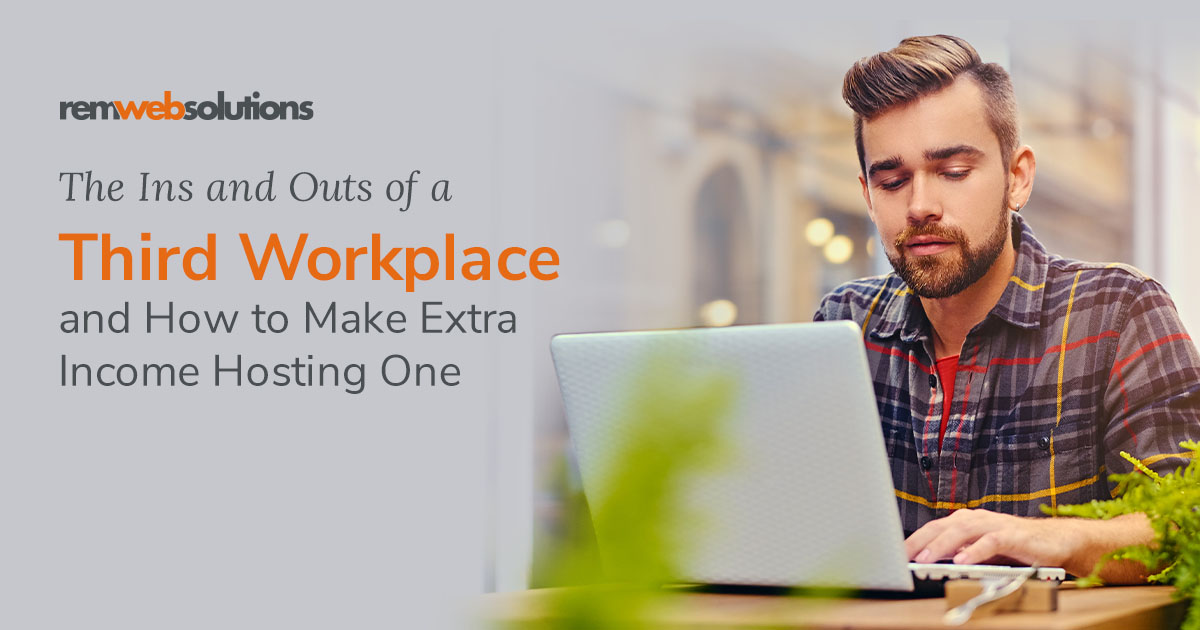 Over the course of the pandemic, people across the globe had to adjust to working from home. As we transition back to more normal business operations, companies are now starting to adopt a hybrid working model for their employees.
More and more people are not only working from home or at the office, but from other locations as well. Enter: the third workplace. Remote work has seen a boom in popularity in places like cafes and coffee houses. Although a common choice for people who are accustomed to remote work, the third workplace has seen a big boom in popularity lately.
Here's why it's important for companies to know more about them and the potential they hold.
What is a third workplace?
Third workplaces are locations where people go to work that are not their physical office or their home. A third workplace can pretty much be anything but is most commonly a coffee shop, hotel, or co-working space.
With remote work becoming more commonplace, third workplaces have turned into ideal spots for people who may not need to go into their office but also don't want to work from home. A spot like a coffee house offers the hustle and bustle of people and relaxed interaction, with a controlled environment to get work done–and the bonus of accessible caffeine on hand if you desire it.
Because of their popularity, business owners have the potential to seize a possible opportunity for additional income with third workplaces. In small towns and rural areas especially, more people will be looking for spots away from their own homes to get their work done during the day. Here is where you come in.
What do you need to set up a workplace?
A new line of income could be created for a small business with any space that can be rented out and adapted into an area for people to work. You want to create an environment that's desirable for people to go to for their daily tasks. Many workers would rather travel to a third workplace instead of staying at home because they crave a change in scenery, desire more interaction and interpersonal connections, wish to stay connected with the local community, or simply require a controlled environment to focus on the work they need to complete for the day.
Luckily, setting up a third workplace does not need to be too complicated and you don't need an overabundance of supplies in order to get started. Think about the basic needs of the average worker, and what helps people concentrate and be productive.
Some items and assets to consider:
Comfortable seating
Desks or sturdy tables
Wifi
Unobtrusive lighting that isn't too bright (no one likes working under harsh, fluorescent lights if they can help it)
Most of the elements associated with a third workplace are negotiable. You can draw inspiration from other popular spots that people like to go to do their work, but the most important thing is that the essentials are in place for people to take advantage of. Most individuals won't be hung up on the minor details and will be more focused on the overall space and their ability to work on what they need to get done.
Even if other co-working spaces exist in your area, you can turn your third workplace into your own. Make it reflective of your personality and figure out what kind of vibe you want to go for. Different people prefer different working environments. Some may like noisy coffee shops, and formal business locations, while others may enjoy a quiet library or a homey, relaxed spot. Figure out what theme resonates with you the most and go from there.
It's not just about leisure
Although they're often looked at as a leisurely place to escape from work and home, third workplaces aren't just about relaxation. They're also about productivity. A blend of the office and home without all the typical distractions that make those locations more difficult to work in.
A neutral third workplace is whatever you desire it to be. A spot where people don't have to worry about taking calls around their screaming kids or overhear their coworkers in the middle of other distracting calls while they're trying to get a project completed. Third workplaces could quickly become the sanctuary people need to be more efficient with their work during the day.
The future of hybrid work
The pandemic certainly taught many companies that it is possible to function successfully as a business with employees follow a remote or hybrid model of work. What was once a trendy new term and special incentive or perk for select workplaces is now quickly evolving into a new normal for many companies.
Hybrid work is now more than just a trending term. It's indicative of a larger shift that's happening with the way people approach work, the most efficient way people want to reach productivity goals and increase employee satisfaction in the process. To highlight the monumental scale of this trend, 65 percent of companies now want a hybrid working model moving forward.
It's crucial for businesses to consider what this model of work will mean for their company and employees in the future.
The benefits of a hybrid work model
The 2020s saw a large number of employees show preference to remote work options, and many want to keep them in place. The middle-ground approach of a hybrid working model offers the benefits of both in-person and remote work, while keeping both sides of the employer-employee relationship happy.
There are also added benefits to this work choice as well. Employees are typically more satisfied when they are given the freedom to choose where they work. From an employer standpoint, companies save on costs when hybrid work models result in lower turnover rates, and office expenses are lessened as a result.
Hybrid working models can also address a critical problem that was seen during the pandemic: isolation. Employees are still given the choice to work away from the office, but there is also a social component that allows for group collaboration and discussion with face-to-face interactions that aren't through a Zoom call or over a cubicle wall.
Potential issues with third workplaces
Although there are many benefits to a hybrid working model and the concept of third workplaces, they aren't without their downsides as well.
Hybrid work and third workplaces open the possibility for security holes in organizations. It also presents the issue of working from personal devices instead of using company software. Many businesses are still not at a place where they can properly handle this problem effectively. The question stands, how can you provide access to confidential information to employees working in remote locations who are using personal devices?
Many employees also hold the expectation that they will be doing work at third workplaces from their own devices instead of company owned computers, which presents a set of challenges for the business-side of operations attempting to tackle the hybrid working model.
Conclusion
With hybrid working models becoming the new normal for organizations, it's a smart decision to investigate the value of investing in a third workplace to gain an additional income. As well, they hold a lot of potential benefits for your employees if used correctly and can drastically increase worker satisfaction.