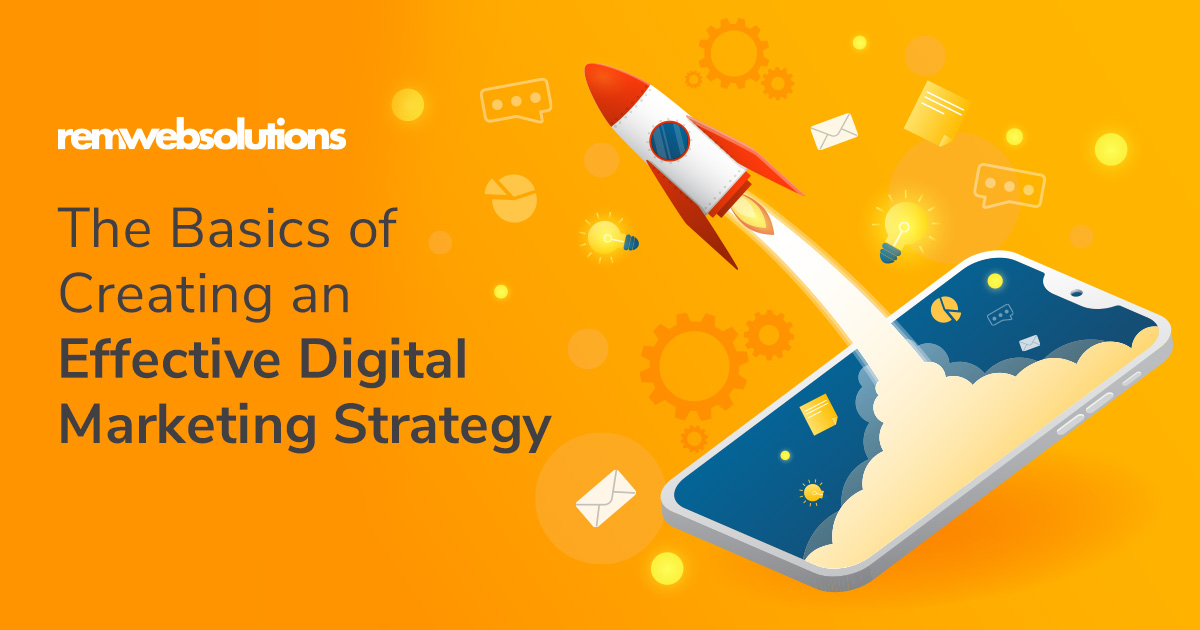 A large aspect involved with operating a business includes promoting and spreading awareness about services and products. This can be done well by creating an effective digital marketing strategy, which is a method to help you broaden your reach to customers and further develop your company's brand identity.

A predetermined marketing strategy can be a great tool if it's organized and used correctly. Follow the tips below to start building a thoughtful digital marketing strategy for your business.
---
Breaking down the basics
What is a digital marketing strategy?
To put it simply, a digital marketing strategy is a business' course of action when it comes to attracting additional clients. It's essentially a long-term plan that is intended to expand its reach to new customers and convert them into loyal consumers. This kind of project is designed to help your team create a productive marketing approach. A method that effectively guides them to build a following with fresh consumers who make repeat purchases.
The benefits of creating a marketing strategy
If done correctly, there are numerous benefits involved with creating a well-executed and carefully planned marketing strategy.
Some of the potential advantages include:
• Determines target market
• Identifies competitors
• Targets ideal customers
• Helps shape an intentional brand
• Places emphasize on valuable research
• Can aid in refining your company's mission
• Guides product development
• Positively influences budget decisions
When to make a marketing strategy
The ideal time to start making a marketing strategy is in the beginning stages of starting up your business. This will help you gather information about your customers that can be hugely beneficial in deciding how you will connect with them and forecast what kind of growth your business will have in the future.
Be prepared to potentially adjust your marketing strategy as you go, and don't overlook the importance of consumer feedback.
---
How to develop a beneficial marketing strategy
1. Assess your resources
Before you really delve into the process of making your content marketing strategy, it will be necessary to assess the resources you have available. This includes the cost (see below), time restrictions, skill-sets of your respective team members, and what connections you currently have that could be utilized to improve and grow your brand.
Taking the time to study these aspects before strategizing will assist in establishing the hurdles you will have to face together as a team, what projects can be done in-house, and which tasks would need to be assigned to a potential outside hire.
2. Evaluate cost
As mentioned previously, a large part of the initial stages in creating a marketing strategy is properly assessing resources, which should primarily be centered on cost. Take a critical look at the financial limitations and restrictions your company will be faced with. Assess your short-term and long-term budget goals and see where your marketing strategy fits in. Doing this will help you determine what style of strategy your business can realistically afford.
REM offers several different types of marketing services where we can help you with your marketing needs from logo designs to digital marketing.
3. Choose where you want to promote
Where you decide to promote your products and services will depend on several different factors. Analyzing where your target audience is most active can help you determine where you're most likely to be successful in reaching them and receiving engagement on product posts in return. Popular promotion channels include social media platforms, targeted emails and email newsletters, search engines, and even through word-of-mouth marketing.
4. Decide where you want to sell
An essential part of operating a business is deciding where you want to sell your products and services, which will serve as an important aspect of your marketing strategy. Companies that sell their products through e-commerce methods like websites and online retailers will need to have a different approach than businesses who primarily sell through physical storefronts.
Discovering where your consumers shop the most can help you tailor a marketing strategy that compliments their purchasing habits.
5. Regularly review your strategy
It's a good idea to review your strategy regularly. This way, you can make necessary adjustments to your marketing campaign as you continue to gather more research and your target audience preferences may evolve and change over time.
6.  Have a firm understanding of what you're selling
Although this may seem obvious, it's necessary to have a complete, well-rounded understanding and basis of knowledge about the products or services your business sells. Knowing what the benefits are will help you better market your products and tap into the things that customers will like about the things you're selling.
7. Establish a target market
An essential element of developing an effective digital marketing strategy is establishing your target market. Figure out which customers are going to benefit the most from the products you sell and set your target market that way. There are different methods to approaching this topic, and you can try different techniques that range from marketing a broader product appeal to a wider range of people or choose a more niche focus.
No matter what you choose, be mindful of the common traits your consumers share, as this will make tailoring your marketing strategy to their needs and desires more effective.
8. Analyze your competition
Looking at what your competitors are doing in terms of selling similar products, advertising techniques, social media campaigns, etc., can be largely beneficial in showing you what methods can be effect for your own digital marketing strategy. Gather this information and use it as inspiration for your company's marketing processes. You can even use this info to help you get a leg up on the competition and find more ways disintctly set yourself apart and stand out from the rest.
9. Get a firm grasp on user behaviour
After you narrow down your target audience, getting a firm grasp on user behaviour is important, as it helps you more accurately assess what their needs are as consumers. This can be done through various techniques like keyword research and search intent. Prioritizing Search Engline Optimization and getting the most out of Google Analytics can be hugely helpful in understanding the intent behind client searches and what they're looking for.
10. Improve social media engagement
Improving your business' social media platforms should always be a priority for you to focus on, but especially in regard to developing a good marketing strategy. Work towards bettering the engagement you receive on posts that your company shares by evaluating the kind of social media content your target audience likes to see and interact with.
Gather feedback from them to assess whether they prefer Instagram Reels over TikTok's or vice-versa. Putting consistent effort into the social media preferences of customers is important, as those habits will likely continue changing as platforms keep evolving.
11. Explore retargeting and personalization
Retargeting is a very powerful technique that allows you to show specific ads to people who visited your website but did not convert to your company. Prospects are more likely to choose or consider your business if they hear or see an ad at least seven times.
To test out this method, all you need to do is connect your site with Google and Facebook by including a section of code that is provided by these platforms. Following this, you then craft customized audience lists of people who have visited your site but were not converted. Finally, you create ads and campaigns that will be shown to these one-time visitors as they're scrolling through Facebook or browsing other websites on the internet.
REM offers Google Ad Management services where we take care of everything for you. Sit down with our Marketing Director for a free, no-obligation discussion about how we can help.
12. Make a content marketing library system
It will make things much easier for you and your team if you're organized from the very beginning of the marketing strategy process. This includes creating a library of various assets that can be utilized by your business in campaigns.
Examples of digital assets include infographics, stock images, videos, cover photos, logos, fonts, and anything else you might use that would be published on your website and social media networks. Having access to all these elements in a library that is available for marketing purposes will ensure that your business remains consistent, while also helping to avoid repeating content when you want that to be avoided.
13. Increase traffic
A primary goal that you should consistently be working towards is increasing traffic to your website and social channels. There are a multitude of ways that you can achieve this, through channels like TikTok, Google Shopping Ads, optimizing content for voice search, and Google Discover Ads. These are just a few examples that you can use to help redirect new users to your site and social profiles and pick up your traffic as a result.
14. Revise your strategy where you need to
Lastly, don't be afraid to revise, revise, revise. The world of digital marketing is always evolving and shifting, which means that customer habits and preferences are as well. Keeping up with your research is an ongoing, non-linear process that you should be constantly learning more from, and your strategy should reflect that through necessary revisions. This way, your marketing strategy will stay up-to-date and consistently relevant, which will benefit your business in the long run.
---
Conclusion:
Crafting a digital marketing strategy with these points in mind will help you orchestrate a plan that helps your business achieve the goals that you've set. Strengthening your company's brand and reaching as many new clients as possible while gaining a comprehensive understanding of your company's target audience are just a few of the positive possibilities that can result from a useful marketing strategy.
So, what are you waiting for? Start planning with the best interests of your business in mind today!