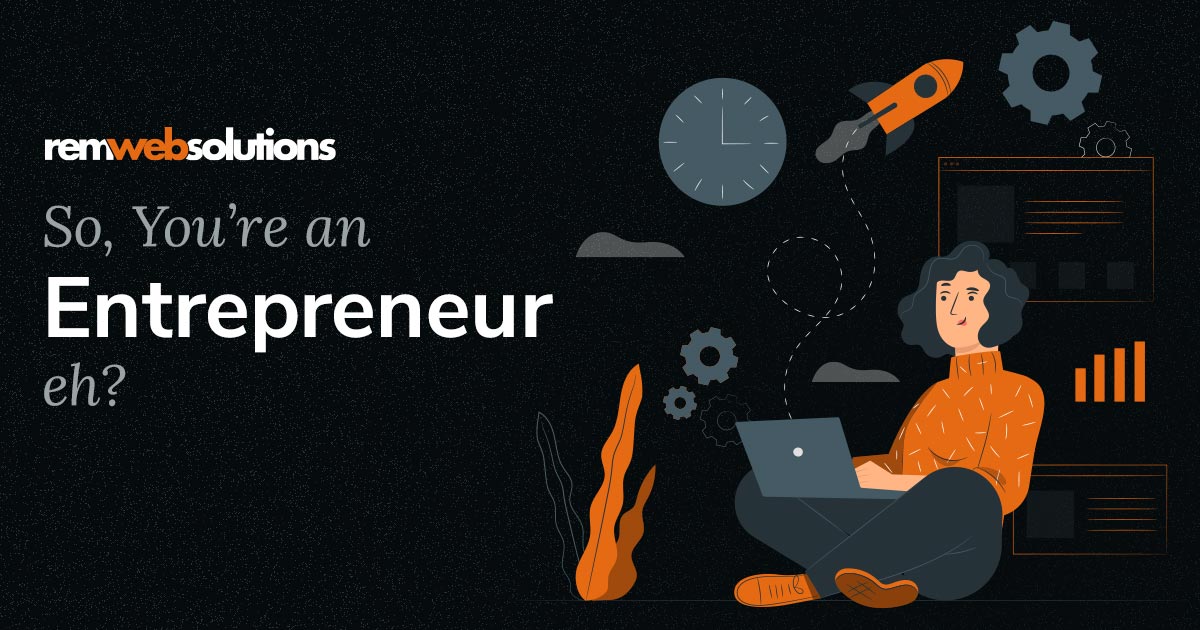 When I originally started this blog, I wanted to discuss the qualities that make up a great entrepreneur or even a little how-to guide which led to me into a rabbit hole of TED Talk videos from entrepreneurs themselves. They all started out with pros and cons of being entrepreneurs, long hours are required but you can take vacations whenever you want. You don't have to work for someone else… you're your own boss! The passion you have for your product/service will outweigh how much money you make, because it's all about you making a difference – and that is what Entrepreneurship is all about right? Well in my opinion, not really.
I feel like these days everyone is an entrepreneur from small businesses to social media influencers, however I beg to ask the question… what is the definition of an entrepreneur? Do we really know what it actually means to be an entrepreneur or has this "job title" become a buzzword for many people carrying out creative ways to make money? This led me to look up the definition of an entrepreneur and according to Merriam-Webster the definition is:
---
One who organizes, manages, and assumes the risks of a business or enterprise.
---
This changes the way we identify entrepreneurs, doesn't it? I have been extremely lucky over the years to meet many individuals who are entrepreneurs, I also have been very humbled to meet individuals who identified themselves as entrepreneurs, however based on the above definition they would fall under the category of self-starters – in my opinion of course. I have had the opportunity to work with many start-ups during my career path and without a doubt the entrepreneurs I've watched grow over the years have held the title with reverence.
As I mentioned the perks of entrepreneurship earlier on, I found most articles I read on the subject did not outline the requirements of an individual involved with being an entrepreneur. Some of you reading may be thinking about starting your own business and some of you likely already have. So, let's break down the most important requirements of being a successful entrepreneur.
Perspective
Being an entrepreneur is no joke. The amount of work and responsibility that falls on business owners require you to always be on point. When starting out your business not only do you need a great idea, you also need to ensure that people are going to buy into your product – you need to make a profit to be sustainable. So yes, you will find happiness in your success, but you do also need to make money, and typically in the early stages of your business making money is not something you're going to do. Some of the most successful entrepreneurs have the ability to maintain perspective on their business as whole and work extremely hard through the tough times, they understand the importance of the flexibility required to be a self-starter and continue to break through barriers against all odds.
Thinking Lean
A couple years ago I read a book called The Lean Startup by Eric Ries, and it really did change my outlook on entrepreneurship. Instead of me attempting to relay the movement in this blog I'm going to leave this video here for you to digest. I highly recommend the book and suggest you read it as well:
Re-Investing
Once you've established yourself as an entrepreneur and your business model is now profitable, one of the most important things you can do for yourself is not spend all of your profits on your personal life. It's tempting I know, but the best thing you can do for yourself is to continue to re-invest into your business. Look for areas to improve, whether it be product development, support materials, marketing efforts, etc. If you get into the habit of putting some of your profit back into your business, your return will be far greater in the long run.
Educating Yourself
Being an entrepreneur does not stop at "I know this thing and I'm just going to run with it forever." It is crucial for businessmen/businesswomen to practice continuous learning. Whether it's learning new management skills, industry trends in your field, attending workshops in areas that aren't your strong points. To be a successful entrepreneur requires you to have overall knowledge, it requires you to always be informed, by improving your skill set you'll accumulate better results for your business and prepare yourself to scale effectively and efficiently.
Taking Risks
This one is probably the most important of them all. It's imperative that you take risks. Keep in mind that I'm referring to calculated risks. Make use of your network, have advisors and coaches in your pocket to help you evaluate risks before you jump into something – but at the end of the day, the greatest entrepreneurs take risks and come out smiling in the end!