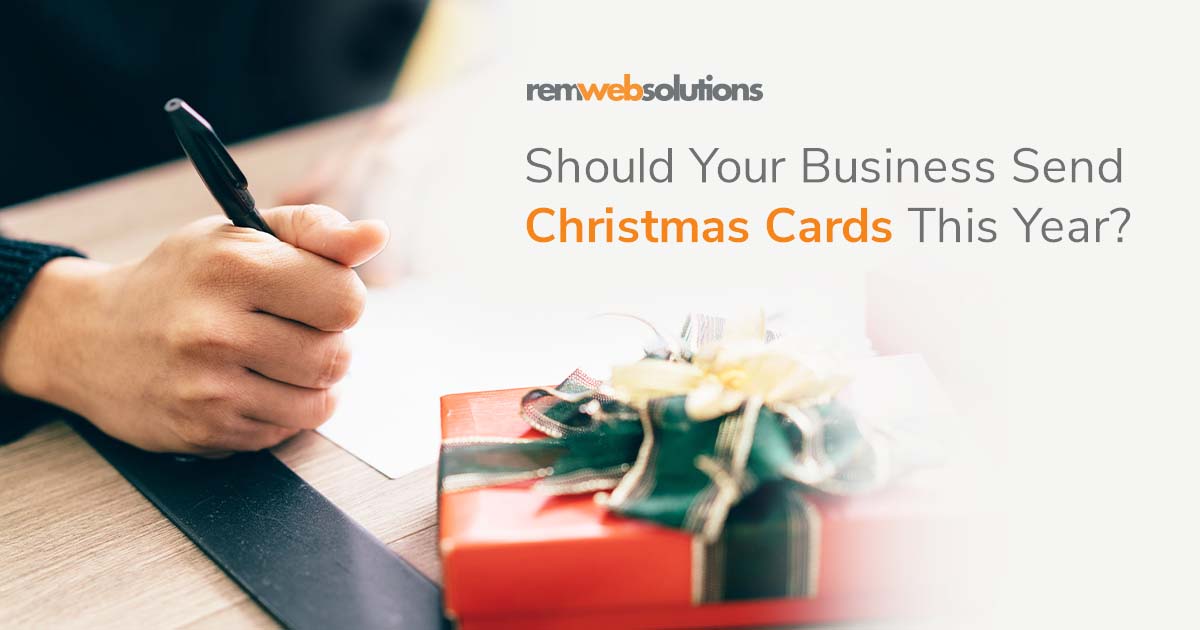 The holidays are just around the corner, and many business owners, office managers, and marketing and communications teams are starting to think about whether or not they should send Christmas cards to their clients this year. The answer to that question is almost always YES!
While sending a Christmas greeting is a nice gesture, not all holiday cards are created equal. Therefore, there are several considerations to think about before you create your cards and send them off either in print or digitally.
Of course, you want your holiday cards to be well received by everyone on your list. That's why we have provided some answers to the top questions many people have about sending holiday cards to their customers. Continue reading below to see our recommendations.
Should You Send Holiday Cards to Clients?
Decades ago, it was not uncommon for households to receive large stacks of cards that they proudly displayed around the home during the holidays and into the new year. Most people took great pride in selecting their cards, double-checking their mailing lists, crafting thoughtful greetings, and mailing out their cards on time.
Households could also count on receiving a card from their friends, family, neighbours, colleagues, and the organizations in which they held membership or conducted business. Fast forward to today, and it is rare to receive fun, feel-good, and thoughtful things via snail mail. It is now a treat to receive a letter or card that you weren't expecting!
Is sending holiday cards outdated?
While you may think that sending a holiday card is outdated or inappropriate in our increasingly digital world, the fact that Christmas cards are now less common creates an excellent opportunity for your business. Receiving mail that is not junk or bills is now special, and most people like knowing that you appreciate their business and value the relationship with them. Something as simple as sending a card can go a long way toward customer loyalty and trust, so it is almost always a communications task worth investing in.
What if my clients do not celebrate Christmas?
One exception to sending cards will be if your audience does not celebrate holidays in December. In those cases, it could be seen as rude or out of touch. However, some of the tips below may still be helpful to you and your business. Simply apply them to a different holiday or time of year that is more appropriate for your clients. When in doubt, you can consider sending a Happy New Year greeting in January and focus on well-wishes for the new calendar year, rather than picking just one holiday or time of year to acknowledge.
Should You Send Digital or Print Holiday Cards to Clients?
If you have decided to send out a holiday greeting to your customers this year, you will next need to think about whether a digital or print card is more appropriate for your organization and your audience. Which format you ultimately choose is a matter of budget and personal preference, as well as what you think will resonate most with your unique audience.
When to opt for a printed Christmas card 
Print holiday cards are tangible and easy for your client to put on a table in the staff lounge or display in a lobby for longer periods. Print cards are also less likely to go into the trash as quickly as a mail merge greeting in an email inbox.
In addition, there is just something special about knowing someone took the time and effort required to send you a good, old-fashioned holiday greeting. Just make sure you take the time to write the cards and address the envelopes by hand.
If you have the budget for printing and shipping, this may be a suitable option for you!
When to consider a digital Christmas card
On the other hand, there are cases where spending funds on printing and mailing could be frowned upon by your audience. For example, if you are an environmental or green brand (or you have made a public statement to reduce your impact on the environment and climate), a digital greeting may be more well-received. Obviously, using paper resources and increasing your carbon footprint to send physical cards would be very off-brand for you, so a digital option may be more appropriate.
Another example where digital cards may be ideal is if you are a non-profit or charity that relies on donations. Donors give because they want to help the cause they care about. While they recognize that all businesses have administrative costs, they would likely prefer a digital greeting thanking them for their generosity and highlighting some of the ways you are fulfilling your mission, thanks to them.
Lastly, a digital Christmas card may work best for you if you would like to include a video of your founder or other media that aligns with your brand. Print cards have limited space, but a digital card gives you more freedom. For example, you may wish to include a funny video of your small staff team dressed as elves or record a heartfelt holiday video of you sitting with your family in front of the Christmas tree.
Key takeaways
No matter which holiday card format you choose, keep your audience, brand, and budget in mind, and be sure to craft a message that is genuine. 
What Should You Write in a Christmas Card to a Client?
A year from now, your clients likely will not recall which picture you selected for the cover of your printed Christmas card. They also will not think about the exact words you chose to include in your message. However, they will surely remember how your greeting made them feel. Their gut reaction when they open your card and read your sentiments will be the deciding factor for whether they felt the warm fuzzies or were put off. So, how do you ensure you craft the perfect holiday message?
Crafting a short holiday greeting
When writing a message for your Christmas cards to clients, short and sweet will usually do the trick in a printed card, provided you take the time to include a personalized handwritten note too.
Consider including messages like:
From our family to yours, we wish you a joyous holiday season and a happy New Year.
Happy Holidays from all of us at !
Seasons Greetings from
Eat, drink, and be merry! Happy Holidays from all of us at !
Be creative or stick with a classic greeting depending on your brand and your audience. Don't forget to handwrite your client's name and add a short, personal message. For example, if you know your customer personally, say something like: "John, wishing you, Cathy, and your girls a very Merry Christmas. May you enjoy all the blessings of the season. ~ Cheryl, Danny, and Judy."
If you have a less personal relationship with your client, opt to handwrite a note like: "Dear John, Wishing you and yours a very Happy Holiday and a prosperous 2023. We have enjoyed working with you this year and greatly appreciate your business. ~ Cheryl and the 'your business name' Team."
Opting for a longer printed greeting
If you have a very lengthy mailing list or would prefer to have a longer greeting printed on each card, put pen to paper to add the client's name. You can also include a short, handwritten note like: "Happy Holidays!" or "Merry Christmas, John!" for a small, personal touch.
Longer printed messages may look like:
"Happy Holidays from our family to yours. Thank you for supporting our small business this year. Clients like you are why we love doing what we do. We are so grateful for how you have helped us grow. We can't wait for all that 2023 has in store! ~ The Jones Family – Bill, Karen, Jody, and Taylor."
With the tips and ideas above, consider which type of greeting will work best for you and your audience. Whether you choose a short and sweet printed message with a longer handwritten note, or prefer the longer general greeting with some quick personal touches, a genuine, thoughtful sentiment will be most appreciated.
Conclusion
Sending holiday cards is the perfect opportunity to stay top of mind with your customers and continue strengthening your relationships. Whether you opt to send your Christmas greeting in print or digital form, investing time and money into holiday cards is a worthwhile option for most businesses.
Opt for printed cards if you have some funds to work with and feel your audience would appreciate receiving a thoughtful piece of mail. Stick to a digital greeting if you are an eco-friendly brand, your budget is tight, you rely on donor funds to cover administrative costs, or you wish to include additional media in your card.
Regardless of which format you choose, add some personal touches where you can, and be sure to craft a greeting that feels authentic to you. After that, all that's left to do is design your card, make your list (and check it twice), and send out your well-crafted seasons greetings to your customers!
Start the New Year Off Strong with REM Web Solutions
The new year is the perfect time to think about evaluating your business' existing marketing and communications strategy. Consider reaching out to our team at REM Web Solutions to talk about how to optimize your website and streamline your digital marketing in 2023!