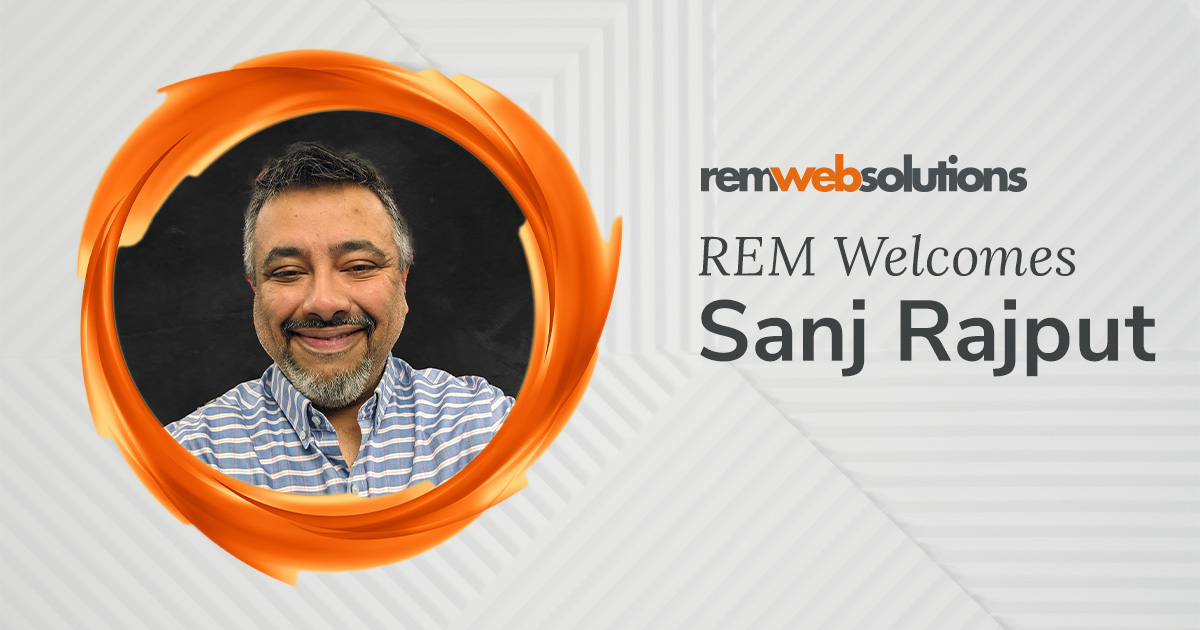 We have a new team member and he's pretty great! Sanj has joined our team and has already brought an abundant amount of knowledge, character and laughter to our REM family. We can't wait for you to meet him too! In true REM fashion, Sanj has provided us some details about who he is and we thought we'd share!
---
At Work
Role at REM: Business Development & Digital Marketing.
Education: B.A. Sociology from the University of Waterloo. Several marketing, web design, and digital marketing certifications.
Work Experience: Built my first website from scratch in 1999. Worked for PriceWaterhouseCooopers in London, England as the team leader for the IT training department. Worked for RIM in Technical Support. Worked for TRUX Route Management Systems in Cambridge, ON as Technical support then transitioned to web design and marketing. Owner and Creative Director at Jelly Triangle for web design and digital marketing.
Something That Makes Me Smile at Work: I am weird in that I get as much joy from manipulating data and code as I do from drawing and designing. But my favourite part is working with clients. Each new business is a whole new opportunity with different challenges so it never gets boring. What makes me smile is watching a client's face when we overcome those challenges, especially the ones they thought were insurmountable.
---
Favourite
Web site: I spend a lot of time on dndbeyond.com as I play and DM, but I also have several Nerf modification sites I visit regularly. Also, I love to browse Etsy for painted Nerf guns for inspiration for my own designs and mods.
Books: All time favourite book is Tigana by Guy Gavriel Kay, but I love Feist, Gemmell, and other fantasy writers as well.
Food: I love to cook and I love a lot of different kinds of food. My signature dish is egg-yolk ravioli in a burnt butter and sage sauce. My favorite foods to eat are Vietnamese (vermicelli bowls), Japanese (sushi), and then Mexican (fish tacos).
TV Show: I have watched a lot of TV over the years, for example I have watched the Friends seasons HUNDREDS of times over. But my favorite show of all time is still probably Parks & Recreation (I wish I was Ron Swanson).
Musical Artists: I was asked this recently and because I have such eclectic tastes, it was all over the place. Favourite bands: Metallica, Sun60 and Wilson Phillips. Favourite artists: Prince, Cher, and probably too many others. I currently am into listening to Tuvan Throat Singing, specifically a band called Yhat-Ke.
Time of Day: Morning. The earlier the better!
Season: Spring and Fall. Love watching the world change.
Places in the World: New Orleans, Chicago, Mexico.
Recreational Activities/Hobbies: Being ADHD, I have about 1100 hobbies…Drawing, Nerf, R/C Cars, Wood working, Zombie Survival Training and Prep, and so many more. But my favourite activity is spending time with my dog Pakora.
Sport: Ball hockey, Archery, MMA
App: Match 3 games (Puzzle Combat is my current addiction)
---
Least Favourite
Food: Lentils and Beans (the texture…ugh)

Activity: Singing or dancing in front of people
Time of Day: Late evening

Season: Summer (damn you mosquitoes!)

Place: Wedding Receptions (don't care where they are held lol)
---
More Info
Best Thing Someone Said to You: Fear and Excitement have the exact same physical responses (increased heart rate, blood pressure, adrenaline, etc.) the only difference is your attitude.
Life Motto: Make sure you can live with the decisions you make. Make those decisions with a good heart and good intentions.
My Hero: Steve Yzerman (Captain of the Detroit Red Wings for decades). He never changed teams, always put the team ahead of himself, never held out over money, and worked hard both on and off the ice to win multiple championships. One of the most respected players (especially by other players) to ever play the game. I hope someday the people in my life feel the same way about me.
One of the Things I Find Fascinating: I'm an empath and I am always fascinated by the number of negative emotions people carry around with them on any given day and how unaware they are that they are carrying that weight.
Most People Don't Know This About Me: I like to work on bio control skills. For example, I never get a song stuck in my head because I know a hack to make it stop. I never get the hiccups because I can stop them at will. I'm only ticklish when I allow myself to be ticklish, otherwise tickling has no effect on me. I used to be a late-night person and trained myself to become an early riser.