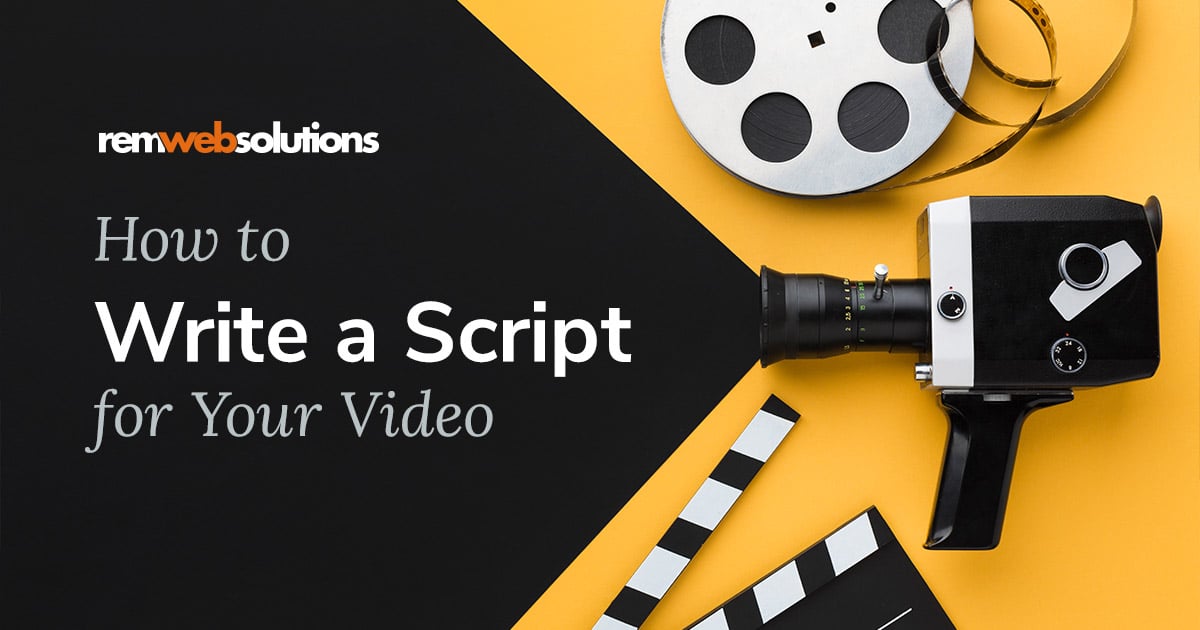 Videos are a continuously growing segment of the Internet, and one of the most shared content types. You can convey a lot of information and content in a short video and it's very easy for viewers to digest that content in visual form.
There are lots of tips on how to create a great video, and we're working on a blog post for just that topic in the future, but this article is about how to write a script for your video.
A good script is like the outline for a writing project, it keeps all the content focused and logical. A good video script will also help your videographer plan their shoots and prevent any unforeseen issues on shooting day.
Taking the time to make a proper script could save you a lot of money in reshoots and paying for missing footage last minute.
---
What is a script for a video?
A script is an outline of the scenes (visuals and dialog) in your video. It can be as simple as naming a scene, listing who/what is shown in the scene and listing a location for the shooting in the scene. A more thorough script can include shooting directions and full dialogs for actors in the video.
There are lots of different reasons for shooting a video. You could be showing how to unbox, assemble, and setup a product. Your video could be following a staff member, showing a 'day in the life' of an employee. Or your video could be a commercial for a service you provide.
For our purposes, we're going to assume you're making a script for a recruitment video. Hiring talented employees can very competitive and a recruitment video can help increase resumes received on a job posting.
A study on CareerBuilder.com revealed that employment postings that contain at least one video receive 12% more views than postings that have no videos. Also, companies can see a 34% increase in applications received after adding a video to a job posting.
6 key pieces every recruitment video should have
1. An introduction to your business.
Your potential candidate is going to want to know about your actual business. So, make sure your video covers the basics – what do you do, what products do you sell, how long have you been in business, how many employees do you have, etc. You don't want to give out too much info (don't bore them to death). Just give enough that it piques their interest in working for your company.
2. Business principles you stand for.
Share your company values with potential candidates. If you're all about giving back to the community, or treating your staff like family, this is the place in the video to let them know. You want to filter out the candidates that aren't a good feel for your company, so make sure your upfront about your values and principles.
3. A day in the life of your employees.
Take the time to show potential job applicants what their job looks like. If they work in an office, show the desks, meeting rooms, breakroom, and cafeteria. If they are going to be working outside, show company vehicles, work being done onsite.
4. Employee testimonials/interview.
Have a fun place to work? Do your employees love to go into the office? Get your employees on camera and get them to talk about what they love about the job, how long they've worked there, or why they won't ever leave. It's important that you use real employees and at least put their first name to show you're genuine.
5. Your company culture.
You've already covered your business principles, not let's focus on the culture. What is the dress code like? Do you all gather around the foosball table for a quick break? Are employees playing board games together at lunch? Whatever your culture is, show it. Again, it's very important to be as genuine as possible to make sure you get a candidate who will be a great fit.
6. Your value proposition.
Why would someone want to work for you? Why would they want to work in this specific role? List any unique and exciting features about the company or role. Have a great benefits package? Are your staff self-made millionaires? Show the enticing reasons to come work for you.
Now that you have your key pieces, you need to combine them with some considerations. The next section covers how they work and gives you some examples
Items to take into consideration in each scene
Try to use these as often as is reasonably possible. For example, during the scene where you introduce your Business, you should take these into consideration:
An Introduction to your Business
Physical environment – what areas of our business do we want to show to introduce it?
People in action – when we are introducing our business who should do it? Whose voice?
Cover the key things your target is looking for – is a parking space important? Show the parking lot etc.
As you can see, these considerations would apply to each key scene. Pro tip: Don't be afraid to combine several considerations into one scene. If you're trying to show your company culture you could show your staff at concert that you went to together. Now you've got the location, people, and why you are unique in one scene. Here is a short list, feel free to add your own (remember to always show what the candidate is looking for):
Physical environment (factory floor, cafeteria, onsite work)
Sound effects (machinery, nature sounds, people chatting)
People in action (doing jobs, laughing together, waving goodnight on their way home)
Why the company is unique (what makes you different than your competition)
Why it's a great place to work (food and snacks, sleeping pods, pinball arcade)
Include the right people (company leadership, a direct peer, someone in a cross functional role)
Common interview questions (Can I bring my dog to work? Can I work remotely? Do you have an onsite gym?)
What is it like to the work at the company? (People having fun, people collaborating, happy people)
What kind of people do well at this company? (Go getters, team players, working long hours alone)
Demonstrate authenticity. Every. Chance. You. Get.
Now that you have a good idea of what makes a successful recruitment video, let's look at a sample script. Remember, it can be as informal or formal as you and your videographer want to make it.
Sample Recruitment Video Script
1. Introduction to the company
Visuals
Show the inside/outside of our offices with staff. Show one of our staff onsite working on scaffolding. Show a Canadian flag to highlight that we are 100% Canadian owned. Show our logo in the office and the front sign on our building.
Content
We've been a 100% Canadian-owned business that treats our staff like family from our start. As we've grown, we've become in building office towers."
2. Business Principles
Visuals
Show the Owner/Management talking. They will be sitting at their desk or in a boardroom together. The whiteboard will contain data or policy they are working on. Show people shaking hands after a deal.
Content
"Innovating. Empowering Creativity. Thinking Different. Accepting Challenges. Making Relationships Matter."
3. Company Culture
Visuals
show a worker fabricating or working on a building. Show a group of staff having fun together. Show the construction crew having lunch together.
Content
"ABC Construction wouldn't be as successful without our amazing team and the level of craftsmanship they bring to their roles each day."
4. A Day in the Life
Visuals
Show a truck leaving to and from a job. Show safety protocols being used (putting on helmet, safety harness). Show work being done on the jobsite. Show workers going home, waving goodbye.
Content
"Safe working environment. Outdoors, travel, working at heights. New surroundings form job to job. No two jobs are the same. Challenging opportunities. Problem solving. Views."
5. Employee testimonials/interview
Visuals
Informal interviews with some different staff members – in different locations.
Content
Have staff give answers to the question 'why do you like your job?'. Playing music – create a montage. Have text at the end "Our staff love their work, and we love having them work for us."
6. ABC Construction Value Proposition
Visuals/Content
Show background moving images, with a graphic overlay showing the most important benefits from this list:
Competitive wages with great opportunity for growth
Top tier employer paid group benefits
Training, development, and career planning
Group RRSP Plan with employer matching contributions
Per Diem / Living Out Allowance with paid travel time
Annual boot and clothing allowance
Paid holidays and personal leave days
Industry specific PPE provided
Employee referral bonus
7. Final Scene
Show the best footage we have of construction, workers smiling etc. with music etc. Link to the careers page on the website and email/phone for HR rep.
---
Now that you have a great start to your script, sit down with your videographer and start working on storyboards and specific details for shoots.
Let us leave with you some final tips that can help:
Show the job title of anyone who appears on screen with their name.
Keep the video short 3 to 5 minutes MAX (less is better)
Keep it genuine!
Match the company vibe. Are you fun? Show it!!