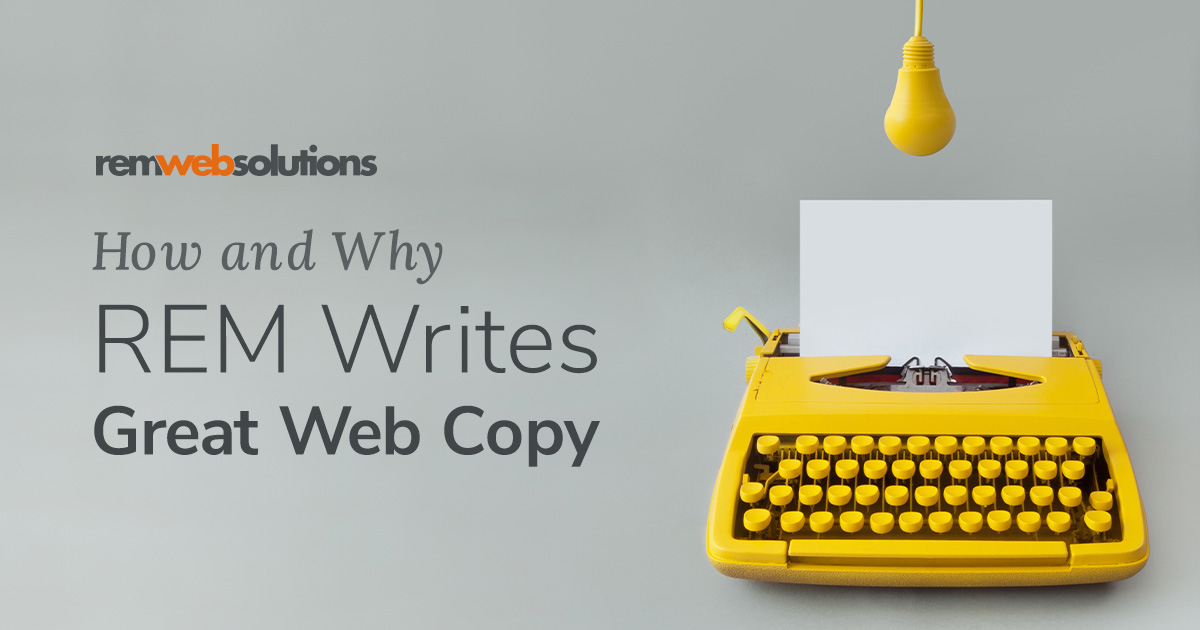 When you hire REM to write your web copy, we use our years of experience and in-depth knowledge of how the web works to create the best content we can for your site. Our marketing director, Sanj Rajput has been writing web copy since he built his first website in 1999.
Not only are we writing to make sure your site is easy to read and digest, but we are also making sure that your content will be found and indexed by the major search engines.
We're big fans of clean, modern website designs at REM. But we're not huge fans of minimalist modern designs, where there are very few words on a page.
---
Did you know that Google says that a web page with less than 300 words is not considered a page and that you need 30 pages on one topic to even be considered as an expert?
---
The primary concern when writing content is to make it easy to read and understand by your visitors. But there is a very important secondary concern; getting your website to show up in search results! Unfortunately, this means that you must make sure you have enough content to rank higher than the competition.
Top 7 Reasons You Need Good Web Copy
Let's breakdown the top seven reasons you need good web copy:
1. Great content makes visiting your website worthwhile.
You spend a lot of time and money getting people to your website. Once you get them there, you should make it worth their while. Your time is worth a lot, and so is theirs. REM can write quality content that answers their questions and makes them come back for more.
2. Excellent, original web copy also improves your SEO.
Google has made no secret of the fact that content, original content, is king. Your search engine rankings are heavily influenced by the content on your site. Having REM optimise your content with searchable keywords, and content that engages your readers, can go a long way in boosting you against your competitors.
3. Build trust and increase sales with high-value content.
One of the biggest obstacles in getting a visitor to spend money is establishing trust. Good web copy helps build trust. We can help establish you as a subject matter expert (SME) and therefore become an online resource for your product or service. Readers who come to you for advice and knowledge are also more likely to purchase from your brand.
4. Good content is evergreen content (content that doesn't go stale).
Good content requires a lot of research into keywords and making sure the topic is covered thoroughly. Good content usually becomes evergreen content, in that it is still useful weeks, months, or years after it's written. Especially since we can schedule regular updates to come back and refresh the content.
5. If your copy is great, it gets shared and linked to more often.
One of the big advantages to working in the digital world is that our content can be shared easily across different channels. That article we are writing for you could be shared from your website, generating backlinks, and create engagement with your potential leads. Great copy is more likely to be shared because it offers value and is enjoyable to read.
6. Good writing boosts your site usability and accessibility.
A good website should meet accessibility guidelines. Over 20% of the population has some form of disability that can affect their online browsing. We write content that is usable, and we avoid using 'marketingese' to make ourselves sound smarter. We write clearly, concisely, and we don't waste your reader's time.
7. Well written content makes you stand out from your competitors!
There are approximately 10,500 new websites being published each hour. That is 252,000 new websites each day. 1,764,000 sites a week. That's a lot of competition. How do you make your site stand out in your industry? Having REM write your copy means that your top-quality content will stand out from all the 'stuff' being created out there.
---
It starts to become obvious that having good web copy can make or break the success of a website. Personally, just getting your site to show up in search engine pages is reason enough to spend the time and effort on properly written content. Let REM do the keyword research, competitor analysis, and topic research to create your content.
Google says that good content, whether in a blog or a web page, should have a minimum of around 1500 words. In fact, even more is better, but the content must be on topic and relevant to what is being discussed. Writing a thorough article that covers the reader's concerns and provides the information they are searching for should always be our priority.
When you team up with REM to write your content, our job is to balance those two competing interests. We want to give as much content as possible to make Google happy, but we also want to keep the text as minimal as possible so visitors don't get intimidated and can easily understand it and find what they are looking for.
Working with REM has an added advantage; our writers work very closely with our talented designers to break up the text visually. Using accordion style sliders, bullet points, graphics, and other techniques we can make your content easy to scan and therefore less difficult to read.
---
Target your web content to your visitors
Your content must also match your audience, and their current stage in their buying decision. If you have created buyer personas, we would use those to determine how we write. If you haven't created them, contact REM to discuss a pay-as-you-go marketing consult so we can help you make them.
The industry you are in will also affect your writing style. For example, B2B leads and B2C leads have different buying decision processes and we must take that into consideration very early in the writing process.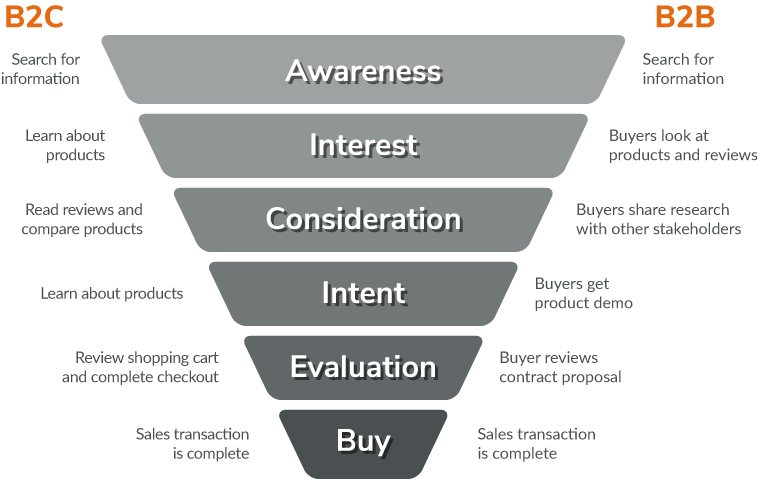 REM is also careful to write your content at a reading comprehension level that makes the content easy to understand. We always write at a level below your target audience, so if you're selling to PhD holders, we would write at a college level. If your target audience is a blue-collar construction worker, we're writing at grade school level. Tailoring your copy like this will make the reader feel smart and competent when they read it because it will be easy for them to comprehend.
For example: small business owner-operators will be unable to secure top positions in online competitions by consistently baffling their potential lead generation funnel using abstract marketing terminology and gratuitously obfuscating vocabulary vs. You're not going win any contests by confusing your readers.
Hiring REM means you get the expert knowledge your content needs to be easy to read and stand out from the crowd. The content will last longer and help convert readers into regular visitors and/or clients.
---
Here are our 'Web Copy Commandments' we've adopted from our years of experience and online research:
REM's Web Copy Commandments
We will be concise. We don't use 200 words to say what could be said in 100. And we don't use 100 words to say what can be said in 20.
We know your audience. We do our research and learn what your readers are looking for. We always write and use vocabulary that your readers can easily understand.
We don't use 'marketingese'. Common words are easier to understand then subjective and boastful text. Be clear and direct in your language.
We use the Inverted Pyramid style of writing. We put the important and interesting content at the start. We then let your visitor decide if they want to read further to get more detail.
We stick to active voice. We use active verbs whenever possible and always specify the subject of the sentence. For example, rather than writing "products can be ordered on our website," we would write "you can purchase products online now".
We use SEO Keywords in our content. We do our research and use words that are commonly searched for to describe your product or service. We avoid using proprietary terms and abbreviations as much as is possible.
We make your text scannable. We use lists, small paragraphs, and headings to break up your content. Since most people don't read, they scan a page, we can use bold text and other design features to highlight important sections.
We make links easy to identify. Links should be same color. We do not underline any other text since it may be confused for a link.
We try to incorporate multimedia. We can recommend images, videos, and other ways that you can present content. Adding a little multimedia will also break up the text and make it appear less intimidating.
We hook them while they are interested. We write your content so that it makes your reader want more. We carefully place CTAs to the 'next' step in their buyer journey. We don't make them search for it.
Our web copy commandments are our promise to you. When you hire us to write your web copy or help with your content creation, we make sure to leverage that content to get you more visitors and that can lead to more sales.
If you're struggling with getting your content done, or are just worried it won't be at the same level of quality as the rest of your brand, contact REM to write your copy for you.