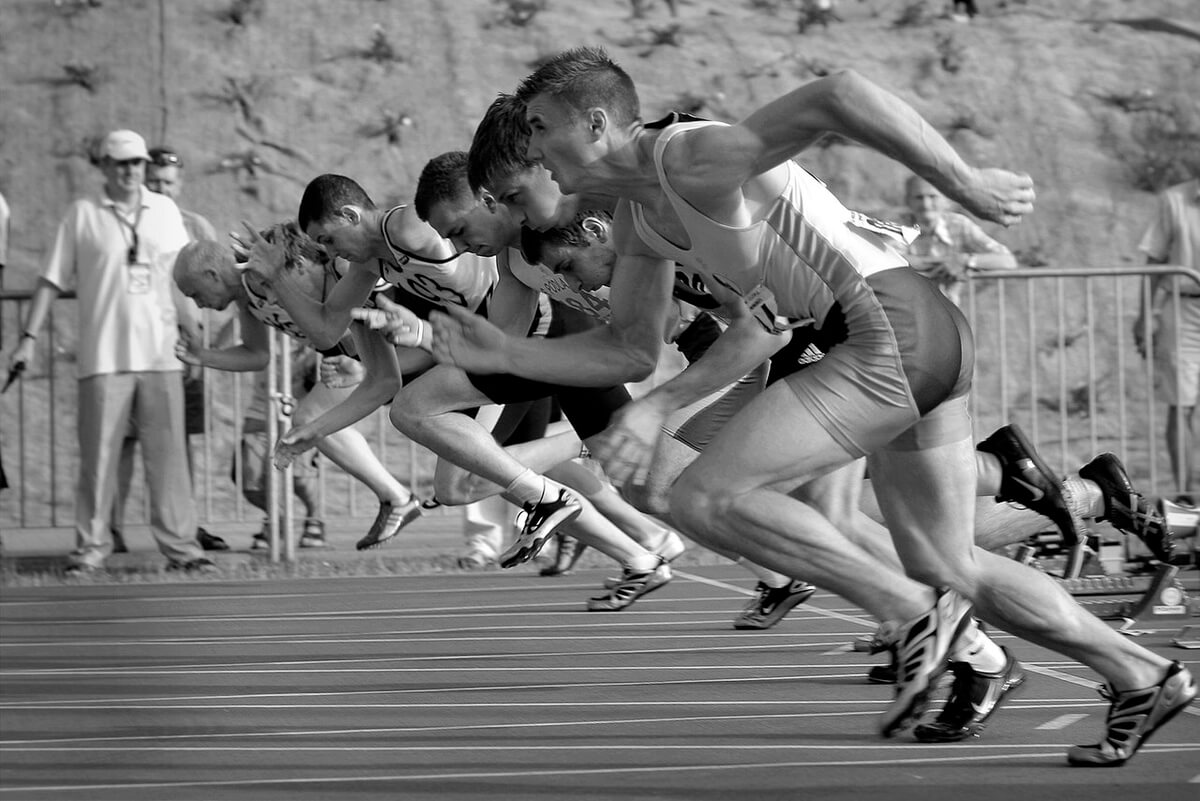 Having a mobile-friendly website is more important than ever. The number of mobile users is expected to reach around 2.5 billion in 2019. Google now uses the mobile versions of webpages for indexing and ranking. Google's mobile-first approach considers page speed as a ranking factor in mobile search results. These tips will help you improve your page speeds.  
Reduce the File Size of Images
Loading images is one of the most demanding activities when it comes to page speed. The bigger your images are in file size, the more slowly your page will load. Don't upload a large image with a file size of several megabytes. In most cases, you can use a smaller file without a noticeable loss of quality.
Host Video on Third-Party Sites
Videos are a valuable way to educate visitors about your products and services. However, hosting videos on your own website uses a lot of space, and reduces load times. Instead of hosting videos yourself, post them on YouTube or Vimeo and embed them on your website. Not only will this improve your page speeds, it also helps your brand reach a wider audience.
Use "Lazy Loading"
Typically, when a visitor opens a webpage, the entire page will load. Depending on the site's design and elements, users may experience a long loading time. One way to overcome this issue is by using "lazy loading."
When lazy loading is used, the content within view is loaded first, while content below the fold loads after it comes into view. Lazy loading can significantly reduce loading time on posts that contain a lot of images. By using lazy loading and prioritizing your above-the-fold content, you can improve site speed and reduce bounce rates.
Hiring a custom web design firm will help you improve your page speeds and ensure that your site is truly mobile-friendly. Contact us to learn more about our web design and development services.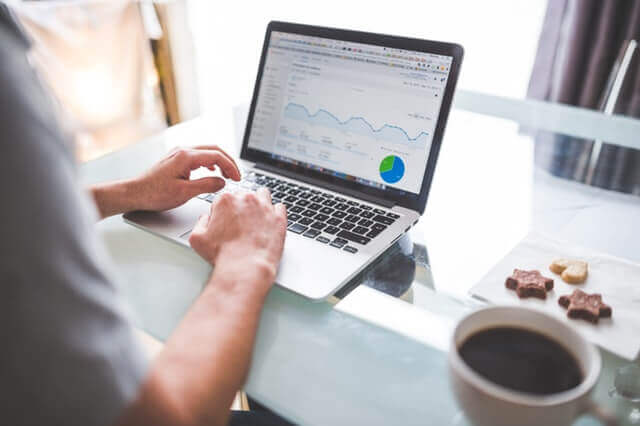 Designing your own website is not as easy as you think. Of course, these days making a website with nothing but notepad and determination isn't your only option, but even when using a website builder there are a lot of aesthetic and technical issues that can come from saying no to the professionals. There are so many things that have to be considered when designing a website,
Is it responsive?
One of the most common mistakes and often the hardest to fix is making your website responsive so that it loads cleanly and formats well on any device a user might visit your site on.
Your site may look good on a desktop monitor at 1080p, but someone trying to navigate your site on their phone might see everything as a jumbled mess because it's compressing everything onto a tiny screen. Even users who own tablets or laptops could be using different resolutions that while they aren't too far off still don't respond well to the formatting of the site.  
Is it accessible?
Your site must be able to be used by people with varying disabilities ranging from problems with sight, hearing, or even difficulty with motor functions. Having captioned videos, images to important information, laying out your content in a non-confusing way, finding the right contrast colors for your site, even adding support for users to navigate your site with only a keyboard are all things that you need to think about when designing a website. You don't want to cut out a portion of your clientele because your website was too frustrating to navigate.
Is it optimized? 
No one is going to see your site if it isn't optimized. Having a good SEO and lots of keywords that connect to your site is vital to gain any traffic online these days. When someone searches something related to your company online, you want to be the first result they see. Optimizing your website and connecting it to your content takes some finesse.
Designing a website yourself is all well and good if you want to take the time, money, and resources to do so, but a company requires many things to grow and stay successful, and a website is too important these days to afford any mistakes with. In most cases, it's best to leave the design of your website to the professionals rather than to go at it yourself. There are so many things that have to be considered and it takes years of experience to know what works and what doesn't when talking about web design. To learn more, contact us.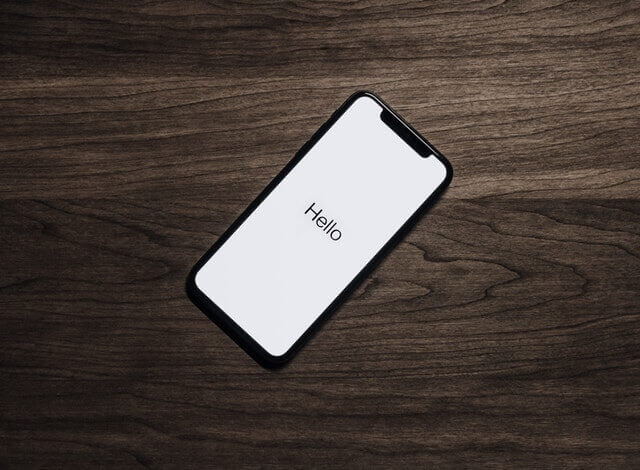 The importance of mobile-friendly web design for your professional business website can't be stressed enough in an age of seismic technology shifts. According to the market research portal Statista, a fact-based statistics and business intelligence company trusted by digital giants from Google to Paypal, there will be approximately 2.63 billion smartphone users worldwide by the year 2020.  If you haven't sought professional web design services to optimize your website for mobile accessibility, now would be an appealing time to consider it. Let's look at a few reasons why mobile website accessibility matters for your business and its relevance in the digital era.
Increasing Your Visibility
There is a new generation of internet users among us that only know the internet through a mobile device. More and more prior generations of professional adults are migrating to mobile-only internet devices for their ease of use and accessibility among many other benefits. Most of us will still use a combination of internet accessible devices from desktops to laptops, and mobile devices. The need to increase your visibility across all devices is no longer a competitive advantage for your business; it is a must.
Expanding Your Customer Reach
With an increase in your business visibility across all devices that have internet access capabilities, you can directly influence a larger market share of consumers that may be looking for the product or service that you are promoting. This visibility will ultimately increase your chances of not only obtaining potential customers but more importantly offering you the opportunity to earn repeat customers through your exceptional product or service.
Remaining Relevant and Competitive
Increasing your visibility to expand your customer reach puts your business in line to be relevant and competitive within your specific product or service niche. If your visibility leads to an expansion of your customer base and you are earning a more repetitive customer base, what's stopping your repeat customers from being your top source for growth and word of mouth advertising to their friends and family across social media?
Professional web design and development services are the keys to your developing business goals. Whether you are just starting or looking to improve your business journey into mobile-friendly web design and accessibility, REM Web Solutions based out of Kitchener Waterloo, Ontario can help. Please contact us here to begin.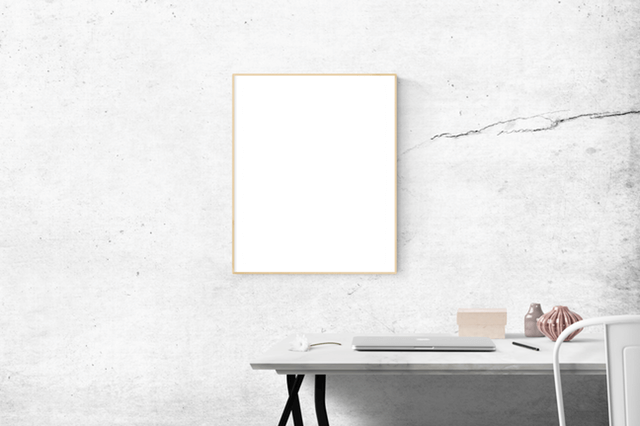 Any individual can look back at their technology habits from just a few years ago and recognize how their own web use has changed significantly. The pace of change within the tech world is always fast and the upcoming year is no exception. One year from now, those same individuals will use technology in more advanced ways as new concepts and tools arrive for public consumption. Read on to learn more about some of the trends expected to change the way we use technology once again.
Machine Learning Chatbots 
More and more tech professionals about talking about AI (artificial intelligence) and machine learning. Just as automated phone systems are becoming more sophisticated -- better at understanding human conversation, so are machine learning chatbots available on websites. Rather than thinking of bots as "taking over" a human's job, consider how a bot could allow a small business to focus on providing increasing services for customers rather than performing mundane tasks such as appointment setting or answering repetitive queries about products or services available.
Mobile Design is King
Just a few years ago web designers encouraged their clients to have a mobile presence along with their traditional website. Now websites lean very heavily toward servicing mobile users. Certainly no one is advising businesses to abandon their traditional websites, but a site optimized for mobile users is now in the number one spot when it comes to maintaining a presence on the web.
Design - Clean and Minimalist 
When web designing first became part of building a website, there was the notion that incorporating cool graphics and other visually impressive features could attract users through the use of these "wow" factors. Today, users are not necessarily interested in distracting features that take a long time to download. Instead, they are far more interested in acquiring the information they are seeking as quickly as possible. This is not to say that websites, both mobile and traditional, need no longer be attractive but simply that quickly delivering information wrapped in a clean, minimalist package is desirable to users. 
If you would like to know more about how your company's web presence can reach more customers, please contact us!
| | |
| --- | --- |
| | Brad Anderson at 12:51 AM |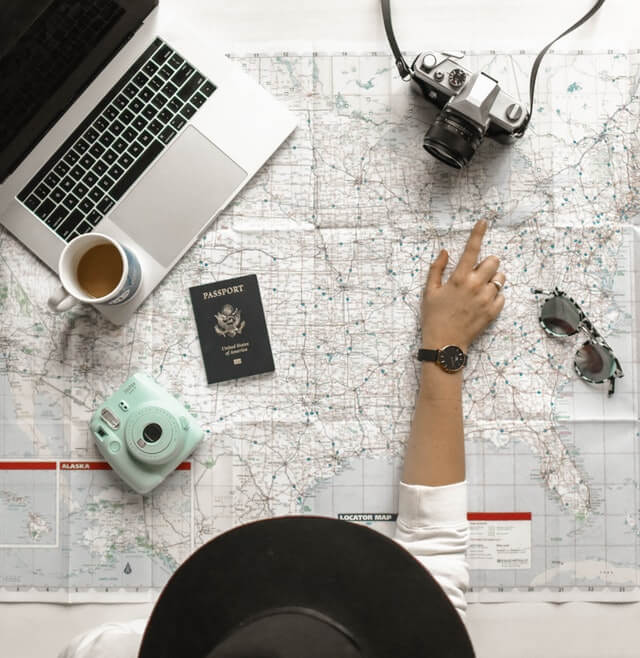 When you're running a business, security is really important. There are many things that are sent via email that are of a confidential nature. These might include financial spreadsheets, formulas, blueprints etc. You obviously don't want these things to fall into the hands of hackers or competitors.
There are many people out there who could use all this information against you in some way. If people come to know that your business is doing well, you could become a target for thieves and scammers of different sorts. In fact, the ingenuity of virtual crooks is constantly on the increase. So what should you do in order to maintain email security?
How Complex Should You Make Your Email Password?
Try to make your email passwords as complex as possible. Include letters, numbers and special characters such as !@#$%. You can also throw in some capital letters, if possible. However, don't make your password so complex that you can't remember it. You should have your password memorized rather than written down somewhere that others can access it.
Meaningful Passwords That No One Can Guess
Don't use an email password that others can guess, like your date of birth or your wedding anniversary. The best thing is to go with something that's personally meaningful to you that not that many people know about, such as the name of your favorite first grade teacher along with the year that you were in her class. Obviously this technique doesn't work if you go around telling everyone about this teacher. But if it's something that you will definitely remember and that no one else knows about, then you should be safe.
Using Memory Sticks and External Drives Instead of Email
Another thing you can do is curtail the type of information that gets sent on email or that gets saved in the cloud. Of course, this is a difficult thing to do. Everyone communicates using email these days and you might need an important piece of information from your accountant, which necessitates the use of email. However, it's better to get this information on a memory stick or an external drive. This way, it doesn't get sent over email and there's no possibility of it being hacked.
Contact us for more great tips on email security and choosing strong passwords.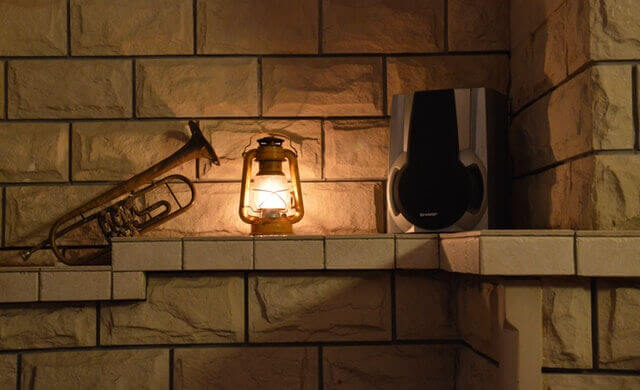 Today, there are many turnkey solutions you can use to build your website, and these options are both fast and easy to use. However, the challenge is that using templates for developing your site may not serve as the best representation of your company or brand. Additionally, other businesses including your competitors may opt for the website design you choose to use, which can affect your competitiveness in the market.
For that reason, considering a custom website is a wise idea because it can help you achieve much more than what you may gain through ready-made solutions. Here are some reasons why custom websites are a worthwhile investment for businesses in various sectors.
Increased Functionality 
It is quite frustrating when users cannot find a particular feature on your website, and that is one of the reasons why you may lose business to your competitors. On the other hand, site building templates may not include all the features that users need, and if you settle for this solution, it becomes a limitation for the success of your enterprise.
As such, tailor-made solutions can help you build any functionality for your website to enhance user experience. The reason is that as you develop your custom website, you can identify the features that users need and in turn, you can add the same conveniently to enhance functionality.
Outstanding Appearance 
Most customers opt to visit a company's website first before they walk into a brick and mortar establishment. The implication, in this case, is that your site becomes the place where customers get the first impression regarding your organization. Therefore, other than focusing on enhancing the appearance of your lobby for walk-in clients only, you need to ensure that your site captures the best impression of your brand for online customers as well.
A custom website is the best solution, in this case, because it gives your brand a unique appearance that is appealing to customers.
Proper Structuring 
Sometimes, you may discover that most customers have several unanswered questions, even after visiting your website. In that case, the implication is that your site is not achieving its objectives as earlier intended. So, proper planning as you prepare to embark on a site building project is not an option. Once you capture all the requirements of your website, you can begin the task of building your custom site.
As a result, the launch of the end product will feature a site with proper structuring, capable of marketing your business in the best way possible. If you need more information on the reasons for considering a custom website, contact us today!
Featured Client
- Five Nines IT Solutions -
IT . JUST . WORKS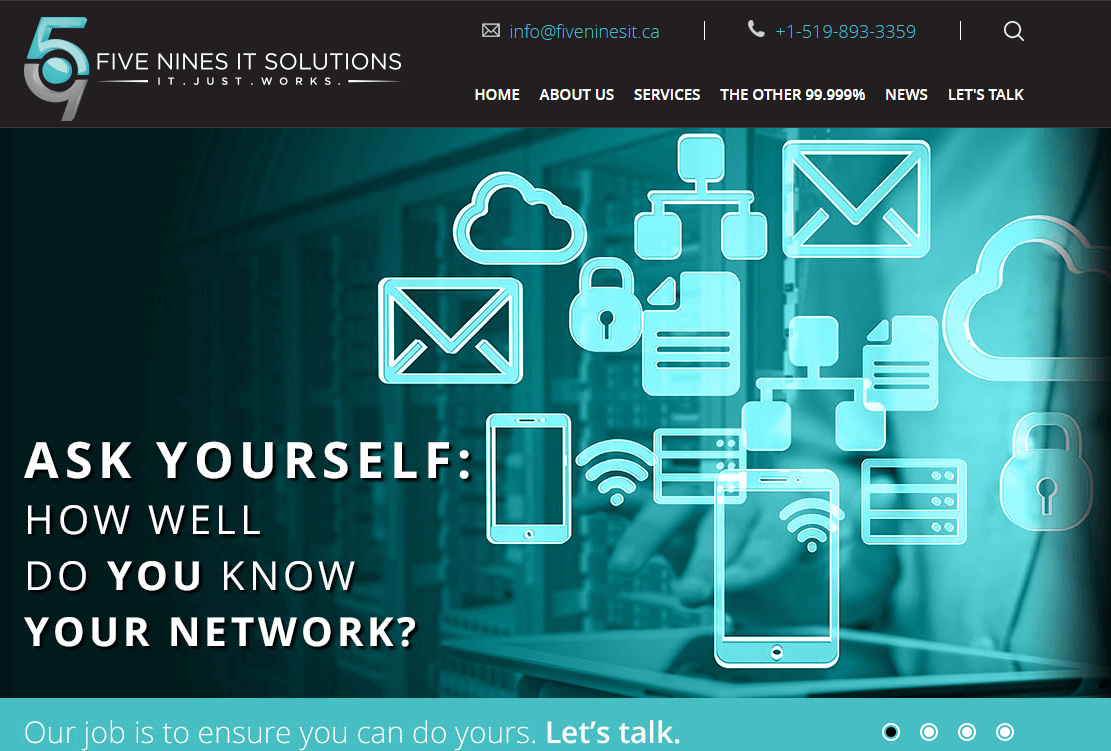 About
Five Nines IT Solutions is a leading edge Strategic Services Provider and IT Solutions firm operating and servicing our global client-base out of our Kitchener, Ontario HQ, and support centers throughout Canada.  Five Nines brings our extensive knowledge, experience and strong relationships with the technology industry to the table in every interaction with our clients and their businesses, ensuring "IT. Just. Works.", so clients can focus on their core business!  Let's Talk!
Five Nines Main Contact Person: Douglas Grosfield, President & CEO
Contact Douglas at:    dwgrosfield@fiveninesit.ca   or   1-519-893-3359 x300
| | | |
| --- | --- | --- |
| No. of Employees: 140 | Established: 2015 | Location: Kitchener, ON |
Visit Five Nines IT Solutions website
Q:

Why did you choose REM?

 

A:

We are in a highly technical business, and as such we do lots of research on the organizations we intend to partner with when bringing technology to bear in addressing the needs of our clients.  We see a lot of options for organizations to partner with, and have developed a keen eye for quality and capabilities. 

 

We employed that same degree of due diligence when we were looking for someone to help us develop our brand and the face of our company, from a web perspective.  Having known Rob Matlow for years, and having seen the results of REM's work performed for other organizations, we knew what we were getting into with this project, and were comfortable that we would receive high value for our investment and faith.
Q:

What was it like working with REM?

 

A:

Like any project involving technical subject matter, combined with creative content creation, there is a fair bit of back and forth required to ensure alignment and adjustment as necessary.  REM does a great job of 'herding cats' when it comes to holding our feet to the fire to ensure we are not the barrier to progress throughout the project.  Overall, the experience was exactly what we were hoping for, and the results speak for themselves!  Check it out at www.fiveninesit.ca and "Let's Talk!"
We knew what we were getting into with this project, and were comfortable that we would receive high value for our investment and faith.
- Douglas Grosfield, President & CEO
---
Learn first-hand how we can help you with your website needs.
Contact us today!

When it comes to keeping your data secured and preventing it from being stolen, keeping your email secure and choosing strong passwords are a vitally important, yet often overlooked aspect of data security. Many people simply gloss over these aspects. This is especially true for passwords where it is disturbingly common to hear it suggested that an individual or group should change their password to a certain easy to remember set of letters or numbers such as password or 123456. This is rather disheartening because it shows how so many people put little stock in something as critical as password security.
Password Security
A secure password is one of the most vital aspects of ensuring your data security as the password serves as the first line of defense for your data, so having a strong password is especially important for anyone who wants their data to remain safe and secure. Some important ways to keep passwords secure are:
Use different passwords for each account
Make sure nobody watches you enter your password(s)
Log off whenever you leave your device
Only enter your passwords on computers you control
Avoid entering passwords when using unsecured connections
Don't tell anyone your password
Change your password regularly
Following these tips and others like them will help you to make sure that your passwords remain secure and prevent your accounts from being hacked because of weak passwords.
Email Security
Email is a vitally important tool for everything from business to casual conversations between friends. Unfortunately, the security of email is often severely neglected to the point where it is virtually nonexistent as this form of security is usually seen as far less significant than other forms of internet security. It is a fact that information stored and sent by email is vulnerable. There is, sadly, no way around this. That said, it can be mitigated by following these practices:
Don't open attachments from email addresses you don't recognize
Do NOT click on suspicious links
Pick a strong password and change it on a regular basis
Don't check your email when using unsecured WiFi
Don't send personal information except when absolutely necessary
If you have any questions about e-mail security and password security, then please contact us.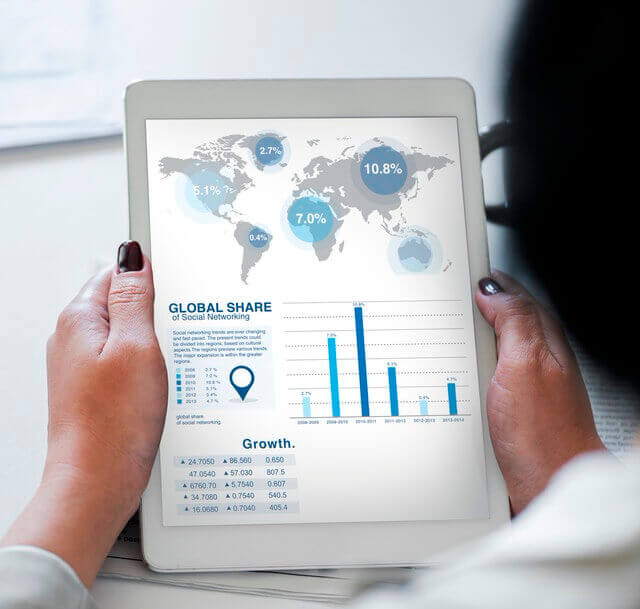 Every business needs to have a website. This is a place where your customers can find you online, whether they are looking at their computer or their smartphone. They can look through the services and products that you offer, as well as contact you for any concerns.
However, there are websites and there are responsive ones. So, what is a responsive website? It simply means that the website is easier to view, whether you are on a smartphone or a computer. It can also be called a mobile-friendly website.
So, why would your business need a responsive website? Basically, responsive websites get results! How do they do that?
Since it is easier to view, more people are likely to take a look around your website. Instead of having to pinch the screen to try to move around, they will be able to see what they want. Most people will only look at your website for a few seconds before they decide if they are going to stay. If it is too hard to see, they will simply move on to the next website that is better.
Even if you have loyal customers, they will not be happy if they have to struggle to navigate your website. They may stick around to order something but, you can guarantee that you will be hearing about it later! Unhappy customers don't always come back so you should do everything that you can to ensure your customers have a good experience every time that they deal with you!
Even more important, Google recommends responsive sites over other websites. If you are serious about your business and want to get your website in front of as many people as possible, you need Google on your side. By having a responsive website, your business is more likely going to be found in the search engines.
You need to make sure that your website is going to attract customers instead of turning them away. By having a responsive website, your customers will be much happier and more likely to use your website. Google will also be more likely to recommend you in search results – which is a powerful tool that shouldn't be overlooked.
Contact us to help you with your website so you can reach the customers that you want.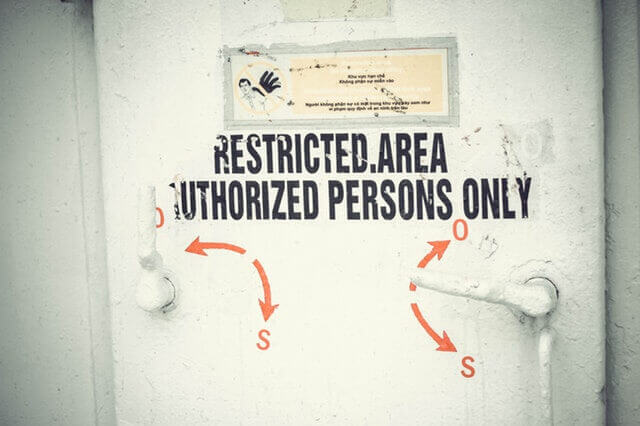 We've been told often enough that it's important to pick a strong password. Use "PASSWORD" or "123456," and a crook will guess it in three tries or less. But it's not that easy to pick one that we can remember but no one else can guess. Creating a password that's so hard that it has to be written down and left next to the computer isn't great security.
Here are a few ways to create a password that's secure yet practical.
Use a password manager. Most browsers give you the option of saving your password behind a master password. This lets you devise difficult passwords and not have to memorize them all. Just make sure that your master password is very hard to guess and you don't lose it.

Pick a long, silly phrase. Length is the best way to make a password hard to guess. A nonsense phrase, like "Waterloo cats ponder endless walls," sticks in the memory yet is practically unguessable. If you can make a mental picture out of it, perhaps with two cats staring down an infinite corridor while wearing Napoleon hats, that helps you to keep it memorized.

Use punctuation and digits in all your passwords. They widen the possibilities an attacker has to guess from and defeat dictionary guessing. You could make the last example stronger by changing it to "2-Waterloo-cats-ponder-endless-walls."

Generate random passwords with software. There are many applications and websites that will give you a random string of letters and numbers, of whatever length you like. Ask for at least ten characters. Use the password manager so that you don't have to memorize it.
Whatever method you use, keep your passwords written down in a safe place, preferably locked away, just in case you forget or you need to move to another computer. If you've got a good system, you won't have to pull out the written copy very often, but it's a lifesaver when you need it. It also gives you the confidence to pick tough passwords.
No matter how strong your passwords are, make sure you're dealing with sites that hold up their end. Look for a lock in the address bar to make sure the website is handling your password securely. Good web design keeps good passwords safe. Contact us to learn about our design services.
Contributors
Latest Posts
Archive
Tags
Everything
Content Management
Technology
Design
Holidays
Off Topic
Support
New Features
Personal
Gaming
New Clients
SEO
REM News
Project Management
Account Management
Training
Marketing