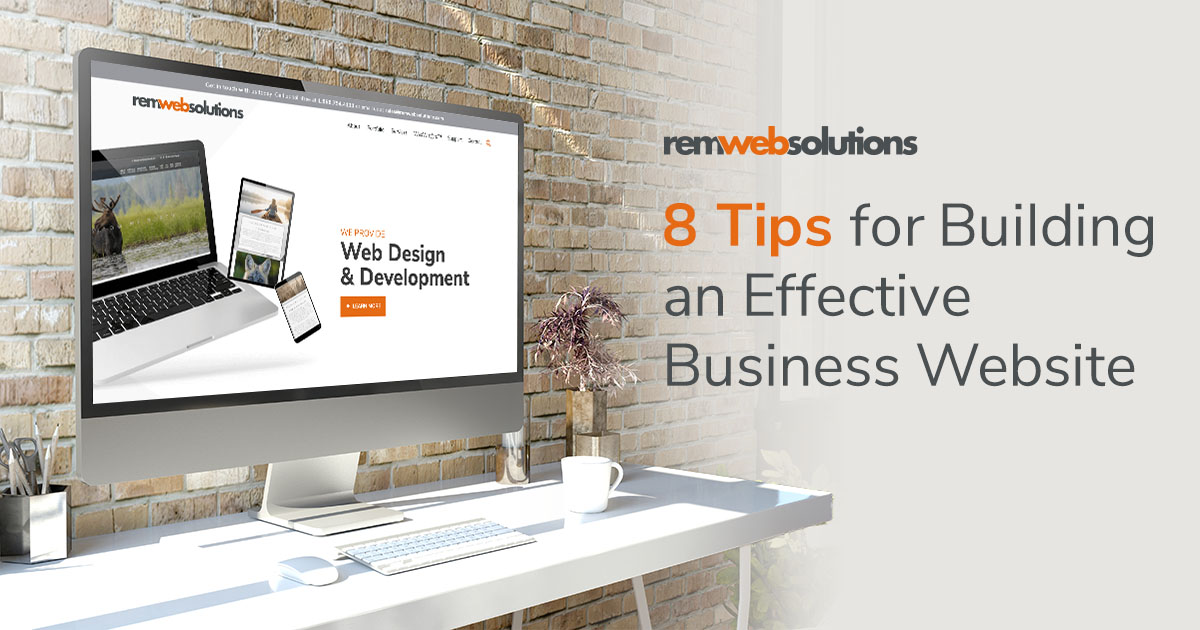 Building an effective business website takes time and effort, and there are multiple factors to consider in the process. It's an overwhelming and daunting ordeal to make a website when so much of the health of your business is tied to its success.
Read the tips below to find out how you can work with REM to build the best business website possible. Creating a great website will help establish your brand, cultivate conversations, and generate leads.
1. Customize your theme
You want your website to stand out and be a unique reflection of your brand, which is why customizing your website's theme is key or else it will blend in with the countless other websites that all look the same. Personalize your site and look through customized designs that will be the best reflection of your business' image and content.
All REM websites are custom designed by our talented web designers. We can guarantee that your site design isn't just a template that is downloaded and then re-sold to hundreds of companies online. And because the design is custom, we can do almost anything you like for the look and feel of the site, including changing the layout.
2. Make your site mobile responsive
It's critical that your website operates well on mobile devices, considering the average adult spends at least 5 hours per day on their phone and is how the majority conduct their online shopping. Mobile optimization for your website is important.
Offering a positive user experience for potential customers will encourage them to stay on your site. If text is difficult to read or the mobile site is hard to navigate, prepare for users to abandon your site altogether in favour of a competitor.
All REM sites come mobile-friendly with responsive designs that change so that they display in the best possible way on any device.
3. Prioritize readability
Users should have no difficulties reading the content on your site, which means you should be thinking about your website's design and how easy it is to read.
Keep font sizes consistent, choose fonts that are known and prioritized for their overall readability, and always opt for contrasting colours. Background images should never drown out or overshadow your text. Readability should always be your number one priority.
Speak with our marketing team if you would like help with having your content written. We do the research on your target audience and write content that converts visitors into paying customers.
4. Make it easy to find and navigate
Your website should be simple to understand and easy to navigate. Don't overwhelm users with unnecessary elements. Less is more. Stick to the basics in your navigation bar and keep your navigation standard.
5. Keep your pages tidy
Your site should not be cluttered with an overabundance of information and detail. Text and graphics should be tastefully balanced so that pages look clean and are simple to use. Don't feel the need to add any "filler" info like a Twitter feed social widget, for example. Prioritize the data your audience will truly care about and cut out the rest.
6. Keep information accurate and accessible
No one likes to spend an unnecessary amount of time searching for information that they need. On top of that, they especially don't like finding info that's out of date or inaccurate.
As simple as it may seem, try to keep your most basic and important information (like contact details, store hours, etc.) readily visible and accessible to users on your website and make sure that it's regularly updated.
7. Go easy on the pop-ups
One pop-up can serve as a helpful reminder about joining your company's mailing list, following your social media accounts, signing up for an upcoming event or offering a discount. Multiple pop-ups can be jarring, disruptive, and turn someone off from staying on your website completely. Use pop-ups sparingly and save them for the most important information you want users to see when they go onto your website.
8. Ensure your website is responsive
The staggering majority of people will quickly leave a website if it is loading too slowly, and the loading time on a webpage directly affects the purchasing decisions of most people as well. It's necessary to prioritize website responsiveness.
Test your website to make sure it runs smoothly, all software is up-to-date, and you're using the proper website host for your needs and demands.
REM works very hard to make sure your servers are fast and secure. We also make sure your site design loads quickly and that important items on your site are loaded first. Speak with your REM sales rep to get the full details.
Conclusion:
The overall efficacy of your website can be the determining factor for a client when they're deciding on whether they would like to learn more about your business or purchase your products. Prioritize your website's design and ensure you're looking for ways to make it faster and more reliable.