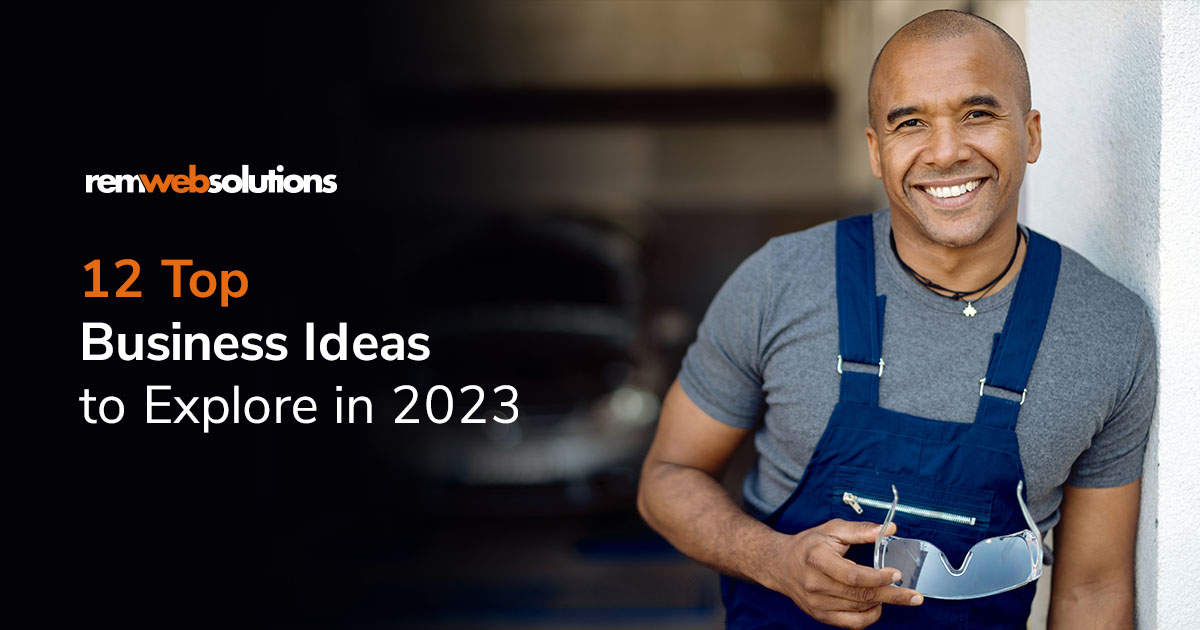 If there's one New Year's resolution we can help you keep this year, it's to start a new business.
The idea of launching a business may be intimidating, but with digitization becoming more common, it's an exciting time to be starting a new business.
To get you going, here are the top 12 business ideas to explore in 2023.
1. Drop shipping
If you're new to the idea of running a business, you may find this option attractive. It requires smaller upfront capital, follows a simple business model, and can be done online.
What exactly is drop shipping?
It's the middle link in a supply chain. You provide an online storefront where customers shop. But the manufacturer or wholesaler has the inventory.
One of the factors that makes a successful drop shipper is a high-level, e-commerce website. Having great merchant connections is also helpful.
In just a few clicks, customers will place orders via your website, you will prompt the wholesaler, who will ship the order directly to the customer. Sale closed!
2. Selling Upcycled Fashion Accessories
If there's anything we've heard in the last few years, it's the concerns of environmentalists about fast fashion destroying nature. This idea may help breathe new life into old fashion.
Creative minds should pay attention. If you've had a bit too much time on your hands in the last couple years, you may have been dabbling in crafting already. That hobby can now be extended into an upcycled clothing business.
But the market for upcycled items extends beyond clothes. Throw in upcycled fashion accessories, from scarves to hats to jewelry, and in no time you can create a full outfit for your clients. The choices are unlimited. Here's a hint, focus on accessories that people can show off during virtual meetings.
Wondering how to get raw material? Hold a giveaway party with your friends and unleash your creativity!
3. Create and Design Custom Swag
This is another idea based in creativity that requires comparatively less upfront investment.
Swag is no longer about just slapping a company logo on a t-shirt and wearing it to the summer barbecue. Employees want to use products that show off their company loyalty. Highlight this philosophy on your website, and you can stand out from the rest. Present yourself as the swag designer that creates products aligned with company values. You can also tout your ability to offer sustainable and functional items.
4. Personalized Meal Delivery Business
During the pandemic, a lot of us were working from home and cooking became a family activity. As we slowly get back to our offices, we're realizing we don't have as much time to cook!
That's when a personalized meal delivery business comes to the rescue.
Make sure your website provides clients an easy online ordering system and ingredient selection. Up your game by focusing on the unique needs of each person in the family. You can include a questionnaire on your website to gather information about their likes and dislikes and dietary restrictions.
5. Professional Organizing Services
Work areas and living spaces have merged into one for many that work from home. As the boundaries slowly blurred, disarray started creeping into our homes. As a professional organizer, you can step in and give people back their living spaces.
Your job will be to help people understand the best use of their spaces, whether in the living room, kitchen, or bedroom. You can also guide people around what needs to go and what can stay. As you liberate space in their homes, you liberate your clients from what is no longer a healthy part of their lives.
6. Mobile Car Washing and Detailing
Commuting to work is time consuming, so we have none left to take the car for a detailed cleaning. Well, your mobile car washing and detailing business can take care of that. A website that has an easy-to-use booking system can help streamline orders. Then all you have to do is invest in some high-quality cleaning products and drive to the client and get to work!
And this business isn't confined within urban boundaries. Wherever they are, clients relax with family at home on their day off while their car is cleaned in their own driveway.
7. Language Translation Services
Canada is made of multilingual people. Knowing more than one language is a unique skill that can turn into a really lucrative source of income. Find a niche market where you live and research the need for translation services.
If you know more than one language in addition to English, you can be a multilingual vendor. If you're fluent in English and one other language, you would be a single-language vendor.
You may need certification for this business, but that should be easy enough to attain. Find your local multicultural services organization and contact them to find out how you can become a certified translator.
8. Virtual Administrative Assistant Services
Over the last couple years, a lot of online businesses have popped up. Most have a small number of employees or are run by a single business owner. But no matter the company size, owners are constantly hustling to find clients and close sales. Admin work often gets pushed to the back.
As a virtual admin assistant, you can help fill the admin gap and make running a business a breeze for owners. You work from your home corresponding with your clients' patrons, taking care of the business owners' calendars, making sure they meet urgent deadlines, and close business deals efficiently. As a virtual assistant, you can work with multiple clients and pick and choose your hours.
9. Dog Grooming
Who doesn't love dogs? It's hard not to love dogs because they love you right back. And if you're one of those people whose faces light up when they see a furry friend, you might be a suitable candidate for starting a dog grooming business.
You could consider doing a certificate course just to learn best practices and to make sure you have all the licenses needed to operate this business. Even though you can run this venture out of your house, you might want to check for municipal regulations.
But what really sells the business is a website that warms clients' hearts and makes it easy to book appointments. Once they're sold on how well their furry friends will be cared for, those paws will start pattering through the door.
10. Travel Planner
As travel picks up steam, people are eager to start marking off items from their travel bucket list. But travelling has become a bit of a pain these days with flight delays, lost luggage, and ever-changing destination restrictions.
As a travel planner, you could help take away a lot of that pain. You won't be booking their flights, but you can put together a travel plan that advises them on the important aspects of their trip.
Use your website to tell clients exactly how you will make their trip even more enjoyable. Your responsibilities would include researching recent incidents involving the airline they've chosen to fly. You can advise them about how to pack for the destination. You can even create a research-based destination itinerary that gives them the best experience of their lives.
11. Home Staging Business
Everything related to real estate has turned into gold over the last few years. Houses were selling faster than they were hitting the market. But properties that were staged were selling at a higher price than those sold without any sprucing up. Ask any local real estate agent and they will tell you exactly how valuable it is to have someone professional stage a property.  
It's all about how you stir the buyer's imagination showing them what they can do with the space they might make home.
Once you've made connections in the real estate market, a website that effectively showcases your presentation skills will make it easier to increase clients.
12. Selling Stock Photography
A lot of us reconnected with nature during the pandemic. Noticing the beauty that surrounded us compelled some of us to revive our hobby of photography. If you've been taking high quality photos in the last two years — of landscapes or pets or people or items that depict a scene — you likely have a large stockpile of photos that could potentially become stock photographs.
You can easily continue doing this as a side hustle. Photography will give you a great reason to get out of the house. Selling it online will give you a chance to share your work with the world and earn some money.
Making a Mark Online
Half the task of an online business is done by the website that showcases the work, services, or products. The REM Web Solutions Inc. team has vast experience creating simple to advanced e-commerce websites. Get started today with your online business today with a REM Web solution.