If you are looking at having some fun on a weekend or an evening, and want to see some good local sport entertainment at a reasonable cost for a family of 4, then you will need to take in a KW Titans basketball game. The new pro basketball team in KW has invaded The Aud.   The team plays a great up tempo game and there is no shortage of action on and off the court.  During the game, there are the typical freebees with basketball stress balls and t-shirts being thrown into the crowd between quarters, and the dance team providing entertainment throughout the game. As an added bonus, after each home game the players will come back up in the concourse area at The Aud to have an autograph session and mingle with the fans.  So, if you are a basketball fan or just a general sports enthousiast and want to see some professional basketball and don't want to make the dreaded drive up the 401 at 3 times the cost, then support our local team in the only professional basketball league in Canada and I will bet you that your first game won't be your last!
I love watching British shows! I love:
a) their accent,
b) their mannerisms & culture,
c) the awesome architecture/old timey buildings, and
d) the slangs, which is what this blog post is about.
As I've mentioned in a previous blog post about "Jamie-isms" I like listening to not only what people say but also how they say it. The UK's culture has shaped a lot of the idioms; it has always fascinated me. Some of the slangs I've heard are easily understood or have been used in North America or familiar to us, but a bunch of them I had to look up their meaning. So, I've decided to collect some in this blog post with a few examples, from the obvious to the not-so-obvious.
Chips – French fries
Tube – subway
Mate – friend, pal or chum
Telly – television
Loo – bathroom
Ice-lolly – popsicle
Brilliant – great
Wicked – cool
Chuffed – proud
Rubbish – garbage
Whinge – Whine
Going across the pond - going to North America, going to the UK or vice versa.
Jolly good – extremely good
Kerfuffle – a fuss, commotion
Fortnight – a period of two weeks
Blimey – exclamation of surprise similar to "Oh my goodness!"
Boot – the storage area of a car, in North American terms the trunk of a car.
Dodgy – iffy, suspicious, illegal. "That store looked really dodgy."
Proper – good, right, went well, legit. Example: "I had a proper sleep last night."
"How are you getting on with…?" – "How are you doing with…?"
Having a row with someone – having a fight with someone
Blinding – an adjective for excellence. Example: "That was a blinding episode of that show!"
Tickety-boo or hunky-dory – going smoothly, going well. Example: "Is your paperwork tickety-boo today?"
Hope you've had fun reading these. I've certainly used a few of them once and a while. I shall end this blog post with an appropriate Brit slang: "Cheerio, old chap!" Until next time!
| | |
| --- | --- |
| | Christine Alon at 10:45 AM |
This is a really cool Frisbee game I found on one of my favourite sites vat19.com. With the weather getting nicer everyday, I can't wait to get out the Frisbee and get right into summer fun. This is a new game I plan on buying to share with my teammates here at REM.
The rules are simple:
Each team of two players takes turns throwing the included flying disc at the plastic can. Striking the can with an assist from your teammate (harder than it sounds!) gives you one point. A solo strike to the can's outside wall awards you two points. And gliding the disc directly into the slot on the front results in an instant win!
Check out this awesome game as well as other exciting indoor and outdoor games at https://kanjam.ca/.
| | |
| --- | --- |
| | Todd Hannigan at 10:10 AM |
As I start my new job at REM Web Solutions this New Year, it brings all the feelings one can have.  I felt overwhelmed with nervousness and excitement.  However, after 10 years at my previous job, the biggest feeling I have is enthusiasm.  I'm eager to learn new skills, rise to new challenges and meet and work with a new team. As well as the added bonus of being much closer to home. 
The first few days of learning were certainly a challenge.  At first, I was wondering, "what did I get myself into".  Once I started to use the tools of the job more, I started to get the hang of things and got really excited about what I'm doing.  This job will challenge me in new ways and like the old saying goes, "maybe you can teach an old dog new tricks".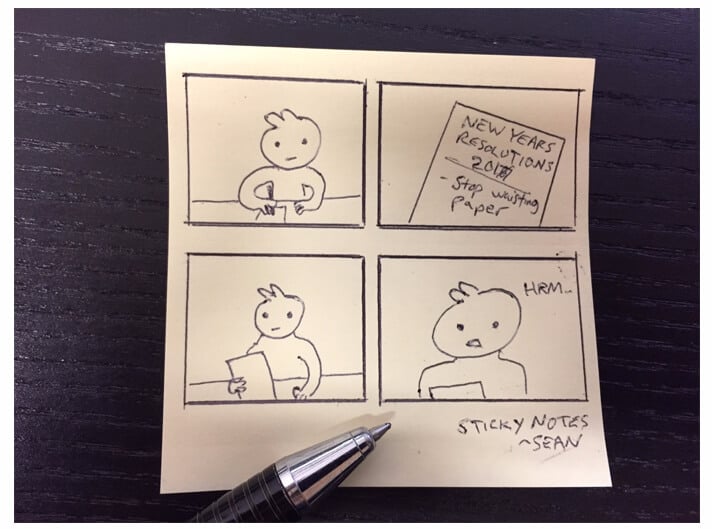 | | |
| --- | --- |
| | Sean Sanderson at 10:15 AM |

Role at REM:
Project Manager  
Education:
Business, Marketing from the University of Central Florida.
Previous Lines of Work:
Administrative Assistant/Membership Services Representative, Cambridge Chamber of Commerce 
Something That Makes Me Smile at Work:
Accomplish all of my to do each day

Web site:
Sportsnet, Score, most news sites- i like to try to stay up on what's happening. 
Food:
Steak, Seafood, most anything
TV Show:
Law and Order series. The Black List, Chicago PD and Fire
Musical Artists:
Garth Brooks, Adele,  AC/DC
Time of Day:
I like anytime of the day 
Season:
Summer
Places in the World:
Israel, England, Germany, Italy, and Bermuda
Sport:
Baseball, Golf
App:
Jeopardy

Food:
Peppers
Activity:
Shoveling
Time of Day:
There isn't really any part of the day that I don't like 
Season:
Winter 
Place:
Hospitals

Best Thing Someone Said to You:
" I love you"
Life Motto:
Work hard to accomplish your goals
My Hero:
I don't have just one - but two - my parents as they gave me my work ethic 
One of the Things I Find Fascinating:
Was on my first trip to Ottawa and seeing how open and easy it was to walk around Parilament Hill. 
.
Most People Don't Know This About Me:
Ok don't laugh but I watch Gilmore Girls with my wife and 12 year daughter. 
One of my favourite things to do is watch musicians create music, I strongly believe that it's through this process that you find the magic in some artists. Although this isn't a "New" find, it's definitely one that I have watched over the years and the talent in these 3 men, always amaze me. I hope you enjoy it as much as I do! 
| | |
| --- | --- |
| | Shauna Ramsaroop at 4:55 PM |
As a student in grade 9 at Sir. John. A. MacDonald secondary school, I have been given the opportunity to accompany my father to his place of work at REM Web Solutions. During my visit at REM today, I learned about what he does and how it's done.
As the Customer Success Manager, he oversees Tier 1 support issues and WebWiz@rd training for all of REM's customers.
While spending the day at REM I have learned a few things. I learned about WebWiz@rd modules, and how to use them. Within those modules I learned how to make banners for a website, how to edit the gallery as well as add images to it, and all about form builder. I learned how to add an administrator, and about file manager. Aside from modules I also learned about emails and how to deal with them and I learned about bug reports and how to file them. REM is an interesting place, that includes a foosball table, vintage video games, Frisbee, Bocce ball, a full kitchen, and an awesome and fun staff. After spending the work day here, it has opened my eyes to new possibilities for potential jobs in the future. It has been loads of fun and very educational, and wish to return in the future to learn a bit more about all of the other exciting positions here at REM.
Thanks to Rob Matlow the President of REM Web Solutions for allowing me to spend the day with him and his team.
Kyrie Hannigan ;)
Audio has been stored on many mediums over the years. From analog methods like Vinyl, 8-Track, Cassette to digital ones like CD, MP3 and FLAC. Vinyl is a bit of an exception in the general newer-is-better progression that tends to come with technological advancements. The way that audio is recorded onto a Vinyl record is by etching an extremely small groove into the surface of the disc that is a physical representation of the sound waveform. The groove is recorded cylindrically, typically from the outside of the disc inward. You then play the recorded sound back on a turntable where you place a needle inside the groove and when the disc is rotated at the right speed the needle running along the groove picks up all the microscopic impressions and are turned into sound.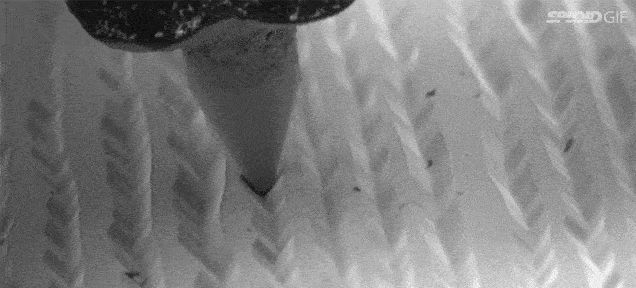 Turntable Needle "In the Groove"
The advantage of Vinyl is it is a literal representation of the sound, meaning that when you play it back you are getting as close as possible to the original sound as possible. It can be described as "warmer" and more natural sounding than its digital counterpart the CD. It of course has its downsides like the fact that you are scraping a metal needle against the play surface you physically degrade the record every time you listen to it. Regardless of downsides it is the only analog medium that has stuck around purely because of the way it sounds.
Digital media changed things up in that it samples the audio being recorded at a certain bitrate and frequency (16-bit and 44.1Khz is the standard for a CD). This means that it isn't a constant stream of information being recorded like in analog, it is just checking for changes very very quickly and storing the sample which is then stitched together to form a digital audio file. Now that the information is digital it can be transferred, copied and modified.
The biggest change from going from analog to digital can be seen when you look at the waveform: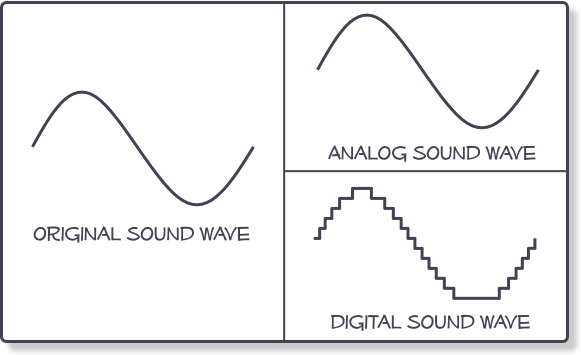 Analog vs Digital Waveform
See how the digital signal looks like a staircase? That's the sampling I was referring to. Now this makes it look like a huge difference, but the sampling is being done as I said "very very quickly" so your brain shouldn't know the difference. Now that is only the first step towards creating something like an MP3, as a CD is stored in an uncompressed state. This isn't a problem when you are playing back the disc itself but what about when you want to take all the songs off that CD and save them to your computer or play it on your phone? For that we need compression... which I will explain in Part 2.
| | |
| --- | --- |
| | Sean McParland at 2:50 PM |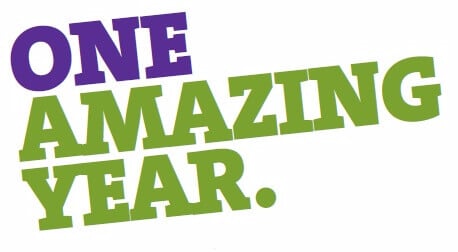 Holy Banana's!!!! I can't believe how quickly a year has gone by at REM Web Solutions.  Each member of our team has played an integral role in my growth here at REM, personally and professionally, check out some highlights of each team member below!!!
---
Rob Matlow
There is no question that Rob is most certainly a fantastic leader. His tenacity and passion for our product, and team is not only inspiring, but admirable. Aside from the typical "Boss" roles that he embodies, Rob does a fantastic job supporting our clients and our team. His communication skills are magnificent. I'm grateful for the opportunity to listen to him interact with our clients and team on a daily basis, He has provided me with an abundant amount of knowledge (theoretical and practical) giving me the confidence to communicate with our clients in a fun and professional manner that is kind, but most importantly concise and accurate. He's also fantastic at foosball and a one heck of a shawarma connoisseur!
Jillian McBurney
You know when your oil is getting really low in your car, and it starts to act all wonky, noises start appearing, lights come on, and you get a sense of anxiousness? Well, Jill is basically my oil - when she's not here, I get all wonky, make funny noises, sometimes light bulbs go off in my head, usually saying "ask Jill!! oh wait she abandoned me to go on vacation" and then the anxiousness sets in. Without Jill, our team surely wouldn't run as smoothly, not only is she an amazing project manager, but she has a knack for just making you feel all around better. If I'm struggling through a task at hand, she's always there to have my back and walk me through it, from day one, I was completely overjoyed that I was working closely with her. In my Customer Ambassador role, and now Account Manager, Jill continuously works to find new ways to help me accomplish my goals and strive to set new ones! She is amazing. 
Todd Hannigan
The newest member of our team... and a wonderful one at that. When I moved into the account management position, Todd became the first line of support and training, not only does he know WebWiz@rd inside out, and is fantastic with our clients, Todd's charisma and dedication to the position and our team is admirable. The one interesting thing I've learned from working with Todd is how to hone in on my deductive reasoning. When working with our clients in the support world, one of the most important skills required is being able to sort through issues that some of our clients may be experiencing that may not be the easiest to pinpoint the solution. Todd's line of questioning, and understanding of our products and services is fantastic, and I'm incredibly happy that I get to continue to learn from his ability to help solve our client's issues when they arise. 
Christine Alon
Chrisitini (yes, I call her Christini) is a bundle of awesome! As one of our designers, I absolutely love watching her creative brain in action while she works through a project. One of the most important things I've learned from Christini is her thoroughness when working with our clients. In my role, note-taking is incredibly important, to ensure that I don't miss important requests. Over the year, I've struggled with ways to organize my notes, while reading through hers, I found a system for myself that works incredibly well. On a personal level... this girl can always make me smile, whether it be her making funnies in the office or always a solid go to for snack/chocolate cravings - this girl always has my back!
Sean McParland
Sean is a very quiet person, probably one of the quietest people that I have ever met. An extrovert like myself loves quiet people. Being one of our developers, quietness comes with the territory, over the past year I have had a chance to work with the man of very few words, and when he does speak - the knowledge that he has in his area of expertise is sensational. I may not have learned much about developers, however I have learned that the work that our development does is intricate, it requires focus, and is best completed without zero to little interruption. Sean has taught me that it's okay to be quiet, it's okay to completely disappear into the work that you're doing - because what you can accomplish and create during this time will be nothing short of fantastic!
Ryan Covert
The Covert Operation! Ryan has undoubtedly been a fantastic colleague to work with. As I continue to grow in my position as an Account Manager, I've learned a bunch of new things in terms of the development, and technical side of the services that we offer. Ryan is always there to answer my questions, and provide me with explanations on how things work - explanations that make sense to me! Aside from his wealth of knowledge in our products, he's definitely the one I ask about new gadgets, gaming platforms, and anything that I am potentially purchasing from Best Buy. As the lead developer for our team, Ryan brings a lot to the table, and I'm truly grateful to continue to learn more from him.
Sean Sanderson
He's okay I guess. I'm kidding... he's awesome! As our lead designer, Sean is always cooking up something interesting - whether it be new designs for websites, logo's, or pranks to play on us. Sean has definitely had patience in teaching me the basics on what it takes for our team to design websites. The majority of my position is to find out what it takes from our team in order to make our client's happy. When finding solutions, Sean always takes his time, and runs through each step with me and explains how the work is done, and why. I absolutely love this, because it allows me to communicate with our clients the best options for them. Aside from designing, Sean is a great prankster in the office, he's caught me a couple times... don't worry, we're scheming to get him back!
| | |
| --- | --- |
| | Shauna Ramsaroop at 10:15 AM |
Contributors
Latest Posts
Archive
Tags
Everything
Content Management
Technology
Design
Holidays
Off Topic
Support
New Features
Personal
Gaming
New Clients
SEO
REM News
Project Management
Account Management
Training