It's a known fact that we at REM love to play foosball!
It's a fun activity to do and it feels great to get your energy levels up after playing a vigorous, challenging match with a friend. Personally, it took me a long time to get the hang of it. When I first started playing about 2 years ago I lost a lot – and I mean A LOT! But the key in acquiring new skills is to never get discouraged, no matter the number of loses. I didn't see it as losing I saw it as "training;" with that mentality I wasn't afraid to challenge anyone.
So how does one play foosball? Essentially, foosball is table game/sport based on Soccer (or Football for Europeans). The name originated from the German word for soccer (pronounced the same way) literally meaning "foot plus ball."
The goal is to utilize the 4 rods and a total of 9 "players" (the wooden or plastic men with no arms) to put the ball into the "net" (usually just a hole at your opponent's side). The 4 rods are:
The 5-bar: the rod in the middle that starts off the game. Usually the strongest because it's the heaviest and the hardest to get pass because of how many "players" in the bar.
 

The 3-bar: the main set of players that shoot the ball into the goal and therefore closest to the opponent's "net."
 

The Defense (2-bar): this bar is right in front of your goalie and net. Its main uses are two-fold: a) to block/deflect the ball from the net and b) to push the ball away from your side of the table and into your opponent's side.
 

The Goalie: self-explanatory here.
I've learned that when it comes to Foosball, it's not about the power of your shots (although having strong, powerful shots can help a lot…. I'm looking at you, Sean Sanderson!), but the precision of them.
Of course there's a lot more that goes into this sport. And yes, it is a sport! It requires training, accuracy, strategy…and sometimes trash-talk…. hehe  but of course all in good fun. The important thing is to have fun and to be a good sport about it. If you'd like to know more about it, here's a link to a handy-dandy video:
| | |
| --- | --- |
| | Christine Alon at 9:15 AM |

Role at REM:  
Customer Success Manager
Education:  
Computer Science - Conestoga College
Archaeology - Wilfrid Laurier
Work Experience:  
8 Years
Something That Makes Me Smile at Work:  
Overcoming a puzzle or challenging situation

Web site: 
www.youtube.com
Books:  
Anything H.P Lovecraft
Food:  
Pasta, Spicy things
TV Show:  
Game of Thrones
Musical Artists:
Classic rock from the 60's, 70's
Time of Day:  
7:30 P.M
Season:  
Spring
Places in the World:  
California, B.C, The Caribbean, Las Vegas
Recreational Activities/Hobbies:
Gaming, Cooking, Travelling, Hiking
Sport:
Martial Arts
App:  
Reddit

Food:  
Don't have one!

Activity: 
Cleaning

Time of Day: 
7:00 AM

Season: 
Winter

Place:  
Winnipeg

Best Thing Someone Said to You: 
Others will follow the example you set whether you want it to happen or not.
Life Motto: 
Live and learn in each moment.
My Hero: 
My significant other
One of the Things I Find Fascinating:  
The behaviour of animals
Most People Don't Know This About Me:  
I have never travelled outside North America.
If you are looking at having some fun on a weekend or an evening, and want to see some good local sport entertainment at a reasonable cost for a family of 4, then you will need to take in a KW Titans basketball game. The new pro basketball team in KW has invaded The Aud.   The team plays a great up tempo game and there is no shortage of action on and off the court.  During the game, there are the typical freebees with basketball stress balls and t-shirts being thrown into the crowd between quarters, and the dance team providing entertainment throughout the game. As an added bonus, after each home game the players will come back up in the concourse area at The Aud to have an autograph session and mingle with the fans.  So, if you are a basketball fan or just a general sports enthousiast and want to see some professional basketball and don't want to make the dreaded drive up the 401 at 3 times the cost, then support our local team in the only professional basketball league in Canada and I will bet you that your first game won't be your last!
I love watching British shows! I love:
a) their accent,
b) their mannerisms & culture,
c) the awesome architecture/old timey buildings, and
d) the slangs, which is what this blog post is about.
As I've mentioned in a previous blog post about "Jamie-isms" I like listening to not only what people say but also how they say it. The UK's culture has shaped a lot of the idioms; it has always fascinated me. Some of the slangs I've heard are easily understood or have been used in North America or familiar to us, but a bunch of them I had to look up their meaning. So, I've decided to collect some in this blog post with a few examples, from the obvious to the not-so-obvious.
Chips – French fries
Tube – subway
Mate – friend, pal or chum
Telly – television
Loo – bathroom
Ice-lolly – popsicle
Brilliant – great
Wicked – cool
Chuffed – proud
Rubbish – garbage
Whinge – Whine
Going across the pond - going to North America, going to the UK or vice versa.
Jolly good – extremely good
Kerfuffle – a fuss, commotion
Fortnight – a period of two weeks
Blimey – exclamation of surprise similar to "Oh my goodness!"
Boot – the storage area of a car, in North American terms the trunk of a car.
Dodgy – iffy, suspicious, illegal. "That store looked really dodgy."
Proper – good, right, went well, legit. Example: "I had a proper sleep last night."
"How are you getting on with…?" – "How are you doing with…?"
Having a row with someone – having a fight with someone
Blinding – an adjective for excellence. Example: "That was a blinding episode of that show!"
Tickety-boo or hunky-dory – going smoothly, going well. Example: "Is your paperwork tickety-boo today?"
Hope you've had fun reading these. I've certainly used a few of them once and a while. I shall end this blog post with an appropriate Brit slang: "Cheerio, old chap!" Until next time!
| | |
| --- | --- |
| | Christine Alon at 10:45 AM |
This is a really cool Frisbee game I found on one of my favourite sites vat19.com. With the weather getting nicer everyday, I can't wait to get out the Frisbee and get right into summer fun. This is a new game I plan on buying to share with my teammates here at REM.
The rules are simple:
Each team of two players takes turns throwing the included flying disc at the plastic can. Striking the can with an assist from your teammate (harder than it sounds!) gives you one point. A solo strike to the can's outside wall awards you two points. And gliding the disc directly into the slot on the front results in an instant win!
Check out this awesome game as well as other exciting indoor and outdoor games at https://kanjam.ca/.
| | |
| --- | --- |
| | Todd Hannigan at 10:10 AM |
As I start my new job at REM Web Solutions this New Year, it brings all the feelings one can have.  I felt overwhelmed with nervousness and excitement.  However, after 10 years at my previous job, the biggest feeling I have is enthusiasm.  I'm eager to learn new skills, rise to new challenges and meet and work with a new team. As well as the added bonus of being much closer to home. 
The first few days of learning were certainly a challenge.  At first, I was wondering, "what did I get myself into".  Once I started to use the tools of the job more, I started to get the hang of things and got really excited about what I'm doing.  This job will challenge me in new ways and like the old saying goes, "maybe you can teach an old dog new tricks".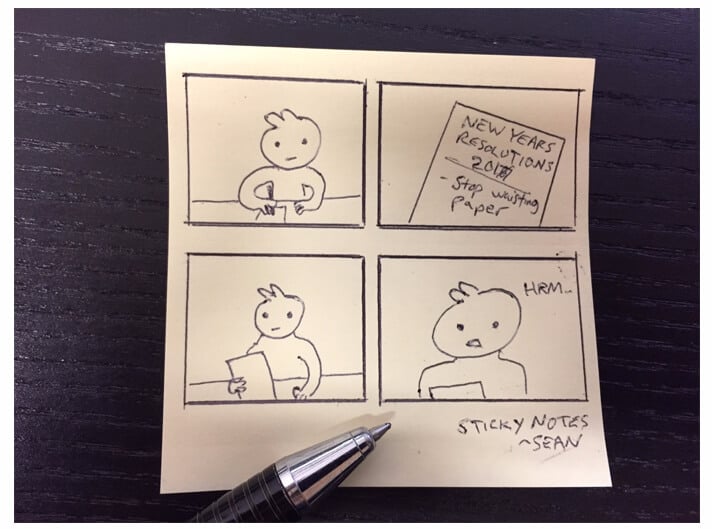 | | |
| --- | --- |
| | Sean Sanderson at 10:15 AM |

Role at REM:
Project Manager  
Education:
Business, Marketing from the University of Central Florida.
Previous Lines of Work:
Administrative Assistant/Membership Services Representative, Cambridge Chamber of Commerce 
Something That Makes Me Smile at Work:
Accomplish all of my to do each day

Web site:
Sportsnet, Score, most news sites- i like to try to stay up on what's happening. 
Food:
Steak, Seafood, most anything
TV Show:
Law and Order series. The Black List, Chicago PD and Fire
Musical Artists:
Garth Brooks, Adele,  AC/DC
Time of Day:
I like anytime of the day 
Season:
Summer
Places in the World:
Israel, England, Germany, Italy, and Bermuda
Sport:
Baseball, Golf
App:
Jeopardy

Food:
Peppers
Activity:
Shoveling
Time of Day:
There isn't really any part of the day that I don't like 
Season:
Winter 
Place:
Hospitals

Best Thing Someone Said to You:
" I love you"
Life Motto:
Work hard to accomplish your goals
My Hero:
I don't have just one - but two - my parents as they gave me my work ethic 
One of the Things I Find Fascinating:
Was on my first trip to Ottawa and seeing how open and easy it was to walk around Parilament Hill. 
.
Most People Don't Know This About Me:
Ok don't laugh but I watch Gilmore Girls with my wife and 12 year daughter. 
One of my favourite things to do is watch musicians create music, I strongly believe that it's through this process that you find the magic in some artists. Although this isn't a "New" find, it's definitely one that I have watched over the years and the talent in these 3 men, always amaze me. I hope you enjoy it as much as I do! 
| | |
| --- | --- |
| | Shauna Ramsaroop at 4:55 PM |
As a student in grade 9 at Sir. John. A. MacDonald secondary school, I have been given the opportunity to accompany my father to his place of work at REM Web Solutions. During my visit at REM today, I learned about what he does and how it's done.
As the Customer Success Manager, he oversees Tier 1 support issues and WebWiz@rd training for all of REM's customers.
While spending the day at REM I have learned a few things. I learned about WebWiz@rd modules, and how to use them. Within those modules I learned how to make banners for a website, how to edit the gallery as well as add images to it, and all about form builder. I learned how to add an administrator, and about file manager. Aside from modules I also learned about emails and how to deal with them and I learned about bug reports and how to file them. REM is an interesting place, that includes a foosball table, vintage video games, Frisbee, Bocce ball, a full kitchen, and an awesome and fun staff. After spending the work day here, it has opened my eyes to new possibilities for potential jobs in the future. It has been loads of fun and very educational, and wish to return in the future to learn a bit more about all of the other exciting positions here at REM.
Thanks to Rob Matlow the President of REM Web Solutions for allowing me to spend the day with him and his team.
Kyrie Hannigan ;)
Contributors
Latest Posts
Archive
Tags
Everything
Content Management
Technology
Design
Holidays
Off Topic
Support
New Features
Personal
Gaming
New Clients
SEO
REM News
Project Management
Account Management
Training