| | |
| --- | --- |
| AI | Monday, March 13, 2017 |
Artificial Intelligence, or commonly know as AI is an intelligence or conciousness achieved by a machine. The AI term is also applied when a machine makes a decision similar to our own human brain. For example, does a machine that can learn, have face recognition and even speech recognition artificially intelligent? If you answered yes, a good chance is that you are holding an AI machine in your own pocket. Our smartphones have become so advanced that the terms of what qualifies AI is loosely disappearing.
In the world of movies and television AI is portrayed as something we as humans need to be very careful with. I have always been interested in the idea of AI growing up with movies like, Short Circuit, Terminator, The Matrix and more recently with Ex Machina and the popular TV show Westworld. This HBO original series specifically had me thinking twice about some of the advances in technology and what we should consider.
 
Below is a trailer for HBO's Westworld. If you have not watched this show yet I highly recommend it.
| | |
| --- | --- |
| | Sean Sanderson at 11:10 AM |
Today is September 29th and it's no regular Thursday. Today is an annual celebration for me and in many countries as International Coffee Day. I personally don't need a day to enjoy the addictively delicious drink. - It something I was totally going to do anyway.
Although unofficial, this day is to celebrate the deliciousness of the most beloved beverage known to man.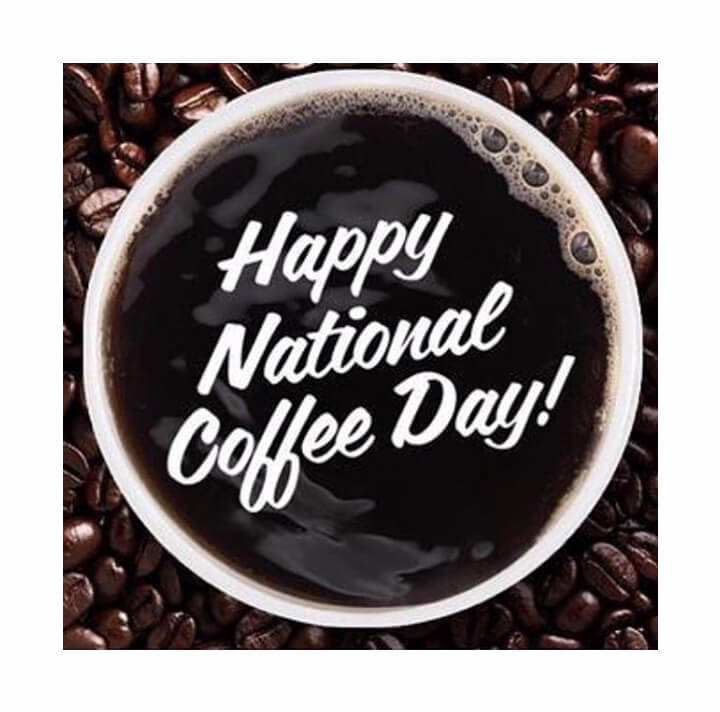 A lot of companies are also celebrating by offering free coffee. Make sure you go grab a cup of java on the house. Nothing tastes better than coffee, then free coffee!
| | |
| --- | --- |
| | Sean Sanderson at 4:05 PM |
Groups of Reptiles, Amphibians, Fish and Invertebrates
Cobras: a quiver
Crocodiles: a bask
Frogs: an army
Toads: a knot
Turtles: a bale or nest
Salamanders: a maelstrom
Snakes, vipers: a nest
Fish in general: a draft, nest, run, school or shoal
Herring: an army
Sharks: a shiver
Trout: a hover
Bees: a grist, hive or swarm
Caterpillars: an army
Clams: a bed
Crabs: a consortium
Cockroaches: an intrusion
Flies: a business
Grasshoppers: a cloud
Jellyfish: a bloom, fluther or smack
Lobsters: a risk
Oysters: a bed
Snails: a hood
Squid: an audience
HOT HOT HOT
At the beginning of the summer, I decided to try my hand at gardening! As a bonafide foodie, and a lover of hot sauce I grew a bunch of peppers in hopes that I would be able to make my own! After 3 months of watering, fertilizing, and hoping my peppers would make it through I was able to create my first batch! Take a look at the process below!!
As anticipated this entire process was extremely rewarding. We ended up with an incredibly hot and I mean HOT sauce. Cant wait for the next one!! 
| | |
| --- | --- |
| | Shauna Ramsaroop at 10:25 AM |
Bird Groups
Bitterns: a sedge
Buzzards: a wake
Bobolinks: a chain
Coots: a cover
Cormorants: a gulp
Crows: a murder or horde
Dotterel: a trip
Doves: a dule or pitying (specific to turtle doves)
Ducks: a brace, team, flock (in flight), raft (on water), paddling or badling
Eagles: a convocation
Finches: a charm
Flamingos: a stand
Geese: a flock, gaggle (on the ground) or skein (in flight)
Grouse: a pack (in late season)
Hawks: a cast, kettle (in flight) or boil (two or more spiraling in air)
Herons: a sedge or siege
Jays: a party or scold
Lapwings: a deceit
Larks: an exaltation
Mallards: a sord (in flight) or brace
Magpies: a tiding, gulp, murder or charm
Nightingales: a watch
Owls: a parliament
Parrots: a pandemonium or company
Partridge: a covey
Peacocks: an ostentation or muster
Penguins: a colony, muster, parcel or rookery
Pheasant: a nest, nide (a brood), nye or bouquet
Plovers: a congregation or wing (in flight)
Ptarmigans: a covey
Rooks: a building
Quail: a bevy or covey
Ravens: an unkindness
Snipe: a walk or wisp
Sparrows: a host
Starlings: a murmuration
Storks: a mustering
Swans: a bevy, game or wedge (in flight)
Teal: a spring
Turkeys: a rafter or gang
Woodcocks: a fall
Woodpeckers: a descent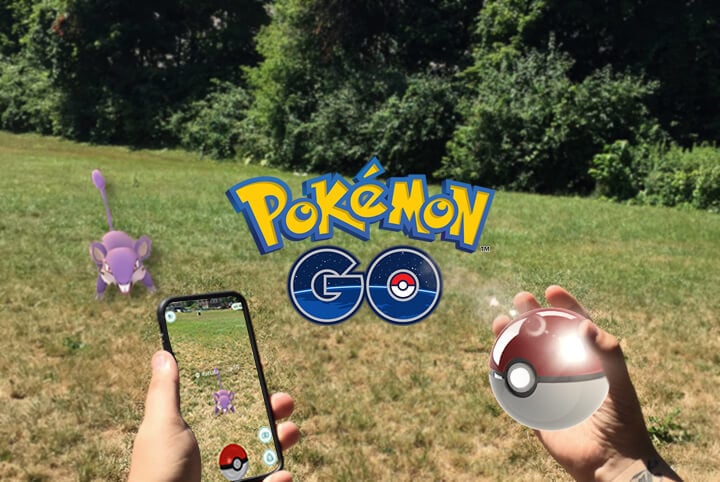 Chances are if you see someone walking around with their head down and overly fascinated with their phone they are playing Pokémon GO.
The viral mobile game has taken the world by storm and had a record breaking release.  Almost taking out Twitter for the most daily active users, Pokémon GO has the most downloads on iOS devices than any other iOS app in history. Surveys are starting to state downloads of the cultural sensational app are starting to plateau, but are future updates planning to recharge these numbers?
What's All the Hype About?
Players use their mobile devices to hunt, capture and collect little digital monsters. These creatures pop on to the screen alongside real world environments. (activated by the user's camera) This augmented reality technology paired with the geocaching and the 90's nostalgia has proven to keep trainers hunting.
The Nintendo game is forecasted to make at least $25 million this year and even local businesses are profiting using the in game 'Lure" features to attract not only Pokémon but people to their shops.
A handful of us here at REM have downloaded, and play the app. With a Pokéstop right next to our office we are surely not likely to run out of Pokéballs anytime soon! Even if all we can catch are the Rattata's
Gotta Catch 'em all!
| | |
| --- | --- |
| | Sean Sanderson at 3:30 PM |
I have spent the last 2 weeks working away at writing mid-term reviews for my colleagues.  I have a couple more to wrap up early next week.
This is my first time writing reviews.  It is a very time consuming task when one wants to do it well and I want to provide my peers with sincere and helpful reviews.  My colleagues deserve it.
While writing these reviews I am so strongly reminded of what an incredible team we have here at REM.
The amount of knowledge, initiative and productivity that this team encompasses is brilliant.  Our communication skills, our problem solving skills and our enthusiasm towards process improvement are top notch.
Individually and as a team we are a force to be reckoned with!
| | |
| --- | --- |
| | Jillian McBurney at 3:45 PM |
You might remember a couple of months ago I wrote a blog post about "Growing Avocado Plants." This is part 2: the great outdoors. I have narrowed down my avocado plant to one; it's doing so well and I want to concentrate my attention on it
Back in May, it was still too small and the weather was still too cold for me to leave it outside. But when the end of May came I took the plant out, and what a difference that made! Because avocado trees originated from Central Mexico, it does really well in hot conditions. It loves the mid-day sun it gets, which encourages the plant to grow more leaves. Also its trunk has become much stronger thanks to the breeze my backyard gets.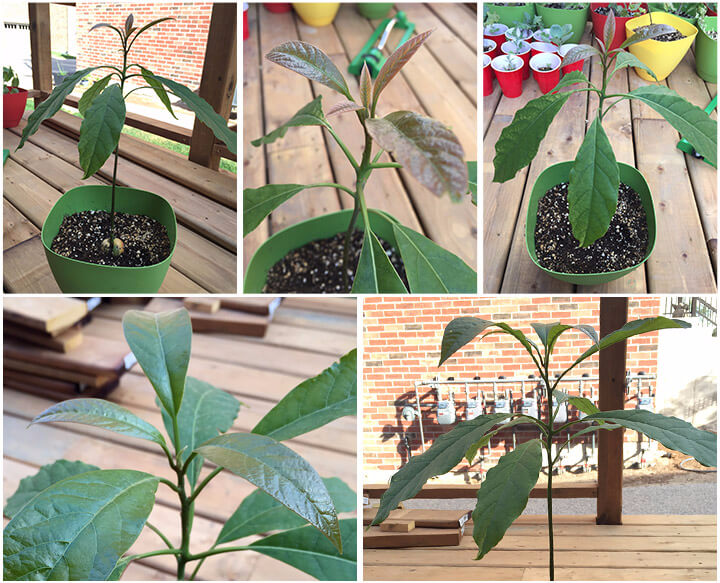 Avocado plant growing outdoors
My fiancé and I have other plants on our deck as well. As you can see from the photo below, we also have:
cherry/assorted tomatoes in the back row
a couple of kale
a hibiscus
2 cabbages
2 lavenders
a few snow-peas
and 2 gooseberries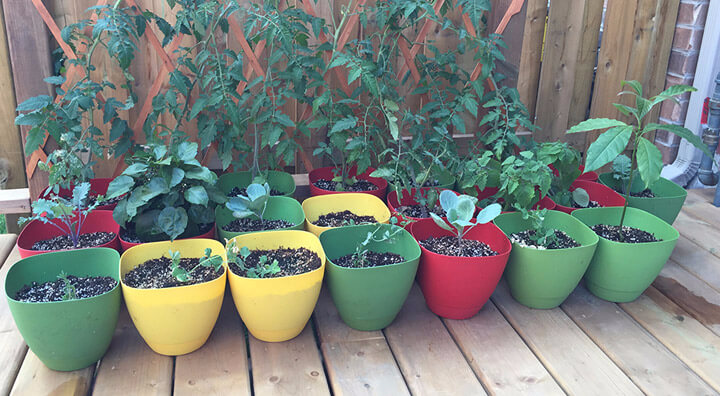 I'm looking forward to the day that we can finally have vegetables to eat from our little garden.
| | |
| --- | --- |
| | Christine Alon at 10:00 AM |
Animal Groups
Apes: a shrewdness
Badgers: a cete
Bats: a cauldron
Bears: a sloth or sleuth
Buffalo: a gang or obstinacy
Cats: a clowder, pounce or glaring; for kittens: a kindle, litter or intrigue
Dogs: a litter (puppies), pack (wild) or cowardice (curs)
Donkeys: a pace
Elephants: a parade
Elk: a gang
Ferrets: a business
Fox: a leash, skulk or earth
Giraffes: a tower
Goats: a tribe or trip
Gorillas: a band
Hippopotamuses: a bloat or thunder
Hyenas: a cackle
Jaguars: a shadow
Kangaroos: a troop or mob
Lemurs: a conspiracy
Leopards: a leap
Lions: a pride or sawt
Martens: a richness
Moles: a labor
Monkeys: a troop or barrel
Mules: a pack, span or barren
Otters: a romp
Pigs: a drift, drove, sounder, team or passel
Porcupines: a prickle
Porpoises: a pod, school, herd or turmoil
Rabbits: a colony, warren, nest, down, husk or herd (domestic only)
Rhinoceroses: a crash
Squirrels: a dray or scurry
Tigers: an ambush or streak
Whales: a pod, gam or herd
Wolves: a pack, rout or route (when in movement)
Here are some different types of Ultimate Frisbee throws:
The Forehand:
The forehand - this throw is the most common and is often referred to as the side-arm, two-finger or the flick. The momentum for this throw comes from the flick of the wrist, similar to the flicking of a wet towel. Hold the Frisbee out to the side with your index and middle finger on the underside of the Frisbee and then swing your arm forward and whip the wrist and release.
The Hammer:
The Hammer is gripped exactly like the Forehand, but the Frisbee is then brought over head and thrusted forward and slightly upward with a flick of the wrist. It is similar to throwing a baseball.
The Scoober:
This is similar to the Hammer but it is thrown from a backhand stance. The release is flatter than the Hammer but the flight path is similar. Used for short distance throwing over a defender (10 -20 yards). While holding the Frisbee with a forehand grip turn the disc over so that it is belly side up and bring it across your body. Lead the throw with your elbow and flick the Frisbee forward.
The Backhand:
This throw is done by curling your arm around the Frisbee and then tuck it into your body then straightening your arm and releasing the Frisbee in the appropriate direction with a flick of the wrist. Remember to step into the throw for maximum power when you release.
The Chicken Wing:
Another backhand throw that is gripped and released the same as the backhand but the Frisbee is always kept on the side of the hip (right or left depending on which hand you are throwing) instead of reaching across the body.
The Overhand:
This throw is like a backwards backhand throw. The Frisbee is held with four fingers on the top of the Frisbee and your thumb is underneath. The Frisbee is brought from behind your back and around to the front with your knuckles facing up. You flick your wrist rotating the Frisbee counter clockwise and propelling it in a forward direction.
The Duck:
Like the Overhand throw this is also held with four fingers on top and the thumb wraps underneath, but the Frisbee is rotated the opposite direction. The Duck is thrown with the Frisbee pointing toward the thrower and is then whipped with the wrist and forearm in the desired direction. Both the Overhand and Duck throws are usually used for a quick catch and release situation.
The High Release:
Another variation of the Backhand, but this throw is released above the shoulder to get around defenders.
The Thumber:
The thumb holds the Frisbee on the inside of the rim and the other four fingers on the top of the Frisbee. The Frisbee is released with an overhand or side arm making sure to flick the wrist through the finish.
The Blade:
The blade is a flat vertical throw used to get over a defender's head. The Frisbee is held the same as the forehand and projected up and forward holding the Frisbee perpendicular to the ground.
Contributors
Latest Posts
Archive
Tags
Everything
Content Management
Technology
Design
Holidays
Off Topic
Support
New Features
Personal
Gaming
New Clients
SEO
REM News
Project Management
Account Management
Training