First impressions can mean the difference between a thriving or struggling business. People turned off by what they see or experience won't become customers. This is universal regardless of your location, be it Kitchener, Waterloo, Cambridge, Guelph, or anywhere else in the world.
A run-down building for example, will most certainly turn away customers. While this is, or should be obvious, the same applies to business websites. People won't do business if they feel uncomfortable, and a website that seems "off" will have this effect on your visitors.
Here are 5 signs your website needs work:
Missing Images
A website that has a missing-image icon conveys an impression of neglect. Multiple missing images leave the impression of a ghost town that "tells" people that nobody is home. Visitors aren't likely to purchase from such a site any more than they would from a store with broken windows. Missing images are either caused by missing image files or changed image file locations.
Broken Links
Broken links are online dead ends that usually lead to a 404 or not found error page. They give the impression of a non-functional website. Like the missing image, either the destination doesn't exist anymore, or its location (address) has changed.
Website Doesn't Render Properly on All the Popular Browsers
If you've only viewed your website through one or two web browsers, you may be in for a shock after viewing it in other popular web browsers. Parts of the site may not fit together, content or navigation bars may extend beyond the boundaries of a web page, and raw HTML code may show. In addition to making the site look rundown, some people may think the site is hacked or has malware. This can happen when using antiquated code or code that's too cutting-edge.
Average Visitor Stays Less Than 20 Seconds
When viewing your web stats, a high traffic figure means few if any visitors stay around long. The less time spent on your site, the less likely a visitor will convert into a customer. If most people won't stay longer than a few seconds on your website, something is driving them away. Before doing any more online marketing, you should get to the bottom of this issue.
Cookie Cutter Website
If too many websites are using the same template or theme as yours, you aren't visually differentiating your business from your competitors. Rather than being an interesting online destination, it will seem like just another generic website.
Make the most from your website by giving it a much-needed tune-up. For help with your web design, don't hesitate to get in touch with us.
At REM, we take disaster recovery and backup very seriously.  We take great pride in the reputation we have built for reliable and safe hosting of our customers' information.
Disasters come in many forms and require different strategies to combat.  REM has implemented various safeguards and procedures to keep all of our assets and all of our customer assets safe.

We keep our production computer equipment in an access controlled data centre that is climate controlled, has redundant power supplies and multiple network feeds to virtually eliminate infrastructure downtime.
We continue the infrastructure safe guards by maintaining duplicate servers for all of our critical components that can be switched on in the event of an individual server failures.
We run nightly backups of databases and files that are stored onsite for up to 14 days and stored offsite in 2 different locations for up to 30 days.
We also take various snapshots throughout the year that become last resort "back to good" checkpoints that we keep offline to protect against threats that are undetectable and rare but can potentially take down entire organizations such as zero day malicious exploits.
We understand the importance of backups, but we understand that recovery trumps the importance of backups.  To that end, we perform multiple fire-drill style recovery exercises that put all hands-on deck to prove that REM's various backups– do in fact – work in a recovery scenario.  We understand that "anything can happen" but we do our absolute best to make sure those options are limited and mitigated.
| | |
| --- | --- |
| AI | Monday, March 13, 2017 |
Artificial Intelligence, or commonly know as AI is an intelligence or conciousness achieved by a machine. The AI term is also applied when a machine makes a decision similar to our own human brain. For example, does a machine that can learn, have face recognition and even speech recognition artificially intelligent? If you answered yes, a good chance is that you are holding an AI machine in your own pocket. Our smartphones have become so advanced that the terms of what qualifies AI is loosely disappearing.
In the world of movies and television AI is portrayed as something we as humans need to be very careful with. I have always been interested in the idea of AI growing up with movies like, Short Circuit, Terminator, The Matrix and more recently with Ex Machina and the popular TV show Westworld. This HBO original series specifically had me thinking twice about some of the advances in technology and what we should consider.
 
Below is a trailer for HBO's Westworld. If you have not watched this show yet I highly recommend it.
| | |
| --- | --- |
| | Sean Sanderson at 11:10 AM |
Is it really that important to have a mobile responsive website? It sure is! Here are some mind-blowing statistics that will change your view on mobile traffic forever (sources: Hubspot, ImpactBND, & Skillcrush).
Eighty percent of internet users own smartphones.
Thirteen percent of adults access the web only via mobile.
Mobile internet usage accounts for two out of every three minutes of all online usage.
Tablet users have the highest add-to-cart rates (important if you have an e-commerce shop).
People are addicted to their smartphones - over half of all smartphone users check their phones immediately upon awakening in the morning.
Sixty-one percent of people won't return to a site that was difficult to access on mobile. Forty percent will instead visit a competitor's site.
According to Marketing Land, mobile advertising will account for almost three-quarters of all digital ad spending by 2019.
Ninety-one percent of smartphone owners say that being able to access online content on their phones is extremely important to them.
Forty-eight percent of people ages 18-29 search the web on mobile every day.
Fifty-seven percent of people won't recommend a business if it has a website that isn't optimized for mobile.
Eighty-eight percent of people who search for a business on their smartphones contact that business within a day.
Seventy percent of mobile searches lead to some sort of action within an hour.
Seventy percent of smartphone users will immediately delete an email if it isn't optimized for their device.
Forty-eight percent of millennials only view videos on mobile devices.
Eighty percent of people do online shopping on their phones.
As you can see, mobile first is important and will have a huge effect on your business. Visit our website for more information. 
Social media is crucial to your business' marketing success. It can be a great source to bring traffic to your website. But it takes a lot of time and effort to maintain. Thankfully, there are many social media tools out there that can help you. If you're still wondering what the benefits of social media tools are and how they help your marketing strategy, read on:
Save Time
Social media tools such as Buffer and Hootsuite help you consolidate your social media postings by being able to post on multiple accounts at once. You'll no longer have to go from social media platform to the next posting on each one, with these tools you'll be able to write your post once and post across several platforms.
Plan Ahead
With social media tools, you'll be able to get an overview of all your past and future post. This helps you develop a social media calendar tied to your blog calendar, and plan your posts ahead to make sure you're talking about all your company's important topics.
Analyze Performance
Asides from saving time and planning ahead, social media tools will provide helpful analytics, such as your best performing posts, engagement and best time to post. You'll see which posts people drove the most traffic to your website and what topics you should cover more. By analyzing your posts' performance, you'll be a social media rock star in no time.
Social media tools are a great asset to drive traffic to your website. But then it's your website's job to maintain your audience's interest. Do you need a great website that gets noticed? Contact us today!
The way audio is stored on a CD (in a .wav file) is uncompressed. It is in a constant bitrate and always takes the same amount of storage space regardless of what audio is actually being stored. This is the reason that when you buy writable CDs they always state number of minutes of audio you can store on them (80 minutes for a typical 700MB disc). This means that if you have a 3 minute song file and a file that is just 3 minutes of silence they would take up the exact same amount of storage space (30 Megabytes).
Now let's go back in time a bit to the turn of the century when 'high-speed' Internet wasn't really something that everyone had, even if you did it was well under 1Mb/s (keep in mind that's bits per second not bytes, a bit is 1/8 of a byte). Dial-up was the go-to for the majority of Internet users (at best 56Kb/s) so every bit of data you could save was crucial.
In 1999 the infamous Napster was released, the service that really kicked-off the music sharing era, but with a 3 minute song being a whopping 30 Megabytes a 56Kb connection would take at least 75 minutes while completely saturating your connection. That's a long time for a single song.

Winamp + Napster (The go-to back in the day)
Now the .mp3 which was formally introduced back in 1993 now has a chance to spread its wings and begin its complete takeover as the de-facto standard in audio storage. The magic behind the .mp3 (and audio compression in general) is that it takes that original uncompressed file and using a complex algorithm, removes 'unnecessary' details that your brain wouldn't really notice were missing.

Originally most files were encoded at 128Kb/s and at that level you could actually get a decent sounding file at a tiny fraction of the size of the original. Now that Internet speeds have drastically increased you would typically encode at 320Kb/s which is the highest bitrate that you can record an .mp3 at. Beyond that you run into the law of diminishing returns and it just isn't worth it.
Now there is also something called 'lossless' compression. This is usually stored in the previously mentioned .flac (Free Lossless Audio Codec) format. A losslessly compressed file will still retain the exact quality of the original file but at a smaller file size. It does this by keeping all the sounds that exist in the recording but throwing away all the frequency's that aren't used. So, for example, if you record something like an audiobook where it is only the human voice, it would throw away everything outside of (roughly) 80-255Hz which is the typical frequency of human speech.
There is also another type of audio compression which is compression of dynamic range, but that's a topic for another post…
| | |
| --- | --- |
| | Sean McParland at 11:50 AM |
Audio has been stored on many mediums over the years. From analog methods like Vinyl, 8-Track, Cassette to digital ones like CD, MP3 and FLAC. Vinyl is a bit of an exception in the general newer-is-better progression that tends to come with technological advancements. The way that audio is recorded onto a Vinyl record is by etching an extremely small groove into the surface of the disc that is a physical representation of the sound waveform. The groove is recorded cylindrically, typically from the outside of the disc inward. You then play the recorded sound back on a turntable where you place a needle inside the groove and when the disc is rotated at the right speed the needle running along the groove picks up all the microscopic impressions and are turned into sound.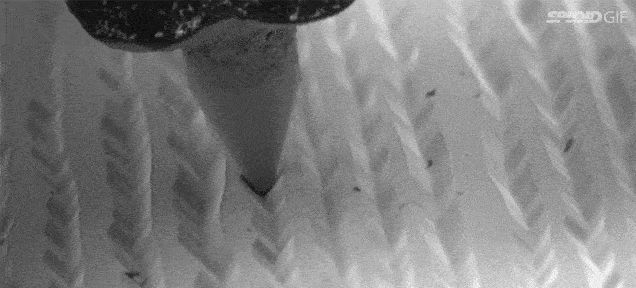 Turntable Needle "In the Groove"
The advantage of Vinyl is it is a literal representation of the sound, meaning that when you play it back you are getting as close as possible to the original sound as possible. It can be described as "warmer" and more natural sounding than its digital counterpart the CD. It of course has its downsides like the fact that you are scraping a metal needle against the play surface you physically degrade the record every time you listen to it. Regardless of downsides it is the only analog medium that has stuck around purely because of the way it sounds.
Digital media changed things up in that it samples the audio being recorded at a certain bitrate and frequency (16-bit and 44.1Khz is the standard for a CD). This means that it isn't a constant stream of information being recorded like in analog, it is just checking for changes very very quickly and storing the sample which is then stitched together to form a digital audio file. Now that the information is digital it can be transferred, copied and modified.
The biggest change from going from analog to digital can be seen when you look at the waveform: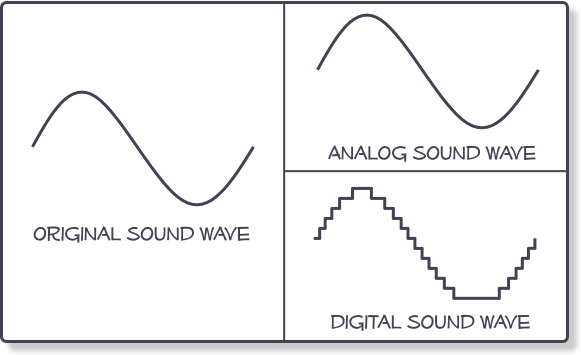 Analog vs Digital Waveform
See how the digital signal looks like a staircase? That's the sampling I was referring to. Now this makes it look like a huge difference, but the sampling is being done as I said "very very quickly" so your brain shouldn't know the difference. Now that is only the first step towards creating something like an MP3, as a CD is stored in an uncompressed state. This isn't a problem when you are playing back the disc itself but what about when you want to take all the songs off that CD and save them to your computer or play it on your phone? For that we need compression... which I will explain in Part 2.
| | |
| --- | --- |
| | Sean McParland at 2:50 PM |
Growing up I would have never thought that I would find so much interest and enjoyment in validating data; specifically, in data quality and data integrity.  My interests and strengths were in the arts and to be quite honest I don't even think I mentioned the word "data" for the first 25 years of my life let alone understood what data quality and data integrity meant.  Even if I had been told their meanings at a younger age I was never in a position to understand their definitions in a practical way.
As I write this blog I am trying to think of any instances throughout my adolescence that would have predicted my interest in this area.  I'm coming up empty handed for anything obvious.
Regardless, it is something that I enjoy now and it is something that I am very good at.
Data quality isn't optional.  It is a must. 
It is essential that our data is unambiguous and accurate to ensure that our day-to-day operations remain productive and straight forward.  This level of quality prevents costly errors and when analyzed allows us to make informed decisions. 
Data integrity is essential.  Full stop.
In our business there is no excuse for a lack of data integrity and as part of my job I am tasked with reviewing, correcting and enforcing data integrity across a number of REM's systems; project databases, client datasets and financial systems.
Providing high quality data that is accurate and consistent across all systems can be a bit more time consuming but it is worth the extra effort.  Incorrect and disordered data can have very negative ramifications and can take much longer to fix (if any issues that arise can be fixed at all).
| | |
| --- | --- |
| | Jillian McBurney at 10:20 AM |
Google Chrome version 53 introduced native casting support to the Google Chromecast. This ability has been available for a while using an extension but now that everyone with an up-to-date version of Chrome has it lets take a look at an interesting feature that it includes.
For the uninitiated, the Google Chromecast is a little HDMI dongle that you plug into your TV that connects to your Wi-Fi network and allows you to stream content to your television from your Phone/Tablet/Laptop/Desktop. You can stream things like YouTube, Netflix and even audio-only like Google Play Music or Spotify.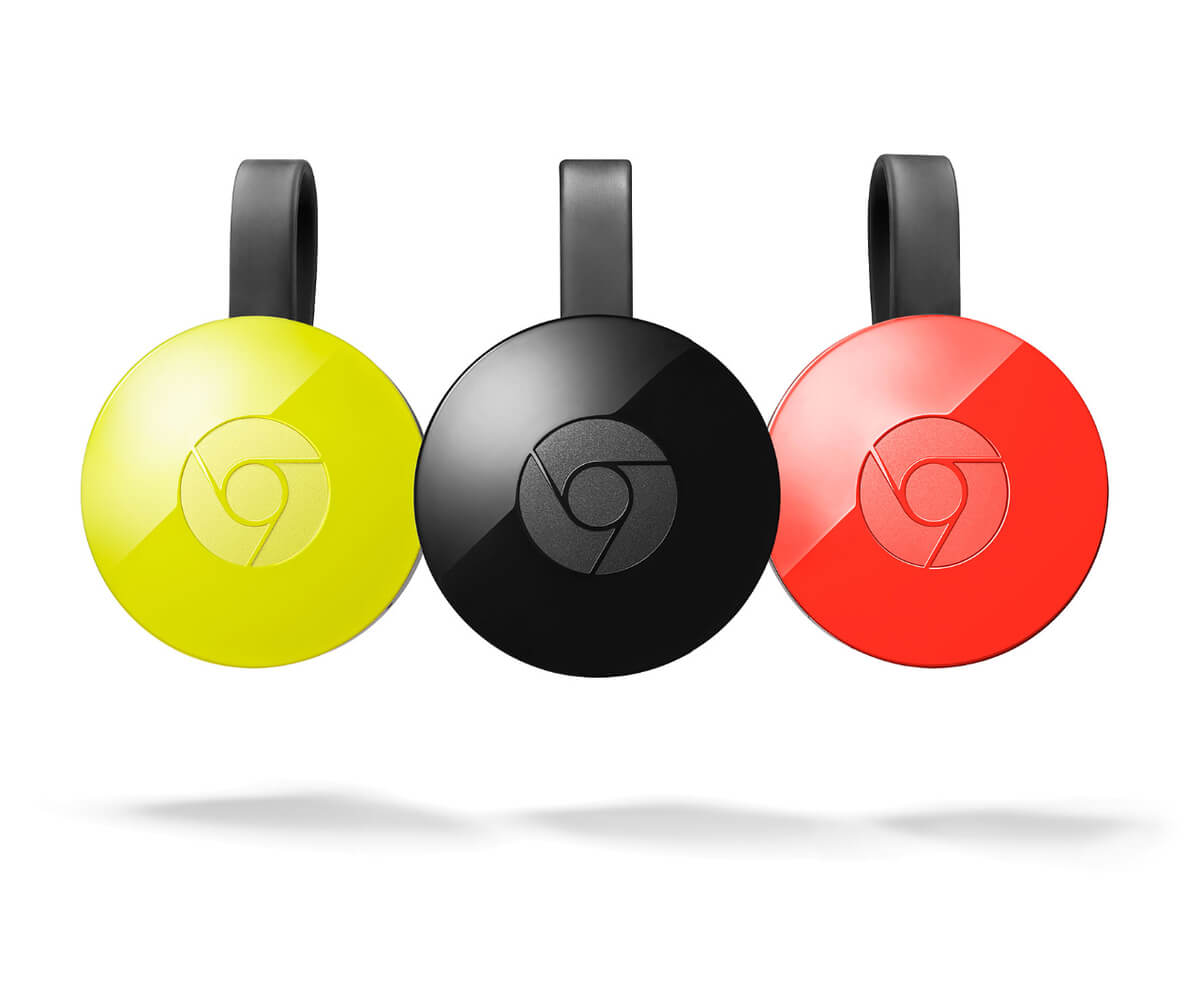 Google Chromecast 2015
When you use Chrome to stream your content you can stream whole tab to your TV. Which means you can stream any website (including sound) to your big screen, great for sites that don't support the Google cast function. Now with the new version of Chrome (previously in beta from the old Chromecast extension) you can stream your entire desktop.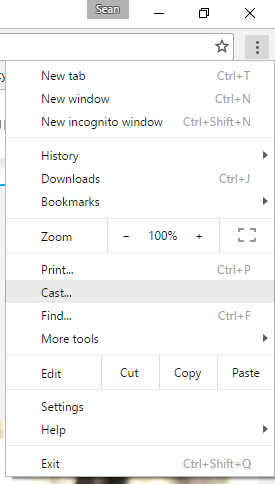 The Cast Option in Chrome's Dropdown Menu
Streaming your whole desktop lets you playback content that doesn't have to exist on the web, like locally downloaded movies/TV shows. It even syncs the audio delay according to network performance. The streaming quality is subject to several factors but is heavily dependent on your Wi-Fi network performance, so the better your network the better the quality (including framerate and compression artifacting).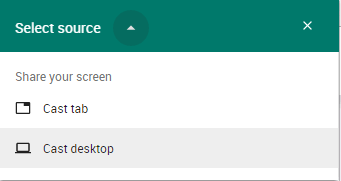 Cast Desktop Option when you select a source
Ideally you should be using a strong 802.11ac Router/Access Point and the most recent Chromecast (which supports 802.11ac Wi-Fi). There are rumors of a new Chromecast coming out next month (October 2016) which would be the third generation and is allegedly bringing 4k support along with it.
| | |
| --- | --- |
| | Sean McParland at 10:35 AM |
So like many I have tried installing a Bluetooth speaker in the kitchen to listen to some tunes while doing dishes or the like. Also like many others I am let down buy the terrible sound quality, low volume and flakiness that is Bluetooth (sometimes). So as a project for myself I decided to whip up my own wireless streaming audio system.
To start I used the 2 rear-channel speakers from my 5.1 home theatre setup (which currently is setup in a 2.1 configuration) which were collecting dust under our TV stand. I cleaned them off and took the speaker wire that was still connected to the also-collecting-dust center channel speaker and cut/stripped it evenly so I had a pair for each speaker.
Next to power them I needed to get an amp. After a bit of research on what the power requirements on the rear-channel speakers were and some Amazon-ing to find an amp that I liked I ordered the LEPY-2024A+ Digital Amp .
Finally, I needed a way to get my music to the speakers. I had this piece in mind from the start which is a Chromecast Audio from Google. You plug it into power and into your audio output (the audio amp) and then it connects to  your home Wi-Fi network and shows this little Cast icon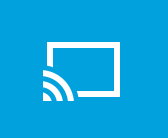 in compatible apps like Spotify and Google Play Music. You just hit the button and choose where you want your music to play and away you go. It also works from inside Google Chrome on desktop in both Spotify and Google Play Music as well.
They sound great and are really easy to begin streaming to from any smartphone, tablet or desktop/laptop. Also a nice perk of the Chromecast Audio is it handles the streaming itself, it isn't pulling anything from your device so you don't need to even be connected to Wi-Fi after you have initiated the stream.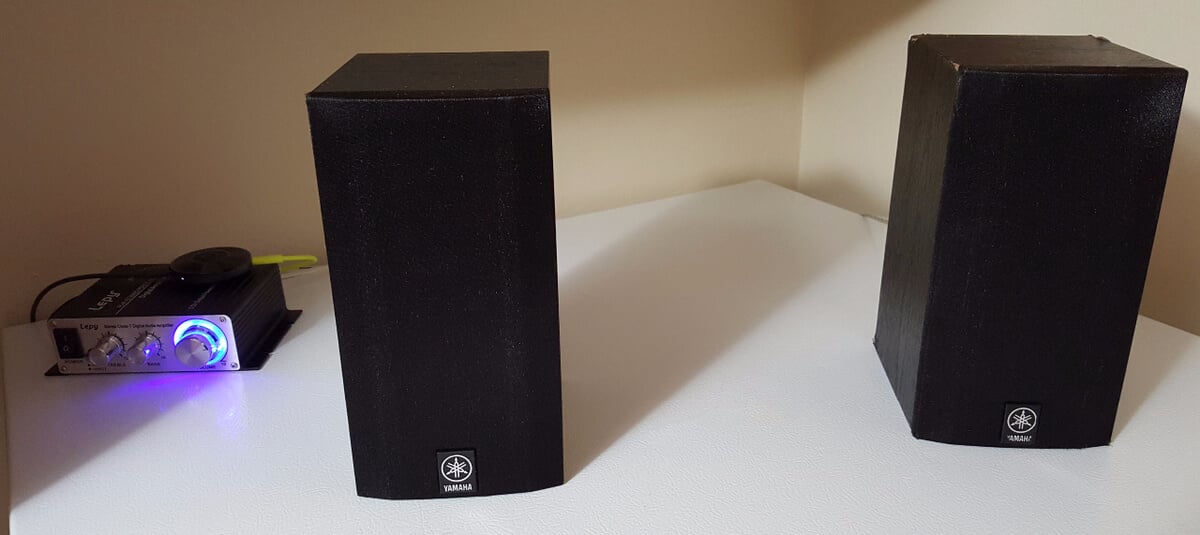 Not to shabby.
| | |
| --- | --- |
| | Sean McParland at 9:25 AM |
Contributors
Latest Posts
Archive
Tags
Everything
Content Management
Technology
Design
Holidays
Off Topic
Support
New Features
Personal
Gaming
New Clients
SEO
REM News
Project Management
Account Management
Training