As the holiday season is coming in faster than any of us anticipated, our team got together to make Ugly Christmas Sweaters for our annual holiday card. This year was especially fun, because as a team we were all able to take part in the process. Luckily for us, Jill brought in her trusty camera to snap some shots of our afternoon team building event, filled with hot glue guns, bows, lights, cotton balls, and felt for days! Take a look at some of the pictures!
As you can see, there were lots of smiles coupling our team's artistic abilities, but there was also a lot of funny shots too, these are some of my favourites from the day. You'll also notice in one of the pictures below, that we were able to Skype with Ryan who wasn't able to make it into the office for the shenanigans but could still take part in the fun times! In addition to the delicious pizza lunch, we were spoiled with homemade cookies!!
As for the finished products tell us what you think by voting from our holiday card! 
| | |
| --- | --- |
| | Shauna Ramsaroop at 12:00 PM |
Featured Client
- Performance Polymers Innovations Inc. -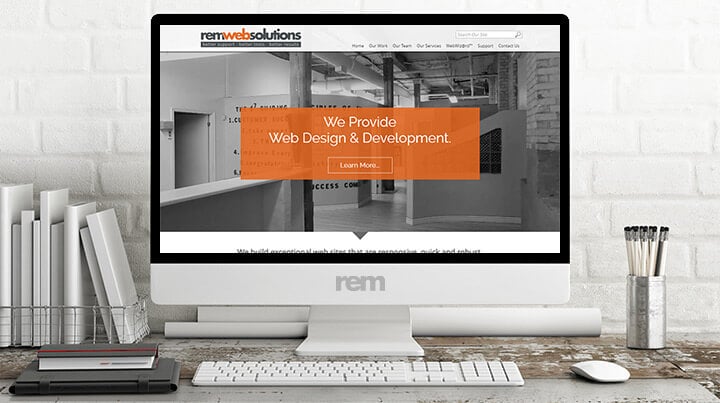 About
Performance Polymers Innovations (PPI) Inc. is a manufacturer of specialized and custom rubber extrusions for many industries, including solutions for railways, shipping, manufacturing, snow removal, construction, and other sectors. With continued growth of sales and an expanding product line using the latest rubber formulations, PPI engaged REM Web Solutions to develop its website as a platform from which PPI could showcase its expertise in manufacturing railseal for railway grade crossings, maintenance-of-way products, snow plow edges, electrically non-conductive railway products, and other custom rubber extrusions. The increased web traffic on PPI's website has generated inquiries from new customers throughout North America and the world, and has resulted in the development and sale of new products to meet the material and design specifications of both these new, and existing, customers.
| | | |
| --- | --- | --- |
| No. of Employees: 12 | Established: 1996 | Location: Cambridge, ON |
Visit Performance Polymers Innovations Inc. website
Q:

Why did you choose REM?

 

A:

PPI needed a web design company that could develop a modern website for us with high impact in both style and content. At the same time, this website had to be easy to update and manage, since most of our time at PPI is spent working with our customers to ensure that our products meet their projects' specifications, and we work hard to exceed their expectations. REM impressed us with their similar approach in crafting a dynamic website template from our ideas, and their WebWiz@rd software made content management easy. PPI found the right fit with REM: a company that could develop and manage our web presence, but give us control of its content.
Q:

What was it like working with REM?

 

A:

Working with REM has been great. We are all extremely pleased with the result of our website project, and we have received very positive feedback from our customers. REM was flexible and understanding in accommodating our timetable for the development of the website, and they supported us at every single step of the process, from making design changes to the website to transitioning it and our e-mail to a new domain name. When PPI lacked the time or technical knowledge, REM took the initiative to get things done so that we could move to the next step of the project. As we continue to grow, PPI will expand its website and we look forward to continuing our relationship with REM, because we know that when we need website support, we can get the right answer, right away, with a just quick e-mail or phone call to REM.
REM impressed us with their similar approach in crafting a dynamic website template from our ideas, and their WebWiz@rd software made content management easy. 
-- Martin Lennox, Performance Polymers Innovations
---
Learn first-hand how we can help you with your website needs.
Contact us today!
| | |
| --- | --- |
| | Shauna Ramsaroop at 9:15 AM |
One of my favourite things to do is watch musicians create music, I strongly believe that it's through this process that you find the magic in some artists. Although this isn't a "New" find, it's definitely one that I have watched over the years and the talent in these 3 men, always amaze me. I hope you enjoy it as much as I do! 
| | |
| --- | --- |
| | Shauna Ramsaroop at 4:55 PM |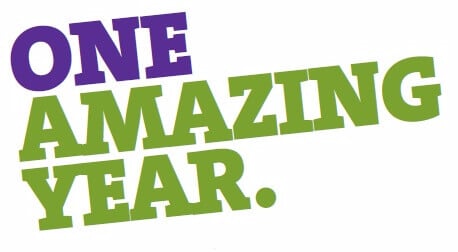 Holy Banana's!!!! I can't believe how quickly a year has gone by at REM Web Solutions.  Each member of our team has played an integral role in my growth here at REM, personally and professionally, check out some highlights of each team member below!!!
---
Rob Matlow
There is no question that Rob is most certainly a fantastic leader. His tenacity and passion for our product, and team is not only inspiring, but admirable. Aside from the typical "Boss" roles that he embodies, Rob does a fantastic job supporting our clients and our team. His communication skills are magnificent. I'm grateful for the opportunity to listen to him interact with our clients and team on a daily basis, He has provided me with an abundant amount of knowledge (theoretical and practical) giving me the confidence to communicate with our clients in a fun and professional manner that is kind, but most importantly concise and accurate. He's also fantastic at foosball and a one heck of a shawarma connoisseur!
Jillian McBurney
You know when your oil is getting really low in your car, and it starts to act all wonky, noises start appearing, lights come on, and you get a sense of anxiousness? Well, Jill is basically my oil - when she's not here, I get all wonky, make funny noises, sometimes light bulbs go off in my head, usually saying "ask Jill!! oh wait she abandoned me to go on vacation" and then the anxiousness sets in. Without Jill, our team surely wouldn't run as smoothly, not only is she an amazing project manager, but she has a knack for just making you feel all around better. If I'm struggling through a task at hand, she's always there to have my back and walk me through it, from day one, I was completely overjoyed that I was working closely with her. In my Customer Ambassador role, and now Account Manager, Jill continuously works to find new ways to help me accomplish my goals and strive to set new ones! She is amazing. 
Todd Hannigan
The newest member of our team... and a wonderful one at that. When I moved into the account management position, Todd became the first line of support and training, not only does he know WebWiz@rd inside out, and is fantastic with our clients, Todd's charisma and dedication to the position and our team is admirable. The one interesting thing I've learned from working with Todd is how to hone in on my deductive reasoning. When working with our clients in the support world, one of the most important skills required is being able to sort through issues that some of our clients may be experiencing that may not be the easiest to pinpoint the solution. Todd's line of questioning, and understanding of our products and services is fantastic, and I'm incredibly happy that I get to continue to learn from his ability to help solve our client's issues when they arise. 
Christine Alon
Chrisitini (yes, I call her Christini) is a bundle of awesome! As one of our designers, I absolutely love watching her creative brain in action while she works through a project. One of the most important things I've learned from Christini is her thoroughness when working with our clients. In my role, note-taking is incredibly important, to ensure that I don't miss important requests. Over the year, I've struggled with ways to organize my notes, while reading through hers, I found a system for myself that works incredibly well. On a personal level... this girl can always make me smile, whether it be her making funnies in the office or always a solid go to for snack/chocolate cravings - this girl always has my back!
Sean McParland
Sean is a very quiet person, probably one of the quietest people that I have ever met. An extrovert like myself loves quiet people. Being one of our developers, quietness comes with the territory, over the past year I have had a chance to work with the man of very few words, and when he does speak - the knowledge that he has in his area of expertise is sensational. I may not have learned much about developers, however I have learned that the work that our development does is intricate, it requires focus, and is best completed without zero to little interruption. Sean has taught me that it's okay to be quiet, it's okay to completely disappear into the work that you're doing - because what you can accomplish and create during this time will be nothing short of fantastic!
Ryan Covert
The Covert Operation! Ryan has undoubtedly been a fantastic colleague to work with. As I continue to grow in my position as an Account Manager, I've learned a bunch of new things in terms of the development, and technical side of the services that we offer. Ryan is always there to answer my questions, and provide me with explanations on how things work - explanations that make sense to me! Aside from his wealth of knowledge in our products, he's definitely the one I ask about new gadgets, gaming platforms, and anything that I am potentially purchasing from Best Buy. As the lead developer for our team, Ryan brings a lot to the table, and I'm truly grateful to continue to learn more from him.
Sean Sanderson
He's okay I guess. I'm kidding... he's awesome! As our lead designer, Sean is always cooking up something interesting - whether it be new designs for websites, logo's, or pranks to play on us. Sean has definitely had patience in teaching me the basics on what it takes for our team to design websites. The majority of my position is to find out what it takes from our team in order to make our client's happy. When finding solutions, Sean always takes his time, and runs through each step with me and explains how the work is done, and why. I absolutely love this, because it allows me to communicate with our clients the best options for them. Aside from designing, Sean is a great prankster in the office, he's caught me a couple times... don't worry, we're scheming to get him back!
| | |
| --- | --- |
| | Shauna Ramsaroop at 10:15 AM |
HOT HOT HOT
At the beginning of the summer, I decided to try my hand at gardening! As a bonafide foodie, and a lover of hot sauce I grew a bunch of peppers in hopes that I would be able to make my own! After 3 months of watering, fertilizing, and hoping my peppers would make it through I was able to create my first batch! Take a look at the process below!!
As anticipated this entire process was extremely rewarding. We ended up with an incredibly hot and I mean HOT sauce. Cant wait for the next one!! 
| | |
| --- | --- |
| | Shauna Ramsaroop at 10:25 AM |
Although summer is upon us and we find ourselves basking in the sun and enjoying fun times with our family and friends, I find that I'm far more stressed during summer work hours. Perhaps it's the heat, the pressure of deadlines, distractions, or the internal summer clock hits and my brain turns to mush. (Yes, I did just say "mush"). I needed to find a way to keep my brain on track, I decided to succumb to the trend of Adult Colouring books. 
Before I continue, I must be truthful, I was that person who bash said books,
" I don't understand how people can waste so much time or even have the time to use these colouring books, we're adults for a reason "
- these words did come out of my mouth on more than one occasion.
One day while shopping around in our local Michaels store, I was flabbergasted by the vast amount of adult colouring books that were on display. Curiosity stepped in and I found a clearance bin and decided to spend the least amount of money that I could to try this trend out. Part of me felt that it wasn't fair to constantly knock the idea of coloring books until I actually tried. 
After a couple months of having this book stare back at me on my coffee table, I decided to bring it into work, I pulled out a page, packed up my pencil crayons and brought them in. Efficiency and accuracy is a huge part of my role at REM, and I quickly realized that colouring throughout the day - 30 seconds here and there - has helped me stay focused for longer periods of time, when working through a difficult task, the ability to step away from it mentally for a short period of time has helped me work through these confusing and sometimes daunting tasks. 
I thought I was going crazy, so I decided to do a bit of research and I came across this article posted by Huffington Post, and it all made sense to me! I wasn't going crazy! I would highly suggest getting one of these colouring books, they truly are great and help a lot, not to mention you can put them on your fridges and be proud! 
| | |
| --- | --- |
| | Shauna Ramsaroop at 11:45 AM |
I absolutely love finding new artists on YouTube! I recently came across this lady, and couldn't help but share her amazingness with you!
| | |
| --- | --- |
| | Shauna Ramsaroop at 9:40 AM |
After 7 months of being first-level support for REM, I have found one of the most commonly asked questions: "What's the difference between Domain Management and DNS Hosting?" Since we offer both of these services, I'd like to take a minute to explain them for you!
Domain Management 
Every website and email address has a domain; in the case of REM Web Solutions, our domain is: remwebsolutions.com. It is the most basic and critical aspect to your business' online presence, it is how people find you. REM offers a domain management service to you, and what this means is we register your domain name with a registrar and ensure that your renewals are up to date as well as manage where your domain points to (a.k.a. Nameservers).  
DNS Hosting
At REM we also offer the service of hosting your DNS (we become the Nameserver mentioned above). When I first started working here at REM, DNS Hosting was explained to me as being a phonebook (an analogy that makes complete sense to me!) Basically, every service that comes along with your domain (websites and emails) has specific addresses and numbers to them. When we host your domain, we have a list of all your DNS records. For example: I ask the internet to take me to www.remwebsolutions.com, the internet looks to the registrar to find the Nameserver, once it knows where to look - in this case REM's DNS server - it goes there and finds the IP address that the website is sitting on, and goes to that address!
| | |
| --- | --- |
| | Shauna Ramsaroop at 9:35 AM |
Being a Fur Mom to my Beagle is by far one of the greatest things about my life. I'd like to introduce you to my little love: Hunter Spencer.
Hunter is a 2-year-old, pure bred, bundle of crazy, and I absolutely adore him! Being a Fur Mom to a Beagle, has its good moments and not so great moments. Hunter is by far one of the most loving dogs I know; he's loyal, entertaining, and cute as a button. The main difficulty in owning a Beagle is that he's a "working dog." His natural instinct is to hunt, which makes our city walks incredibly difficult – nose to the ground, pulling and barking. It's always an adventure with my little stink.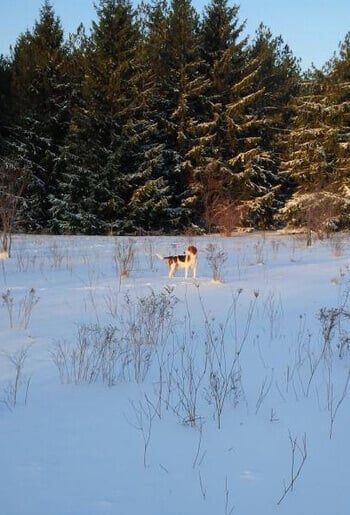 For those of you dog owners out there, the majority of you would agree that we would do absolutely anything for our "Fur Babies," this year was no exception for me. Since Hunter does have an abundant amount of puppy energy coupled with his inherent need to run and find, I have no choice but to take him out to the forest to let him burn out his excitement. There are a few dog parks in the region; however our favourite spot is at Kiwanis Park. Every Saturday morning, just as the sun comes up, Hunter and I hike about 2 km into the forest at Kiwanis, there you will find a large, enclosed dog park. As you can see it's absolutely stunning. Whether rain/shine/snow even -30 degree temperatures, we are out there watching the sunrise. I would highly recommend the Kiwanis Dog Park to anyone, it's beautiful, peaceful, and the pet owners are always kind, and the dogs are incredibly playful. There are washrooms on site at the entrance; free parking is available, beautiful scenery (we've seen deer along the trail). Upon entering the dog park there is a garbage bin, and poop bags in case you forgot yours!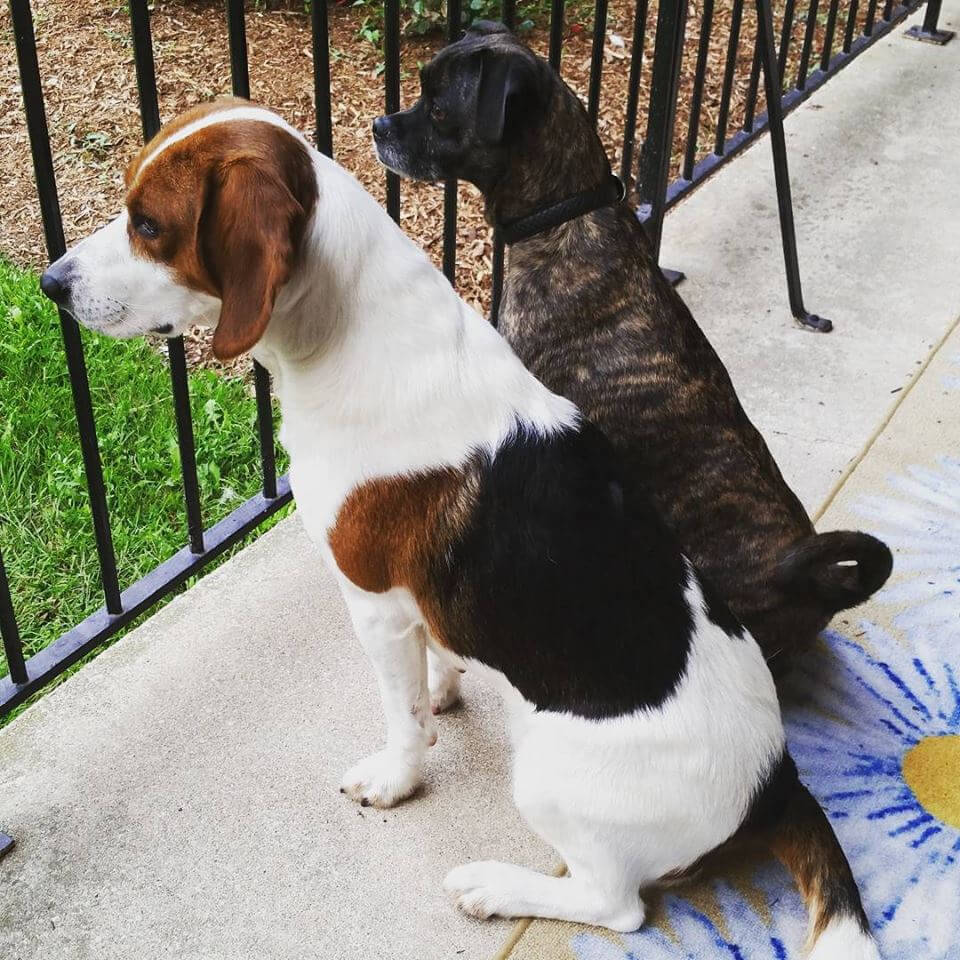 Aside from city walks and dog parks, Hunter, like his mother has lots of friends! Meet Maksim (Maks), a 7-year-old Terrier mix. Having play dates set up one on one with another dog is a great way to continuously socialize your pet! We had the opportunity of having Maks stay with us for two weeks last summer. After a couple days of adjustment, the boys started to play and wrestle, eat and sleep, as well as protect me! As you can see, they are my little body guards. After Maks went back home, myself and his owner made sure that we continued to have play dates for them. They remember each other, they play incredibly well together, and most importantly they understand each other's boundaries. They have a full functioning friendship that keeps them both social and tired!
I hope you enjoyed reading about my Fur Son, and both Hunter and I would absolutely love to see you out at the park with us one day!
| | |
| --- | --- |
| | Shauna Ramsaroop at 9:45 AM |
This month I finally had my first training session!!! When taking on the role of "Customer Ambassador" this responsibility was the one I was most excited for! Why? I absolutely love people! Interacting with our clients on a daily basis is not only rewarding, but as you learn new things about our services, I am challenged to be the best ambassador for you. Training sessions for me, are a fantastic way to get to know you on a personal level and allows us to share some laughs, while assisting you in navigating through WebWiz@rd!
Typically we like to complete training sessions before your website becomes live, from the support perspective, it is critical that you take advantage of this time with me. It gives you a chance to learn how to effectively use WebWiz@rd, prepare you to make content changes to your website prior to going live, and allows you to address any concerns that you have with navigation of our content management system. We sit down for a couple hours (with a fantastic cup of coffee) and go through each of your modules together! It is meant to be a comfortable learning environment for both the client and myself, and so far it's going wonderfully. 
If you happen to receive an email from me in the near future for a training session, please get back to me and let's book some time!! I'd absolutely love to meet you in person and am thrilled to help you with your WebWiz@rd!!
| | |
| --- | --- |
| | Shauna Ramsaroop at 7:00 PM |
Contributors
Latest Posts
Archive
Tags
Everything
Content Management
Technology
Design
Holidays
Off Topic
Support
New Features
Personal
Gaming
New Clients
SEO
REM News
Project Management
Account Management
Training